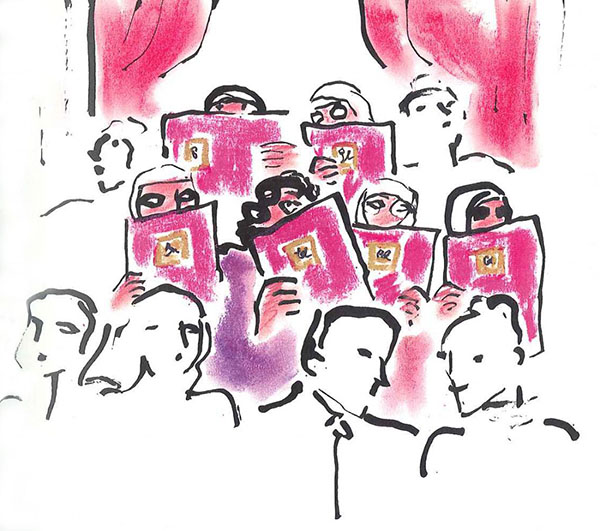 THE BEST PEOPLE DON'T SIT IN THE FRONT ROW? Illustration, from Fashion People, by Gladys Perint Palmer.
Chance meetings can often lead to remarkable relationships, as was the case when School of Fashion Executive Director Gladys Perint Palmer was seated next to H.R.H Princess Haifa bint Faisal bin Abdulaziz Al-Saud at the Jean-Louis Scherrer Haute Couture fashion show in Paris several years ago.
She and Princess Haifa started talking.  Princess Haifa was looking for a designer to bring a collection to Washington D.C. for a fund raiser and Gladys introduced her to the editor-in-chief of l'Officiel, Marie-José Susskind-Jalou.
When Gladys' book Fashion People was published by Assouline, she sent a copy to Princess Haifa, whose husband, H.R.H. Prince Bandar Bin Sultan, was the Saudi ambassador to Washington at the time. The Princess was so impressed with Gladys' work that she invited Gladys to D.C. and, at a luncheon in Princess Haifa's honor, each guest received a copy of the book.  At the lunch, Gladys sat next to Princess Haifa's daughter H.R.H. Princess Reema Bandar Al-Saud.
Follow the jump to read more!
Over the years they stayed in touch. Princess Reema became involved in various fashion projects including Harvey Nichols and Donna Karan/DKNY. And in May 2012, Princess Reema was a Guest of Honor at the Graduation Fashion Show.
During her visit to the School of Fashion, Princess Reema gave an excellent presentation on luxury fashion in Saudi Arabia and introduced students to some of Saudi's emerging designers. And at the Graduation Fashion Show, she announced the design project with Harvey Nichols, for which six of our students depart for Saudi Arabia today.
It's pretty amazing how things work out. Who knew that a chance meeting in Paris could lead to all of this!
We'll be updating Fashion School Daily throughout the trip – so be sure to check back!