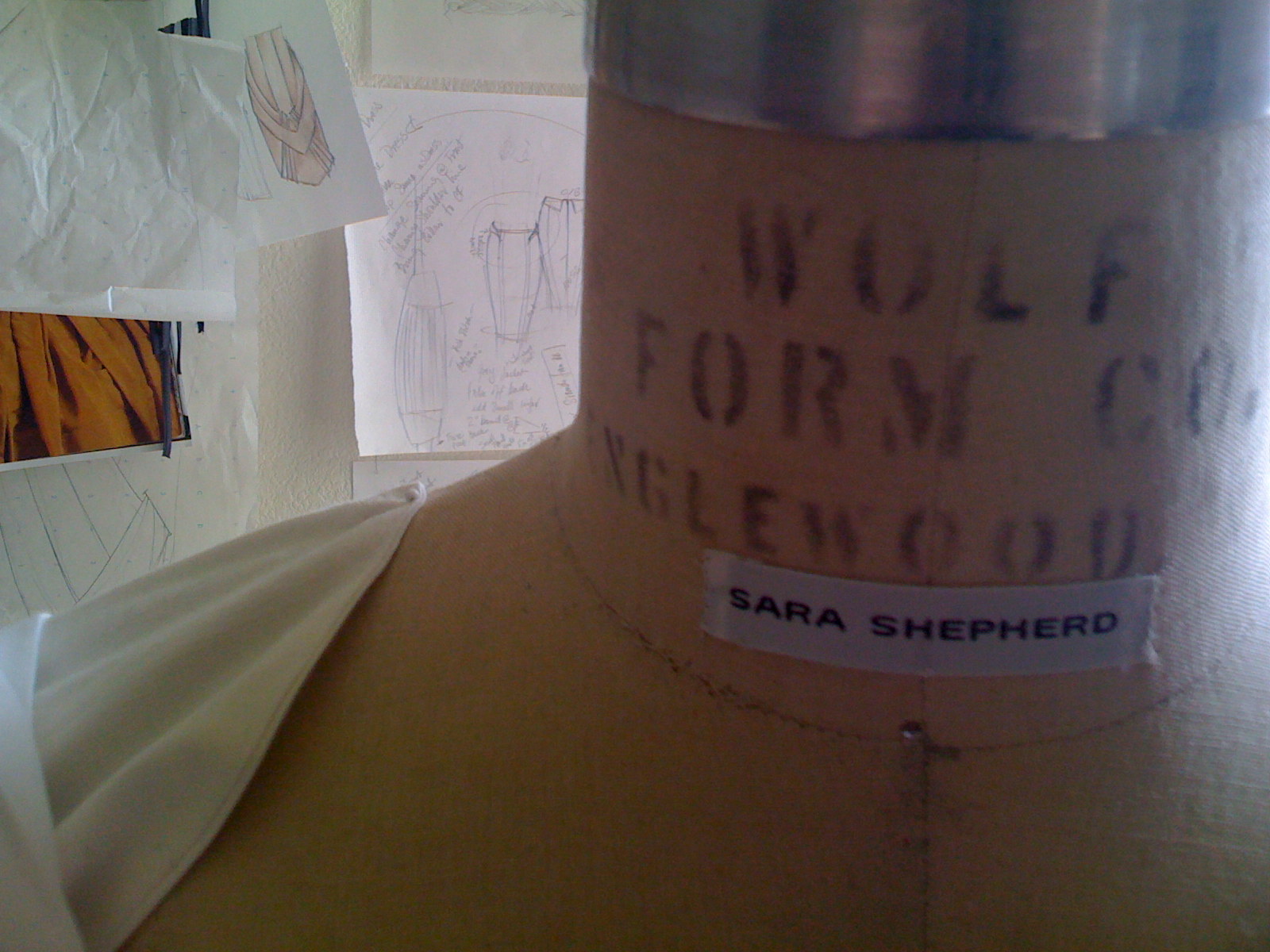 I get to Sara's about 9am. She always has a fresh pot of coffee ready. We usually sit around in the studio for a couple of minutes, wake up, and talk about what we would like to accomplish. If I haven't been there for a couple days, she shows me the most recent progress-finished garments, new ideas from draping on the dress form, patterns, etc.
I keep a notebook, more like a list in a notebook, of what's going on. Both her and I are obsessed with lists. We would be lost, distraught, without them. So everyday that I am there, I make lists. Lists of things that need to be accomplished, garments to be finished, patterns to be altered, new development ideas, new nicknames, lists of anything that pops into our heads that I count as a bright idea. Well, we spend the time in the morning going over my past lists and decide from the list what we shall do for the day.
After coffee and discussions, we set to our tasks. One usually sewing while the other drafts or drapes. My tasks usually consist of pattern drafting, sewing, or a combination of both.
Lunch time usually comes quickly, and I am always hungry, and Sara lets me dig through the fridge for raw green beans or mac & cheese. I set back to my task and continue on my project. It's always a learning experience and Sara encourages my endless list of questions. Some days we have fittings or visitors and my tasks change. During fittings I help pin out excess, chalk new seam lines, take photos, make notes on my fitting & corrections sheet, and contribute to ideas of the collection. Other days I help answer phone calls, answer emails, and make appointments. I am Sara's right hand and help to take some of the load. My notebook kind of works like a file cabinet for her thoughts…haha.
In the studio, there is a TV we usually keep on for filler noise. In the morning we watch VH1's top 20. Later on we keep up with the best reality TV: NYC Prep, The Hills – it's a guilty pleasure but all the none important.
No job is too small and every bit contributes. Unpicking and cutting out garments in final fabric are other projects I like to work on. Once a task is finished, I move on to the next or if the day is done,I finish it when I come back. Sometimes, I even get to stay for dinner when we work late!
The photos are from around the studio: patterns hanging on hooks that we are currently working on, garments on the stand, drafts and sketches pinned up on the wall, garments hanging on the rack, and so on…
Get the flash player here: http://www.adobe.com/flashplayer
Click here to read more from The Alyssa Diaries.