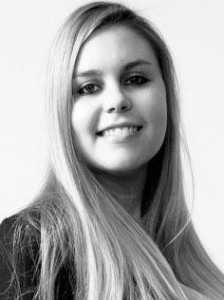 Alumna Alyssa Prentice is currently working as a design assistant for designer (and another alumna) Sara Shepherd as she preps to show her collection at New York Fashion Week (a.k.a Mercedes Benz Fashion Week). Alyssa agreed to do a diary for us at Fashion School Daily; documenting her experiences leading up to the big day.
Her first entry is about Sara's inspiration for the collection which comes from a "story of a girl" (hence the title of this post)
…thinking about the story of the girl – and how it all began.
The original inspiration started with the house Sara bought that was built in the 1905. During that time, there was a massive earthquake – the city was in ruins, fire burning all around and total devastation. Sara explored San Francisco and everything else that was going on in this era. It lead to the arts & crafts movement, women's rights to vote, flight and exploration, literature, and Escher and intertwined objects. Walking down the street Sara saw a woven lampshade in a window which became the link between all parts.
The story of the girl is the idea of her being a person in control and put together and then waking up to the chaos (as if waking up to the earthquake)-the contrast of the composure versus the chaos.
…finding inspirational pictures
The first picture is of a globe made up of many pieces fitting together – kind of like a puzzle. This globe was inspired by Escher and his drawings. Even though this globe wasn't literally translated into the collection, it helped us get to where we are now.
The next two pictures are cork boards Sara has hanging in the studio. They have design details, inspiration pictures, 3-D swatches, scraps of fabric, stitching samples – basically tons and tons of ideas pinned up on a board for us to look to everyday for inspiration and such.
The next couple photos are of posters we made of the story of the collection and the girl – this is our main goal and what we hope to achieve in this collection. They're up there so we can look at them everyday, not to lose our aim and focus.