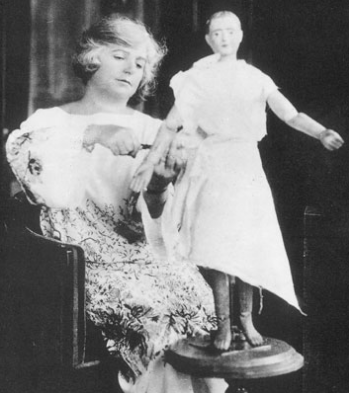 Madeleine Vionnet 
Nadia Miller hit the nail on the head, correctly guessing our mystery gal of the week – Madeleine Vionnet. Vionnet was a master couturier, dubbed "the Queen of the bias cut," and dominated haute couture in the 1930s. She had apprenticed with renowned fashion house Callot Soeurs and later Jacques Doucet, before opening her own house, Vionnet, in 1912.
Her attention to detail was impeccable, and her skills of construction unrivaled. She created most of her designs on wooden puppets first, manipulating the fabric until she was satisfied. Using the bias cut, she created dresses the followed the curves of a woman's body and accentuated the natural form. Her sensual designs were favored by Hollywood starlets, including Marlene Dietrich, Katharine Hepburn, and Greta Garbo.
Vionnet was also the first designer to introduce a prêt-à-porter (ready to wear) line based on her couture pieces, which she sold in the United States. Though she closed her atelier at the beginning of World War II, she continued to monitor and comment on haute couture until her death in 1975.
Follow the jump for the significance of the clues!
Clue #1: A woman's smile – Vionnet believed that "when a woman smiles, then her dress should smile, too." Cutting fabric on the bias allowed Vionnet to design dresses that followed a woman's natural form, accentuating her curves and gracefully following her movements.
Clue #2: Isadora Duncan – Madame Vionnet was influenced and inspired by the modern dances of Isadora Duncan. Both women were also inspired by ancient Greek art, in which garments appear to float freely.
Clue #3: Architect – She was dubbed "the architect among dressmakers" for her magnificent methods of construction.