MFA Fashion Design student Nina Hui's stunning gowns were one of the biggest hits at the Academy of Art University's 20th fashion show at New York Fashion Week for the Spring/Summer 2017 season.
[metaslider id=38207]
Inspired by the "intricate sea creatures – the corals and the color blue,'' Hui saw on her first visit to Hawaii, she executed her capsule collection with the help of longtime Tambour Beading instructor Robert Haven. Born in Kentucky, Haven is one of only a few of U.S. experts certified by L'Ecole Lesage and the Royal School of Needlework in London. Haven's advanced knowledge helped Nina realize her creative ideas.
As her big runway moment arrived, Hui said: "I was so excited and proud to finally be able to share my creations. I had friends and family there and was very happy that they were able to see my work on a New York runway. The atmosphere before was anxious and electric anticipation, but when the models started to walk out, the audience reaction was positive and encouraging.''
[metaslider id=38440]
She previously won a competition to intern at BCBG Max Azria and the looks she created there were featured in the "Celebrating 30 Years of Hervé Léger Collection" at the 2015 Graduation Fashion Show.
The experience helped train her for the New York show.
"The individual looks each have their own attitudes,'' she said of the new collection. "The ice blue and gray looks were meant to exude a calming softer feel, while the pink and dark blue looks exuded more wildness and uncontrollable fun. All the looks were inspired by sea corals and their multiple personalities."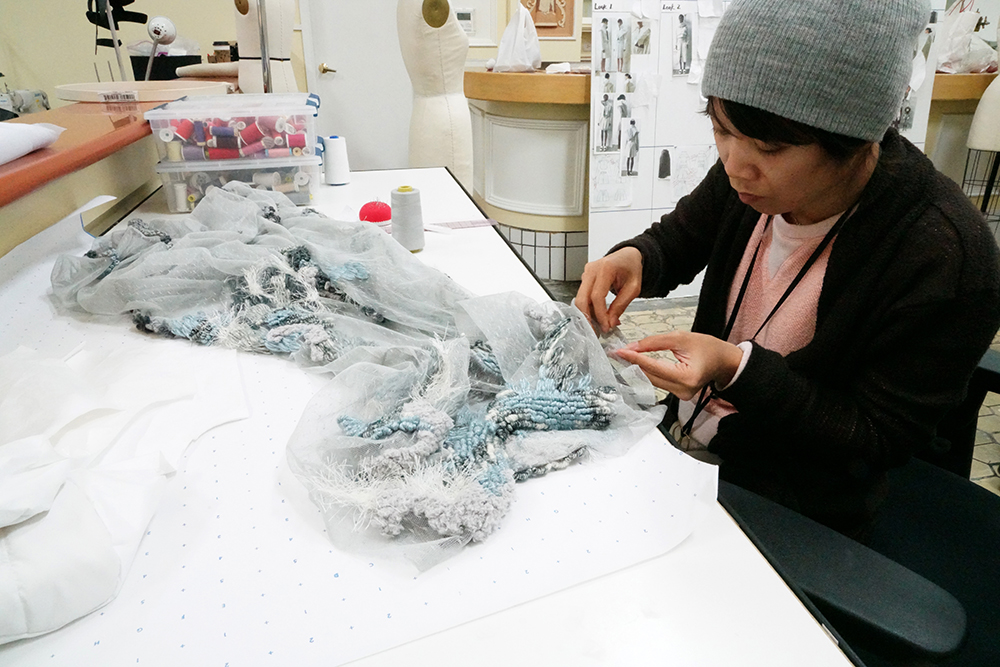 Haven's expertise was invaluable for the Vietnam-born designer's final product. Though born in Da Nang, she was raised in Kentucky, which provided an even closer bond with her beading guru. She credited other faculty for encouragement, too.
"The mentorship provided by Simon Ungless [Executive Director of the School of Fashion], Terhi Ketola-Stutch [MFA 3D Design Coordinator], Bob Haven, and others was extremely valuable during the process," Nina said. "I began working on the collection close to one year ago, and it constantly evolved. Their guidance and experience helped me through what might have been an overwhelming challenge. Working as a team allowed me to explore my innovative ideas while relying on their expertise in the industry."
[metaslider id=38450]
Haven helped streamlined the process. Initially, Nina was working on a hand held hoop with needle and thread, until he got her set up on a large frame where multiple people could work at the same time, and Tambour beading techniques could apply clumps of beads to the dress more quickly.
"The particular stitching technique Nina used was very simple, but worked much faster when both hands could participate!" laughed Haven, whose Tambour Beading techniques combine respect for traditional craft with cutting edge technology. "To my knowledge, there are no other fashion schools in the world that offer them for academic credit,'' he said.
[metaslider id=38451]
"I teach my beading and embroidery classes basic techniques, then encourage them to experiment," he added.  "My first summer here, graduate design student Maria Koravilas designed an entire collection using washers and other metal parts in conjunction with other highly textural elements to embellish them. The following summer, two classmates and myself spent the entire summer using the Tambour technique to embellish the collection."
"The result was breathtaking," he added. "That was seven years ago, and her collection is still referenced by the School of Fashion faculty. I think Nina's collection will have that same impact on both the fashion show, and the institution."
It sure did.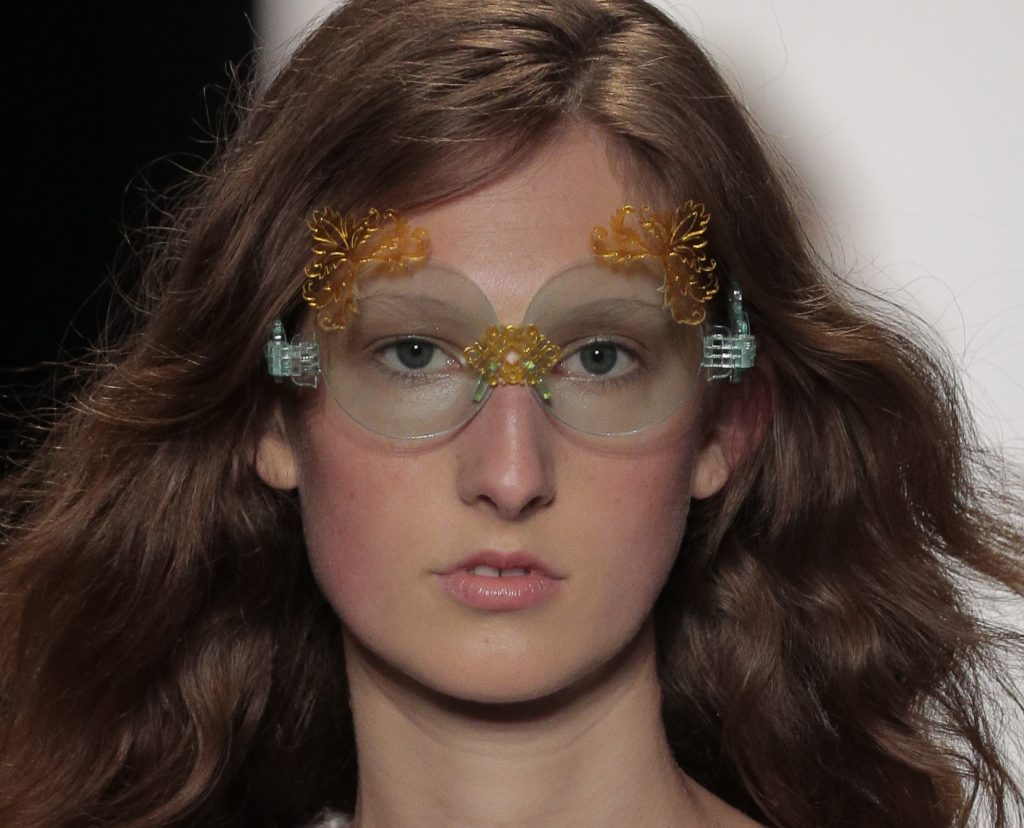 As the models, looking like modern day mermaids, walked down the aisle in Nina's signature, pastel flowing garments, you could feel the crowd taking a collective intake of breath. The aquatic sunglasses designed by MFA Jewelry and Metal Arts student Yolanda Chiu accented Hui's collection in a hip, contemporary fashion.
All the hard work paid off in a one-of-a- kind look that made Academy of Art University's 20th fashion show at New York Fashion Week one that will be sure to live on in the memories of everyone who was there, in real (or virtual) reality.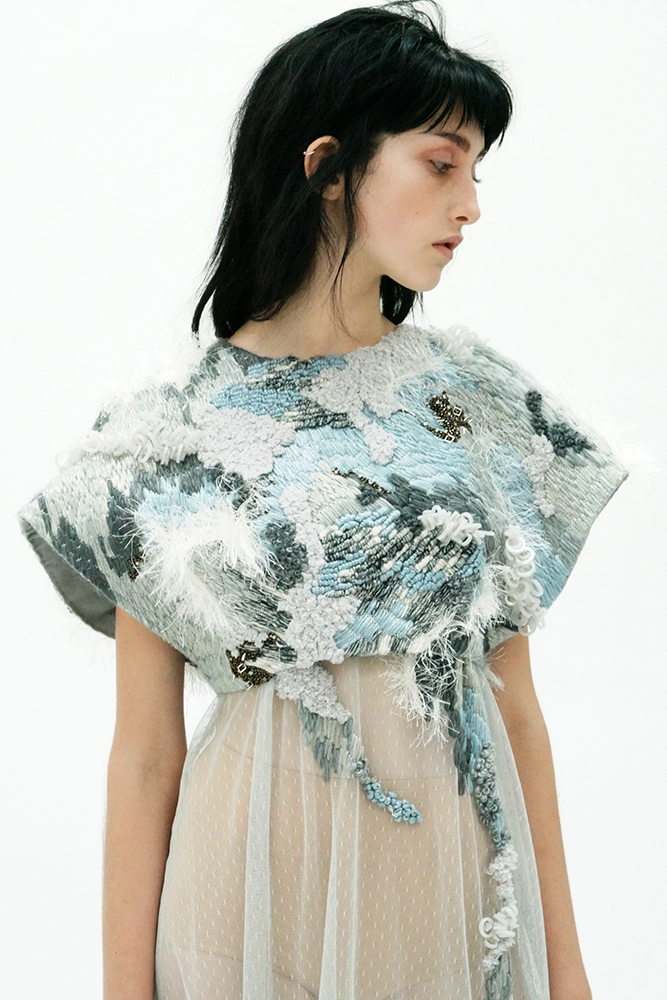 Text by Paul Wilner, Full-Time Fashion Journalism Faculty at the Academy of Art University.