On Thursday, December 15th, 2011, students from the School of Fashion unveiled their window displays at the InterContinental Mark Hopkins Hotel. Since 2005, visual merchandising students have worked with the hotel each year to create interior window displays that highlight the hotel's rich and exciting history.
Three of the displays are located on the California level and one is located on the main level. The main level display is titled, "New Kids on the Block" and showcases new employees at the hotel. The geometric shapes create a modern display that contrasts beautifully with hotel's vintage feel.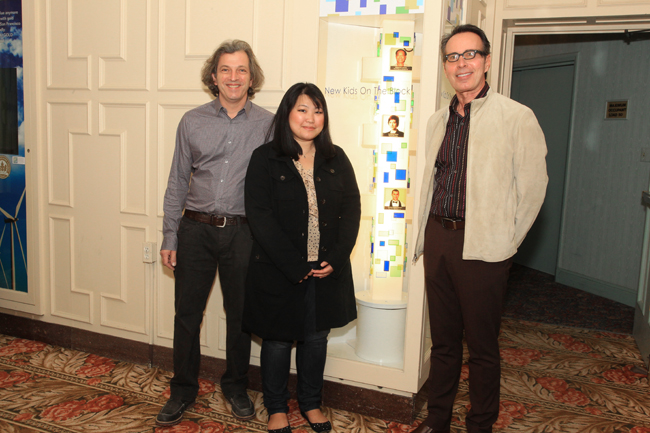 New Kids on the Block – By Gina Chou and Kevin Mihovich. L-R: Instructor Martin Zanfardino, Gina Chou, and Jim Cardosa
On the California level, the first display is "Greetings from the Mark". Set against a beautiful background of the Mark Hopkins Hotel in the San Francisco skyline, vintage postcards cascade from a hand-constructed mailbox. The postcards tell stories of guests' adventures at The Mark, dating all the way back to the 1930s. Many of the post-cards were bought online from vintage dealers, and give the display true meaning, as they are part of the hotel's story.
Follow the jump to see more!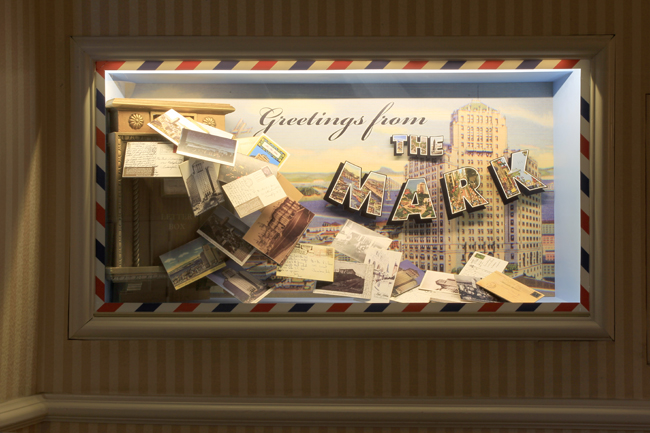 Greetings from the Mark – By Ahjoo Moon and Sinya Chen
The second display is titled "World War II & the Mark," and follows the fictional tale Theodore and Molly, a young couple in love. Top of the Mark was San Francisco's most popular bar during World War II, and hosted thousands of military men and their sweethearts. The traditions and tales from the era are woven together in the story of their romance, told through images and text on the television screen.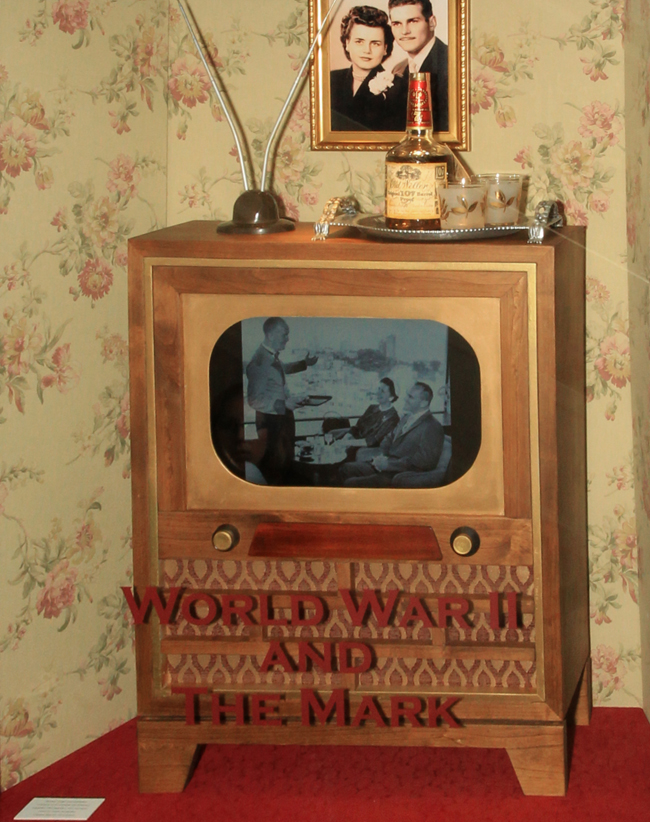 World War II and the Mark – By Gitarani Sagolsem and Nicholas Jacobsen
The final display is a fabulous blend of old and new. It features browser windows of searches for "Top of the Mark" and the "Hotel Mark Hopkins", and the results are vintage advertisements. The advertisements are set against a backlit display, mimicking a computer screen. They offer a peek at the events and occasions from years past, and allow guests to delve a little deeper into the history of the Mark Hopkins.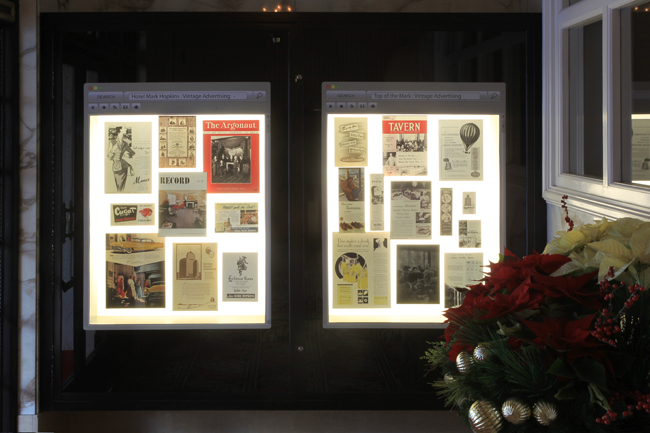 Search: Mark Hopkins Hotel and The Mark – Vintage Advertising – By Stephanie Chen and Jessica Zhu
Our students all did such an amazing job!!