The Academy of Art University is centered in a city so richly diverse with different people, culture, and art. The setting is a breeding ground for inspiration and creativity, which students take advantage of through their outfits. Walking past an Academy of Art University bus stop, the array of distinctive style is impossible to miss. Of course, some students pay special attention to their unique wardrobes and stand out from the bunch. After interviewing a few students I realized that the major they were studying was often mirrored in the way they dressed.
Madison Chertow, who is a Fashion Merchandising Major has flawlessly found a way to turn her love of fashion into a future career. Her major pushes her to think and breathe fashion, and she finds inspiration from practically anywhere. She is "always on the look-out, what's happening, what people are wearing, and always thinking about how [she] is going to incorporate what [she] sees and make it [her] own." This way her clothing choices depend on what she is inspired by that particular day. Her outfits range from bohemian funky to classic and sophisticated. Today, she has chosen to show a more conservative side with black slouch pants, a plain black tank top with her favorite vintage fur cardigan from the 20's. Bold statement pieces are what Madison is all about. Her BCBG knuckle duster clutch embellishes her hand elegantly as well as her timeless, gold Rolex watch. This rare vintage watch was passed on from her grandmother and she says "it is my duty to let it live on." When asked, "Are you going to pass it down to your children," she laughs and says, "No I'm going to bury this with me."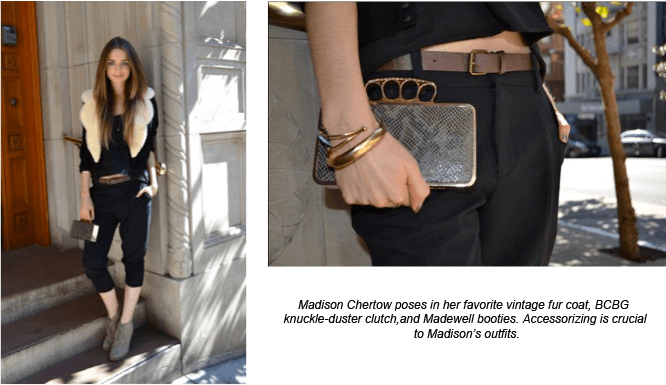 Follow the jump to read more!
Another student seen channeling her major through her style is Anna Lena Lystad. Coming all the way from Norway she is here to study Photography with a focus on underwater images. Typically she is seen wearing her Zara black skinny jeans, a white tank top with a lace bandeau underneath and her favorite article of clothing, a tight fitted, black Zara blazer. The finishing touches to her outfit are her black, leather converse and a crystal necklace given to her by her mother. She has maintained this very neutral wardrobe ever since she remembers taking pictures. Black and white photography is hands down her favorite to snap, and she even noticed that when she takes pictures, "[she] turns down the color saturation so the colors are more muted."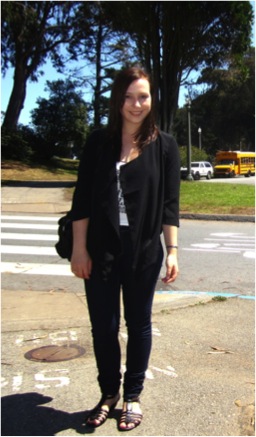 Anna wears her signature skinny jeans and black blazer.Keeping it classy in black and white.
Being constantly surrounded by an atmosphere of ongoing creativity allows them to become more in touch with their personal style. When asked the questions about their major the students were shocked to see how much of an influence it had on their fashion choices. Certainly, what better way is there to show the industries the professional adults they are becoming than through their unique outfits.
Written By: Tonislava Docheva