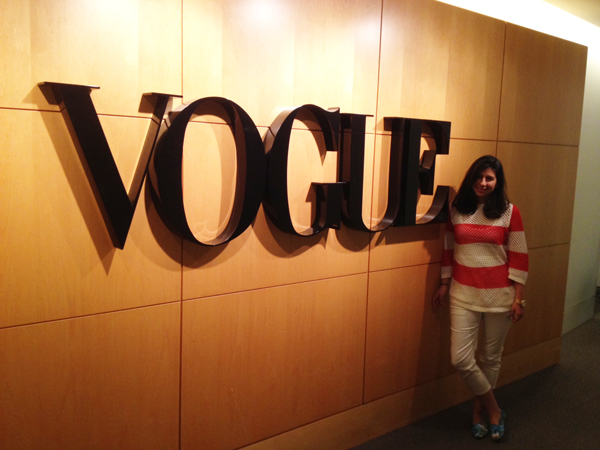 Laura Acosta at the Vogue offices in NYC.
Another student, another awesome internship! For today's Student Spotlight, we caught up with Laura Acosta, an MFA Fashion Design student who landed one of the most coveted summer internships – at Vogue. Laura has been running around New York, picking up samples, assisting editors, and helping out at the CFDA/Vogue Fashion Fund presentations. Needless to say we're a little jealous. Read on to learn more about Laura's summer in NYC and her most memorable experiences!
How did you snag such an amazing internships?!
I started applying very early, as soon as the spring semester started. I emailed one of the fashion assistants at Vogue, and she got back to me about a month later. Thankfully, right after fashion week (or month) I had four interviews scheduled in New York. I got the internship offer from Vogue the same day of the interview, so there was no question – I was coming to NY for the summer!
How was your first day on the job?
It was crazy and overwhelming. We started at 7:00 AM, because our mentor wanted all of the interns to come for orientation before everyone at the office arrived. I basically spent the whole day following other interns, and going on runs. It was a hectic time, because Vogue was in the middle of putting together the September issue. I never thought I could be as tired as I was when I left the magazine that day!
Follow the jump to read more!
What are you day-to-day duties?
I work in the accessories department, so my fellow interns and I are in charge of helping the accessories editors and assistants with whatever they need. I have to keep the accessories closet organized, check accessories in and out of the office, and upload images onto the servers so that everyone knows the products that come in and out. We also have to keep track of the different fashion stories, lay accessories out for run-throughs, communicate with designers and PR firms regarding returns, as well as administrative duties like helping our bosses with their expenses, lookbooks, contact lists, etc.
And we also go on runs, especially when it comes to big productions from all the contributing editors at Vogue.
You got to help out at the Vogue Fashion Fund presentations – what was that like?
It was very exciting! I only found out that the they were happening when some editors started pulling accessories to complement the finalists' presentations.
We were asked to come very early in the morning – it was still nighttime – and our job was to help the designers (and editors) so that they would have as smooth and calm an experience as possible. There was a lot of running around looking for lint rollers, steamers, etc. Ultimately, it was very exciting to see the work of designers that I wasn't familiar with before.
What have you loved most about your internship?
I think it is amazing to see all the editors that I have admired for so long working right across from me, or on the same floor. I'm most excited when there is a run-through with a stylist and one can actually catch some of their vision for the shoot. The other day I heard Camilla Nickerson when she came to the office just for one day to see the progress on her next shoot.
Also helping my boss find products that she can later pull from designers has been very satisfying.
What have you learned?
From my mentors I have learned the importance of being organized and resourceful. Knowing what is going on in the accessories closet, and the fashion stories that are happening now and in the future is so important! It's great to almost figure out what your bosses are going to need before they even ask you.
I've also learned that being too competitive, and trying to overshadow your colleagues won't get you anywhere.
What have become your favorite NYC haunts?
I'm definitely obsessed with the Brooklyn flea markets. There are so many vintage and thrift shops out here. The one on Fort Green is my favorite.
I also loved hanging out at The Highline on my days off. It is such a beautiful and relaxing place to escape the craziness of this city – and you don't need to spend any money!
What are you looking forward to next semester?
I look forward to getting back to San Francisco! I definitely miss the vibe and my friends out there.
I also plan on working very hard on my thesis project, and who knows? Maybe taking an editorial internship…
[imagebrowser id=38]
For more Student Spotlights, click here.