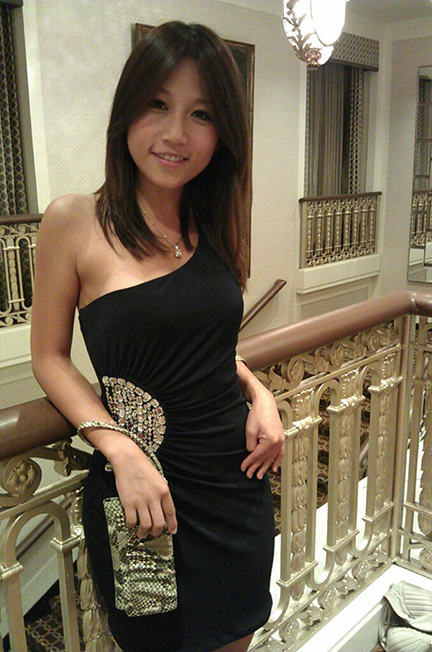 The end of the year for the School of Fashion represents a unique kind of chaos of accomplishments at the close of the spring semester. In addition to the gorgeous designs featured in the annual Graduation Fashion Show, for Fashion Merchandising and Production students, final exams take the form of final events. It seems every night student thesis projects are on display in the form of invitation only affairs that showcase the meticulous attention to detail, organization and talent of these future publicists and event planners. Fashion School Daily caught up with soon-to-be MFA Fashion Merchandising graduate, Fiona Siao, to talk about what happens behind the scenes of these stylish soirees, and how she put together her final thesis event, fashion show "Beyond Rationalism".
What brought you to the Academy of Art University?
After working in the International Trade industry in Taiwan for four years, I came to the realization that the routine lifestyle it provided was not the future I wanted for myself. I decided to follow my gut, my heart, and my true passion – fashion. I visited San Francisco six years ago on my first trip to the United States. I was very impressed with the multi-cultural, liberal and open-minded atmosphere. For these reasons, I chose the Academy of Art University to help me accomplish my dream.
What has been your favorite class that you've taken?
The Academy of Art University provides students with a variety of classes, each giving the ability to build one's strengths step-by-step. It is difficult to say which class is my favorite as each one has helped me in a different way. The class that helped me to realize my passion for the fashion event production field was Dynamics of Fashion with Julius Lumsden. Two years after I finished his class, I still remember the discussion from our first day. Instead of following the traditional teaching methods of lecturing us (a class which was 90% Asian students) about Western fashion, Lumsden asked us to share the fashions we had seen in Asia. A man of British decent, Lumsden encouraged us to figure out the connections between the cultural backgrounds of Asia, the current fashions of Asia, and the fashions of the Western world. He wanted his students to cultivate our fashion tastes and senses by watching fashion shows from main metropolitan areas from around the world. That was the first step in arousing my interest in producing fashion shows.
[justified_image_grid row_height=300 height_deviation=50 ids="24171,24172,24170,24173,24176″]
Photos courtesy of Fiona Siao and Eric Hsu

Tell me about Beyond Rationalism.
"Beyond Rationalism" could be seen as a milestone of both my main participants, Joanne Lu and Yu-Sheng Lin, and for me personally in the MFA life at the School of Fashion. We wanted to do something unforgettable before we graduate. Three of us combined the concepts of our final thesis into creating an actual fashion show. Joanne Lu was the designer of the unisex collection "Mute", Yu-sheng Lin was an agent representing up and coming Taiwanese designers, I wanted to be an organizer of fashion events. We only had 28 days to make this dream come true before our graduation date. Realizing there was such a strict time frame, I knew everything must be on schedule. I was very lucky to have an extremely supportive crew to help me with this mission that truly seemed impossible. Finding a proper venue and all of the promotional materials, including the shooting for the lookbooks, the graphic design of the main image, creating the official website and the posters, and setting up the RSVP link were done in 13 days. We promoted this event, contacted professional models and a DJ to do the show pro bono, designed the event layout and recruited volunteers in 14 days. Ultimately, the event saw a wonderful turnout. The fashions were all very well received and we got a lot of positive feedback from the attendees. I appreciate the hard work of my team, models, volunteers, and Khaled, the owner of La Galleria café.
What was the hardest part about working the event?
The hardest part was how to create a good quality show with a very limited budget. We did not get any financial support from third parties. Therefore, how we used the resources we had to cut down on costs was very important.
If you could work any designer show, whose would it be? Why?
As I am Taiwanese, it would be such a great honor to produce Jason Wu's show. Besides Wu, it would be an interesting experience to work John Galliano's show. Despite his previously controversial behaviors, his talent and creativity cannot be denied. Every piece of his design was like a different face of him and they were all equally dramatic, which was exactly like his life. He encouraged models to put their own personalities into his show and the stage presentations always had a strong bind with his inspirations. To understand his inspirations and visualize his imaginations would be very exciting.
Check out the below video to watch the complete show, "Beyond Rationalism"
Fiona would like to thank the following members of her crew for all of their hard work in putting together this event:
Mute collection designer-Joanne Lu; Runway Showroom-Jungle Lin
Photographers- Jimmy Wang and Eric Hsu
Styling Artists- Sophia Wu, Charlie Tsai, Isabella Zhao and Britt Moore
Lighting design and film director- Andrew Pezzulo
DJ- Stas Neyman
Models- Frida Thomsen, Leevan Tan, Blue Huang, DeeDee (Stars Model Management), Maya (Stars Model Management), Aoife (Stars Model Management), Erlan, Jonas Janez
For more "Student Spotlights," click here.