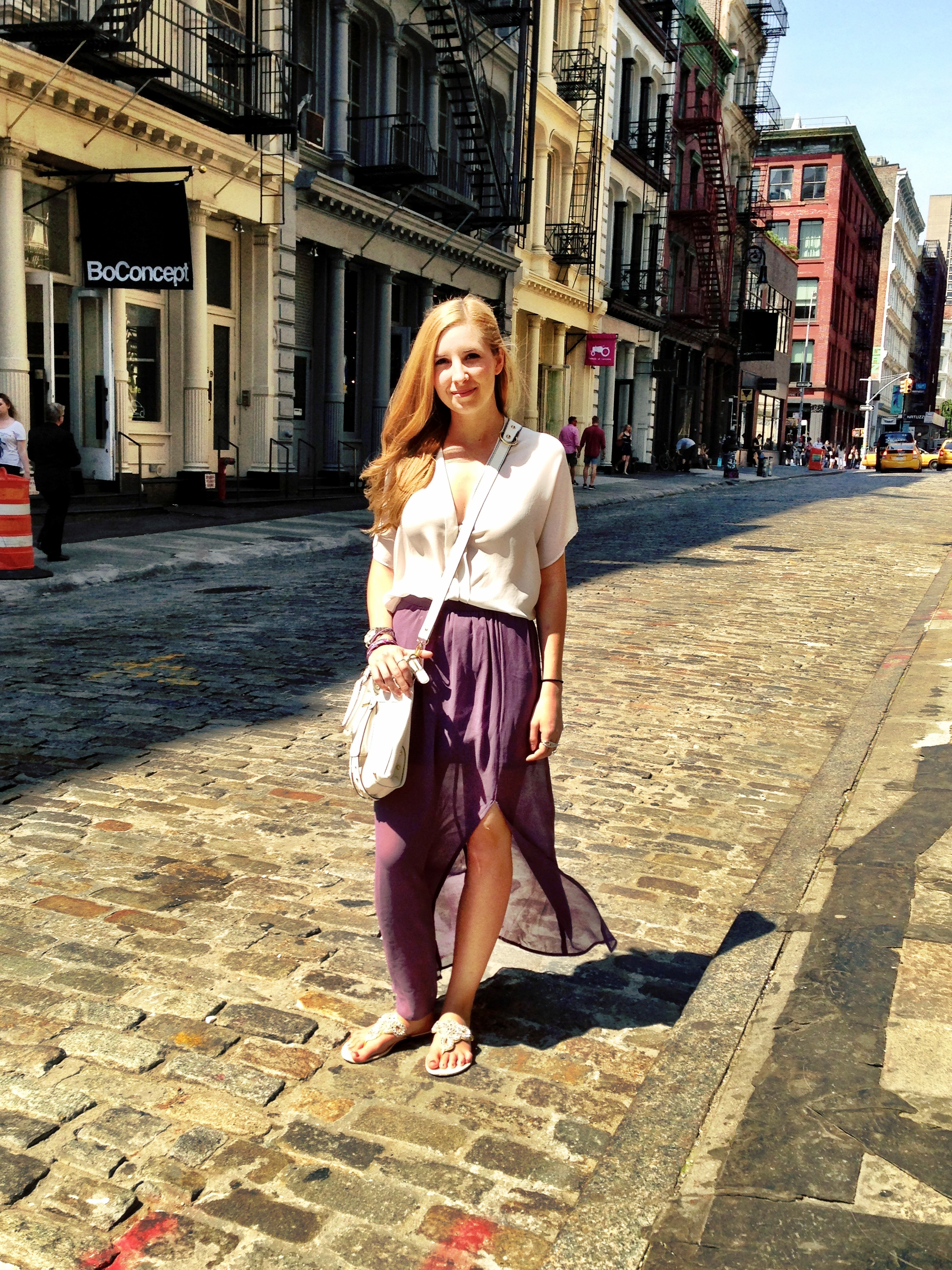 BFA Fashion-Merchandising student Brittany Schramm interned at The Donna Karan Company in New York City last summer. I asked Brittany about her personal style, her fashion indulgences and past internships.
How do you define your personal style?
Personally I gravitate towards elegant and light yet casual pieces. I am on the go nearly every day, working, interning, and going to school all while trying to balance a social life so I need pieces in my wardrobe that are versatile. I like to dress myself in something that I know not everyone will think of wearing, but something that I can also wear to my internship, or work if I threw on a blazer over it, and then out at night if I was meeting up with friends.
I value sheer fabrics and that is what 80% of my wardrobe consists of, because it is so versatile, but still a little romantic and classy. I love the way light fabrics drape and flow so effortlessly. I would say that makes my personal style classy, chic, and ready to take on the city.
What is your inspiration, right now?
My inspiration right now is really my aspiration to be successful as an on trend businesswoman. I look at the successful industry professionals and the sophistication and how poised they are mentally; it really drives me to take my fashion to a more mature level than the average 21 year old. But, I am also very influenced by the romanticism movement that has been a major macro trend in the industry the past year or two, so I have been finding the balance between the two.
I have a huge appreciation for street trends, for example the DIY movement, so I even cut and made my own high wasted frayed shorts. As a young woman I am inspired to take these trends and twist them into a version that fits my personal style. The DIY trends really inspire me to take a common trend and take it up a level to make it sophisticated and chic.
I can't say a particular person inspires me because I feel like the point that I am at in my life is what is driving my inspiration. I am at a point where I can go after anything that I want to become or do, and in order to succeed I need to be unique and work extremely hard this is the main source of my inspiration. Every time I shop or put together an outfit I am personally inspired to look different than every other girl—we are all influenced by trends, but I don't want to be wearing a current trendy piece like every other girl. I want to wear that trendy garment in a way that is a step above the rest.
I have the same mentality for what inspires me in school and at work, when I do a project and need to be inspired yes I look at the current and future trends, but I also look at how I can make this project unique to every other person's in my class. For example I get the most inspired in my projects by finding a gap in the marketplace fulfilling that consumer's need in a way that isn't being done or hasn't ever been done.
What is your biggest fashion indulgence?
This took some time for me to think of, because I am not biased to any particular type of clothing like shoes or bags. But my biggest fashion indulgence is bargain shopping. I can spend hours shopping online or in a store if I have the day. For example, just finding a pair of on trend BCBG sandals for $20-$30 was like finding treasure! I LOVE a great deal and I love even more when people compliment me on something I got an amazing deal on or they ask where they can get it. Plus, usually when you find deals on cute, good quality clothing, it is the last one and there is a very limited amount, so I don't have to worry about someone else I know having it. I guess I really enjoy the hunt.
What is your signature style accessory?
My signature style accessory is my Swarovski watch, with mother of pearl on the inside and crystals set around the face of the watch. I wear it everywhere I go. It's my signature accessory because it really fits my personal style and it goes with every single piece of clothing I own. Also, since I am on the go and my life revolves around being professional at work, school, and my internship, it just fits my lifestyle perfectly. My life is about time, so my watch has to work!
Which is your favorite shop in San Francisco?
For beauty like hair care I am a frequent client of Beauty Land. It is a boutique on the same block as Macy's at Union Square, but on the opposite side, that carries salon products at a great price. It is hard to say for clothes and accessories because there are so many boutiques in San Francisco that I like, so I would have to answer that by street. The boutiques along Haight Street and the boutiques along Union Street are some of my favorites.
Who are your best friends in fashion (your style posse)?
When I was interning in New York  I lived with a girl who is interning for Chanel and we became great friends. Back in San Francisco I have Alyssa and Staniesha who were my coworkers.  We all have a different sense of style but are all very dedicated to working hard in the fashion industry trying to succeed. We help motivate each other and support each other's careers. They are my best friends and the most fashionable girls I know.
What is your motto?
Dress for the job you want, not the job you have.
Tell me a little bit about your internship experiences so far.
So far, I have learned that my internship opportunities are bigger than just interning or working for The Donna Karan Company. I was invited to an internship induction at LVMH headquarters, which really opened my eyes to the fact that the opportunities are even bigger than the goals. I had the opportunity to meet so many influential people in the fashion industry at my induction and got to hear from them and listen to the advice they had. It was a great networking experience, and so far that has been the most exciting part of my internship experience. I now see more than ever that my future boss or coworker can stem from a conversation. If I do a great job and connect with different people in different departments, divisions, or brands, I can create more opportunities for the company I intern for and for myself.
I am learning the logistics of how a fashion brand is run, and that as an intern I not only work for my boss, but I have the opportunity if I finish my work, to help other people on projects they are doing that interest me or relate to my career. I learned how to balance what my boss is asking of me, as well as her boss and the other people in the office that ask for my help, and how to prioritize tasks. I interned in shoe production, and it showed me how much I really am driven creatively—but that you can't just be creative, because there are many logistics that come into putting product out on the sales floor.
I am a very detail oriented person, which is important because for example just the color of stitching can be altered if it isn't the correct shade. In order to create the best product for any specific season, it is important to look at the finer details and communicate with factories constantly in order to make sure the correct product is being made, shipped, and sold.
Interview conducted by Keanan Duffty