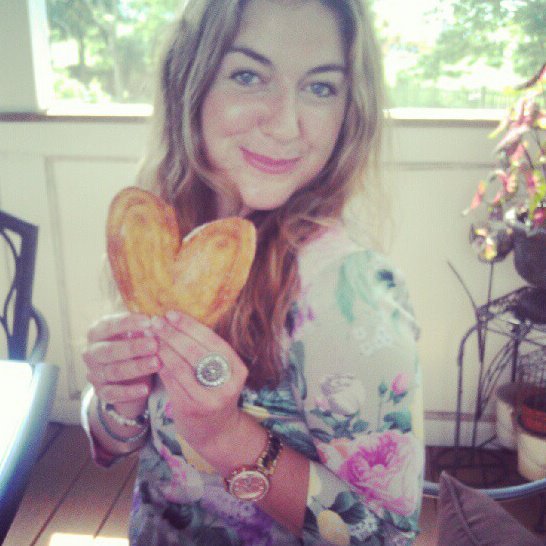 Not sure if the lead "What I did on my summer vacation…" can possibly sum up Brianna Geeslin. The BFA Fashion Merchandising student doesn't graduate until Spring 2014, but she's spending her last summer as a student not only interning with London-based fashion designer, Zoë Boomer, but lending her support to the designer's human rights initiatives. Today, Brianna is sharing with us exactly what her life across the pond has looked like for the last few months:
What was your first ever "fashion" purchase? That one piece you had to have?
Hmmm, that is a hard one. I think in some ways I am still after that piece that I just have to have, which would definitely be a Chanel bag. It's forever etched in my heart to own one some day! I will say that when I bought my first designer handbag and watch, both Michael Kors, my heart was quite happy and satisfied.
What has been your favorite experience as a student at the Academy of Art University?
I think one of the most amazing experiences I've had so far at the School of Fashion has probably been being able to attend New York Fashion Week. I really enjoyed the workshops, the excitement of being at Lincoln Center and experiencing all I love about fashion up close with others who love it just as much. There was such anticipation in the air, tt was electric! Hearing Gladys Perint Palmer speak was definitely a highlight that weekend. I will carry with me her words of wisdom for years to come.
How long have you been living in London? What has it been like in the UK, during this summer especially?
I have been in London since July, and will be here until October for my internship. The most exciting thing about being here during this particular time has been the birth of the royal baby. Seeing the excitement and joy around that event in real time was incredibly special, and something I will long be grateful to have been here for.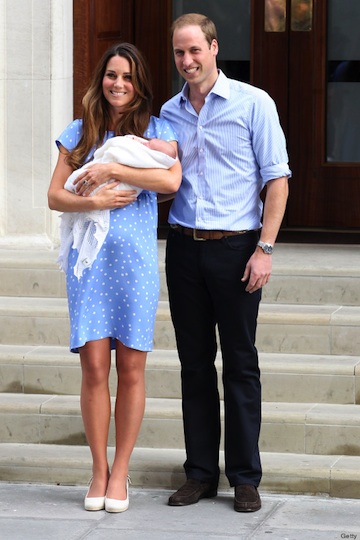 The Duke and Duchess of Cambridge with royal heir, Prince George. Photo courtesy of  Neil P. Mockford/Getty/FilmMagic.
Any favorite spots in the city? What are you most inspired by in London right now?
I have really enjoyed going to St. James Park with a good book, and relaxing for a bit in the beautiful outdoors. I really appreciate the love for nature and simplicity here. Also, for some odd reasons I love the Waterloo & Paddington train stations. There is something magical found in the chaos of people of different cultures and backgrounds bustling to get to their next destination. It's human connection played out before your very eyes.
Experiencing the amazing museums and exhibitions here has truly been some of the best inspiration. From the life of Queen Victoria at Kensington Palace (she is one of my heroes!) to the Miles Aldridge exhibition (one of my favorite photographers) at Somerset House, to getting to walk through the V&A and see histories of fashion come to life. I also got to see Gladys Perint Palmer's illustrations at the V&A, which was quite exciting indeed! These is such a love for history and the arts here that truly serves as daily inspiration.
Tell me about your internship with Zoë Boomer. 
This internship has been a dream come true in so many ways. First off,  Zoë is one of the most pleasant and beautiful people you'd ever want to meet. She is a designer filled with both creativity, as well as business savvy, which I think in the fashion industry is really the perfect combination.
[justified_image_grid row_height=325 height_deviation=50 ids="25868,25869″]

Images from Zoë Boomer's lookbook for Spring 2014.
What really made me want to intern for  Zoë was not only that she was a brilliant designer, but that she merged her gift to design with a social justice cause which is a concept  dear to my heart.  Zoë started the Freedom Campaign, which is a t-shirt collection that supports the A21 campaign: a non-profit fighting human trafficking.  Zoë has a real eye for femininity and simplicity and all her clothing is produced in the UK without any involvement of sweatshops! I think at the end of the day she is a combination of an incredible designer with a passion for ethics and beauty. It's truly been such an honor to learn from her thus far. I am excited to see all that I take away at the end of my time here.
[justified_image_grid row_height=400 height_deviation=50 ids="25880,25878,25879″]

Images from Zoë Boomer's Freedom Campaign.
I think my biggest surprise being here is just the realization of how fast the fashion industry is always moving and how important it is to be on your feet, creative, and constantly having new ideas. The biggest challenge thus far I think ties in with that, just trying to strategize and come up with new ideas for social media / marketing and engaging the Zoë Boomer consumer. I think so far it has taught me to think for myself and have a voice, and not just do busy work. I am very grateful to Zoë for creating opportunities for me to be innovative and creative, not simply giving me a to do list.
What are you currently obsessed with?
Definitely the Olsen twins! I have such a respect for the business they've built, and I adore their approach to style. I have been on a minimalist kick lately, and they have definitely been a source of inspiration. Also, I have to mention Levo League. It's an online community for women to find inspiration and career mentorship. I have benefitted so much from their office hour chats with really kick butt women from Kelly Cutrone, to Sheryl Sandberg and so many more!
Check out Zoë Boomer's complete collections at www.zoeboomer.com. For more "Student Spotlights", click here.