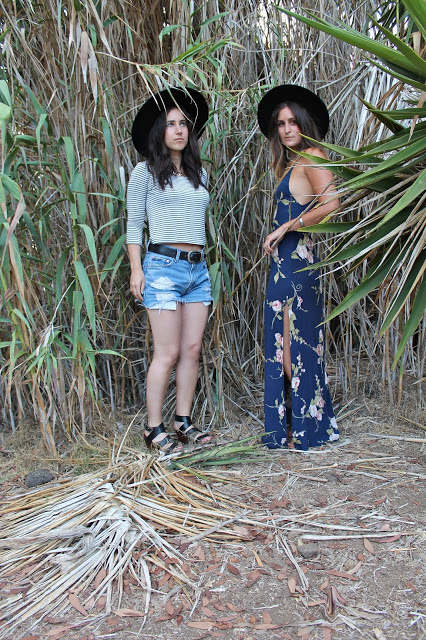 Sara Iravani (right) with co-founder of North by South Ashley Mahmoudian. Photo courtesy of NORTH // SOUTH.
In the seemingly endless amount of selfie-style inspired blogs, NORTH // SOUTH has, officially, become one of Fashion School Daily's permanent links on our bookmark bar. (Read: we like it A LOT!) West Coast fashionistas looking for style inspiration need search no further than the insights and images from MFA Fashion Journalism student, Sara Iravani. The California native has teamed up with undergrad bestie Ashley Mahmoudian, to bring you the best of Bay Area fashion in NorCal. (Ashley covers all things LA, hence the name NORTH // SOUTH.) We caught up with Sara who shared with us what it's been like building her blog, landing bylines as a contributing writer with RackedSF, and her latest venture into the world of beauty via her summer internship with Sephora.
How did you meet Ashley?
In one of those classic friend swaps that happen so much during everyone's undergraduate years. My freshman year, I went to a Chrismakkuh party with my shiny new college girlfriends (we all happened to be from the same hometown) and they were like, "You can finally meet our other best friend. She's Persian just like you!"
I probably said something along the lines of "Yea cool," when I really meant "Psh, whatever." Low and behold, I was meeting the curliest head of hair I'd ever seen and she was wearing the best gold necklaces and rings.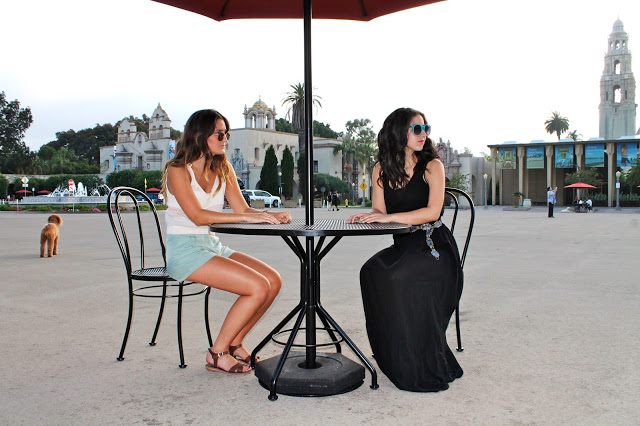 Sara and Ashley of NORTH // SOUTH. Photo courtesy of North by South.
What prompted the idea for NORTH // SOUTH?
I had just moved up here to start my grad program, and Ashley was living and working in LA. We were always sending each other fashion blogs, news and little clippings until one day we were kind of like, "It would be freaking awesome to collaborate with one another." Also, a lot of other fashion blogs (at the time) were boring and only talked about "What Taco Tuesday outfit to wear?" or they already made the big leagues and dove head first into a pile of designer handbags. We bounced a few ideas around about presenting a "joint fashion blog", and we realized we were sitting on a gold mine of a theme –California!
What do you see as the biggest differences in Nor-Cal vs. So-Cal style?
In comparing notes with Ashley we agree that Nor-Cal is a lot more about HOW you wear clothing versus WHO you are wearing. In San Francisco, fashion is an undercurrent, meaning it's cool to look less obvious. The girl wearing all the designer fashion labels looks out of place versus the SF cool girl who is quirky, eccentric and owning her own unique sense of style.
[justified_image_grid row_height=300 height_deviation=50 ids="26547,26555, 26548,26550,26551,26552,26553″]

So-Cal style is more label-driven than anything else. That doesn't necessarily mean that everyone is wearing Prada and Celine, but I think certain brands are generally 'cooler' than others. It's typical to wear high-end brands like Isabel Marant, but at the same time smaller certain smaller labels like, For Love And Lemons or Stone Cold Fox are just as cool. Of course, So-Cal is infamous for the beachy, laid back vibe and I think generally people adhere to that, but that goes hand in hand with wearing what is fashionable and what is the must-have item at that moment.
Anything that Ashley has covered that you would never wear or vice versa?
We never say never. Both of us are risk takers when it comes to clothing, although we do both have different styles. In a nutshell, Ashley is the accessories queen while I always seem drawn to tie-dye. Ashley describes it best by saying, "We both wouldn't be caught dead in a bandage dress (not of the Hervé Léger variety, that is) and 6-inch stilettos a la Kim Kardashian."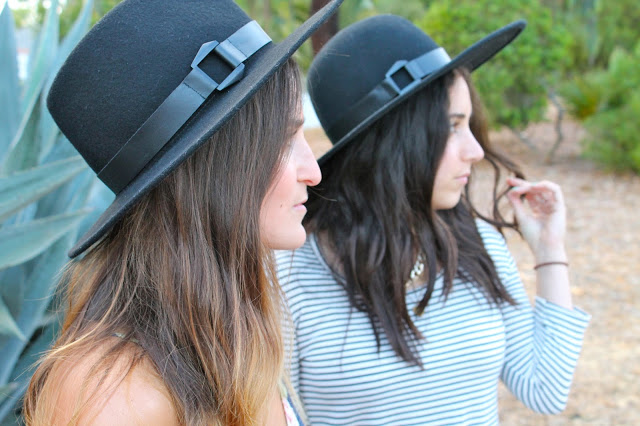 You're a frequent contributor to RACKED SF. Is it hard blogging for multiple outlets, having to switch voices, etc.? 
You get used to it with experience. The first few assignments are always the most challenging since you're not confident with what an editor will like more or less of.
Tell me about your amazing internship opportunity with Sephora this summer.
I feel very grateful and fortunate to have had the opportunity to work with a team of highly skilled fashion and beauty writers. Having the access to their work places and being able to collaborate with them every day was one of the most rewarding parts of the work experience.
What was the most challenging aspect? Favorite memory? Your most surprising experience while working there?
The most challenging aspect of this internship was finding the time for it all! It is difficult to intern as a graduate student, since I still need to make money and write as much as possible to do so. Time management and juggling a work/intern load was the most challenging part. Also, I had never written about beauty before this (self described) "crash-course summer of beauty." Beauty is a crazy industry, so many products with so little words  that can be used to describe them. (Half the words aren't legal!)
My favorite memory is probably my worst! I had to complete this needle-in-a-haystack project for the Editorial Department and I was going crazy because I didn't have access to or previous knowledge about the what I needed to finish it. I look back on the headache now, and realize I learned a lot about communication, as well as being assertive and team-oriented within the corporate wheel. My one regret looking back is that I wish I hadn't been so shy about talking to other people in other departments!
As a (newly-minted) beauty girl, what three products do you think every fashion student should have in their school bag?
Aquaphor, for my hands, Burt's Bees Tinted Lip Balm (in Rose) and I always keep these tie dyed hair ties in my bag, since I can't write when I have hair in my face.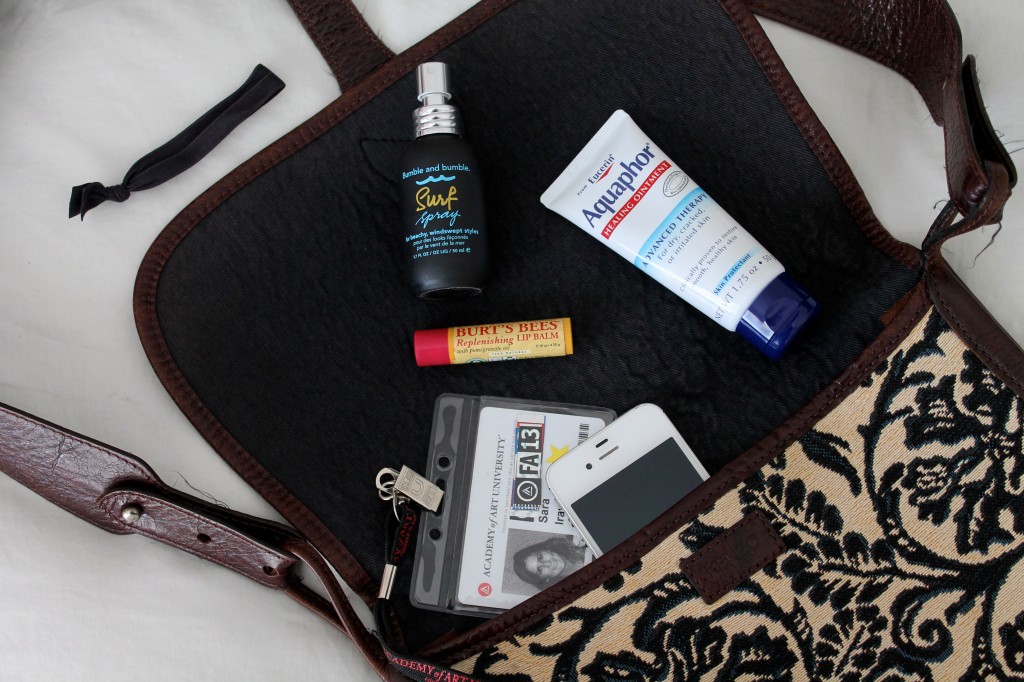 Sara's beauty must-haves.
As you approach your last semester, what advice would you give to students who are just starting their editorial courses of study / careers?
Always try to build something. As a Journalism student in the Fashion School, the best thing I ever did was start taking classes in other departments like "Web Design & New Media" and "Multimedia Communications". You'll network more with students who you can collaborate with on future work projects and, more importantly, branch out in building your multimedia skills which are so necessary in today's crazy, mass media, world. Also, your work experiences are what will get you a job in the future, so don't waste time on internships or work experiences that aren't a direct link to where you want to go . People are out to take advantage of your time and energy as a writer, and it's important to know where you see yourself in the future and how to get there.
Follow Sara and Ashley's West Coast style adventures on NORTH // SOUTH and on Instagram. For more "Student Spotlights", click here.