"If a shoe cannot be walked in, is it still a shoe?" That's the question the latest exhibition at the Refusalon Gallery intends to answer. A Walk of Art: Visionary Shoes opens on November 7 and runs through November 21. Curated by Israeli fashion historian, Ya'ara Keydar, this traveling display presents 60 works by 39 students and alumni of Bezalel Academy of Arts and Design, Jerusalem and examines the inherent mysticism attached to footwear. Amy Burke (MA Fashion Journalism) reports on the preview.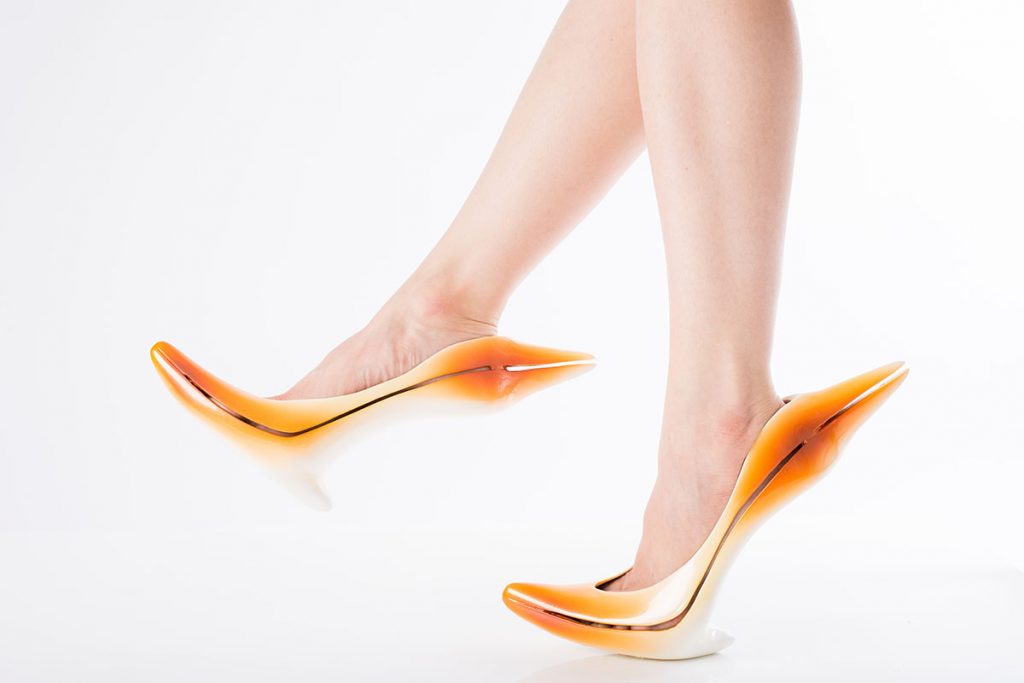 "Shoes are transformative," explains Keydar. "They are supernatural objects far outweighing practicality, aesthetics, and fashion. They embody conventions of beauty and desire, status, power, belief, identity, gender, cult, and obsession. They also defy them, representing enthralling, unforgettable stories." From Moses' sandals in the Bible to Dorothy's ruby slippers in The Wizard of Oz and Carrie Bradshaw's singular obsession on HBO's Sex and the City… there is no shortage of examples how shoes have played a significant role in culture and history.
Case in point is a pair of nude leather heels by Kobi Levi. Titled Blow, they resemble bare legs bent at the knees with a provocatively arched back. Created in 2010, the sensual design critiques commercialization of sex. "In modern society everything is product-related, even things that are not supposed to be sold," comments Levi. "I chose an old fashion inflatable sex doll as the inspiration and designed this high heel peep toe pump as a suggestive body posture with a glossy red trim and a mouth piece on the back to blow. Pun intended, obviously."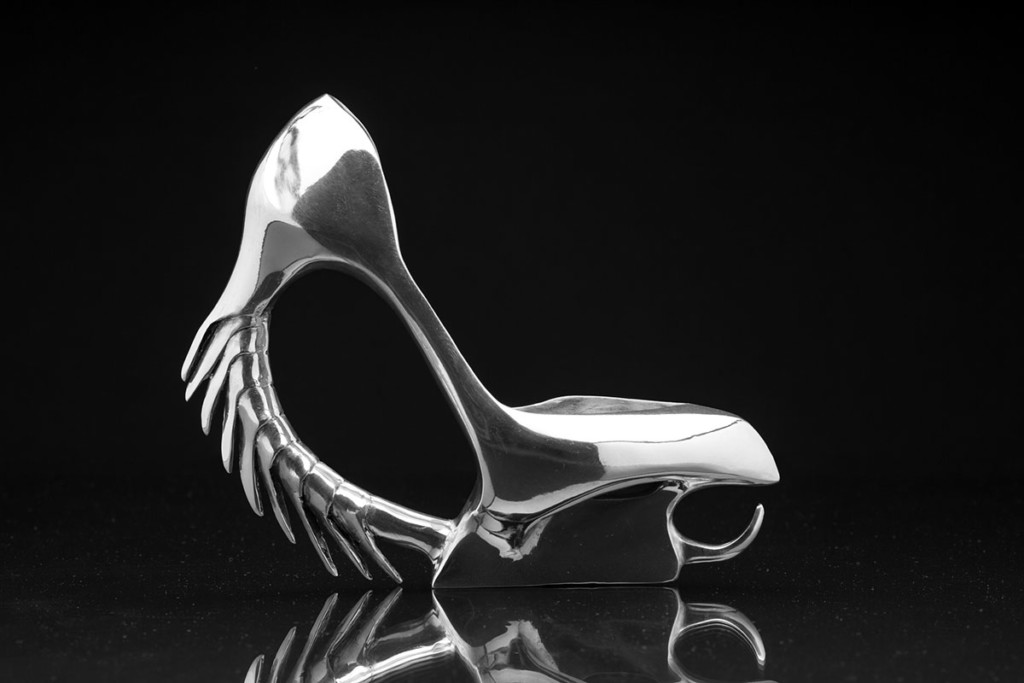 Also on display will be Double Boots, first created in 1998. It's a calf-length piece without a traditional heel, designed to make the appearance of two soles pointing in opposite directions. Its eccentricity and uniqueness caught the attention of pop provocateur Lady Gaga who featured them in her 2011 music video Born This Way. "They draw our attention as they are familiar to us," says Levi. "We see ourselves or other people in them. They are also a three-dimensional shape with a strong iconic look, with or without the body."
Founded in 1906, Bezalel Academy is the only academic institution in Israel to offer a footwear design program. Keydar first encountered the works of its students and alumni while putting together Cinderella Syndrome, another exhibition focused exclusively on high heels. "The works I received from Bezalel were so stunning that I offered to create a spin-off exhibition," notes the curator. The final meticulously crafted 60 pieces range from seemingly classic to utterly bizarre and utilize a plethora of unorthodox materials including metal, wood, porcelain, and even 3D printed plastic.
"The designers have thorough knowledge in creating wearable, comfortable, commercial footwear," reflects Keydar. "However, what is interesting about the way they learn is that they release all those boundaries while creating new shoes." For example, Omer Saig utilized hand carving techniques in crafting his gorgeous Nefertiti shoes while Neta Soreq focused on fusion of anatomy and technology to design a fascinating bouncing heel.
So, is it crazy footwear or cool art? The exhibition will remain open to the public at the Refusalon Gallery through November 21st. Check it out and let us know what you think!
Text by Amy Burke, MA Fashion Journalism