New York, NY, September 6, 2014 – Every designer dreams of showing their collection at Mercedes-Benz Fashion Week, and on Saturday, September 6th that dream was realized for 12 designers from the School of Fashion at Academy of Art University. Since 2005, the School of Fashion has premiered the collections of students and recent graduates during New York Fashion Week. For the Spring 2015 season, 12 designers presented six collections; in total, five individual womenswear collections and one collaborative menswear collection were presented.
"We are committed to helping our students launch their careers, and as a part of that commitment we are thrilled to give students the opportunity to present their work to industry professionals," said Dr. Elisa Stephens, President of Academy of Art University. "It is an incredible opportunity for each designer to debut their collection during Mercedes-Benz Fashion Week."
"This group of designers have gone back to the essence of what the fashion designer should do, focusing on proportion and silhouette development as opposed to decoration," said Simon Ungless, Executive Director of the School of Fashion. "I see them as a collaborative Le Corbusier moving towards a new fashion sense of the architecture of clothes. I see what they are producing as a shift in fashion that will not doubt become an influence on trend in future seasons."
In addition, Academy of Art University unveiled the seventh edition of 180 Magazine in conjunction with the Spring 2015 Mercedes-Benz Fashion Week show.
In advance of the fashion show, for the first time Academy of Art University hosted a fashion symposium. Entitled 180 Degrees of Style, the symposium was held on September 6th at 3:00 PM at The New York Public Library for the Performing Arts. Keanan Duffty, Senior Director of Fashion Merchandising, was joined by internationally renowned fashion photographer Nigel Barker for a discussion that touched on their experiences in the fashion industry, building a brand, and key takeaways for success in the world of fashion.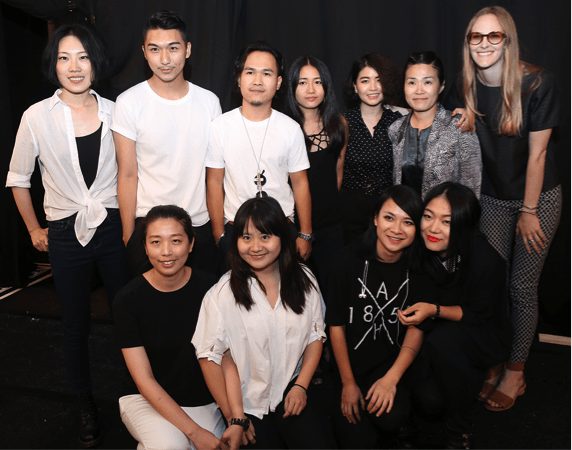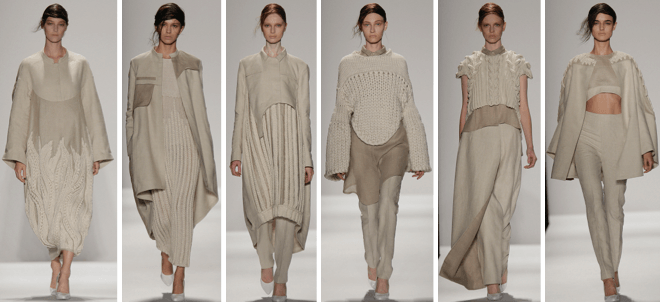 Mia Jianxia Ji, M.F.A. Fashion and Knitwear Design, grew up in Shangrao in the Jiangxi province of China. Mia's design skills have earned her recognition on many occasions; in 2010 she won an honorary award in an international design competition held by the International Textile and Apparel Association (ITAA) and Paris American Academy (PAA), and in 2008 she was a Second Degree scholarship winner in the Creative Sketch Competition held by her B.F.A. alma mater, the Beijing Institute of Fashion Technology. Mia's collection, which she has named "SILHOUKNIT," uses the texture of knitted fabrics to evoke the shapes and feelings of Ana Rajcevic's art collection "Animal – The Other Side Of Evolution."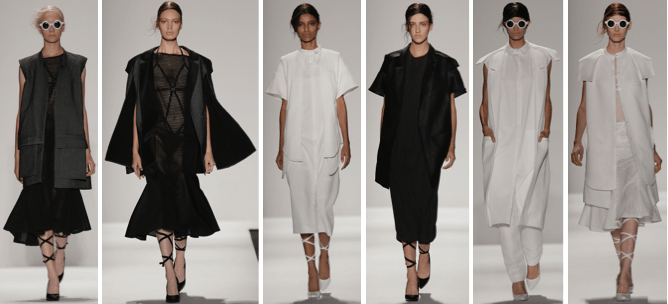 Wei Bai, M.F.A. Fashion Design, grew up in Chongqing, China. Having completed a B.F.A. in Fine Arts and Graphic and Web Design, Wei worked as a graphic designer before undertaking her graduate degree in fashion. Wei's collection features tomboyish, tailored silhouettes that are evocative of the neo-Edwardian Teddy Boy style that became popular in 1950s England. Garments are constructed in one-piece, although many give the illusion that they are separates.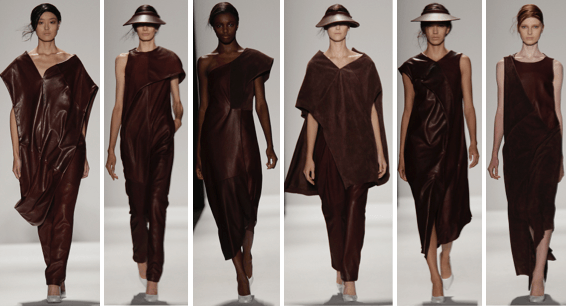 Madison Detro, M.F.A. Fashion Design, was born and raised in Los Altos, California. Before pursuing her graduate degree in fashion, Madison earned her undergraduate degree in Architecture. During her fashion design internship at Yigal Azrouël she gained experience designing, styling and prepping the Fall 2014 collections. Madison's Spring 2015 collection is fabricated mostly from lambskin leathers and calf suede, and explores geometries and imbalance as a catalyst for beauty. Intrigued by the oddities in Le Corbusier's architectural work, Madison's designs are reminiscent of the angles found in the architect's famous chapel Notre Dame du Haut de Ronchamp.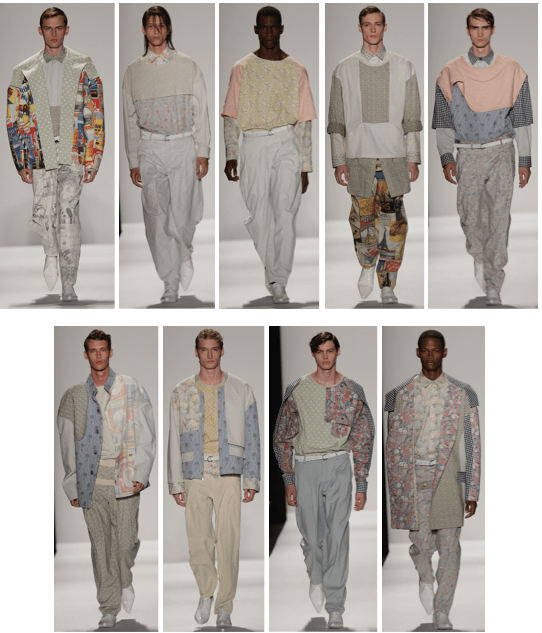 A collaborative Spring 2015 menswear collection was created by seven designers, including:
Asiyat Tsalikova, F.A. Fashion Design, from Baku, Azerbaijan Republic
Max Lu, F.A. Fashion Design, from Taipei, Taiwan
Liz Li, M.F.A. Fashion Design, from Shanghai, China
Jihyun Kim, F.A. Fashion Design Menswear, from Seoul, South Korea
Jingci Wang, F.A. Fashion Design, from China
Yin Yang, M.F.A. Fashion Design, from Chongqing, China
Yaqiong Zhou, F.A. Fashion Design, from Changsha, Hunan, China.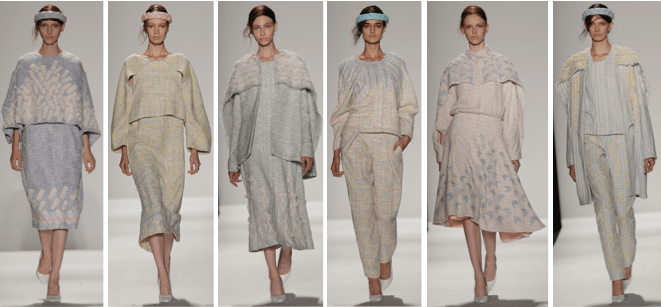 Die Zhou, M.F.A. Fashion Design, hails from Wuhan, China. Die holds a B.S. Degree in Engineering in Gem and Material Technology and before beginning work on her M.F.A. Degree she acted as Executive Editor for Blue Sock Publishing Company in Taiwan. For her Spring 2015 collection, Die took her inspiration from nature, translating the lines and shapes associated with butterflies into the silhouettes of her garments. The collection is focused around a light, fresh pastel color story and is executed in cotton-blend twill.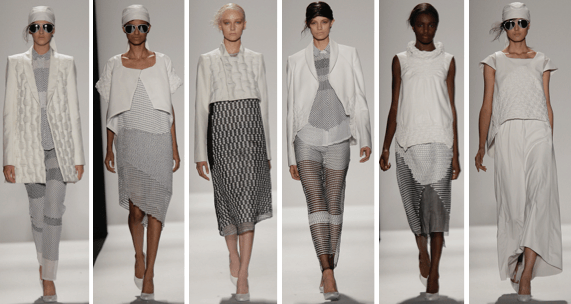 Szu Chi Huang, M.F.A. Fashion Design, hails from Taiwan where, before coming to Academy of Art University, she completed a B.A. in Costume Design. Her background in costumes led Szu to be inspired by traditional Japanese samurai armor. Szu's collection translates her inspiration into modern fashion by using innovative construction techniques to achieve the three-dimensional feeling of armor that has been compiled from many small pieces. Szu used origami-folding techniques on leather and wove grosgrain ribbon in mesh fabric to mimic the woven texture of the samurai garments. The simple black and white color palette of her collection is a nod to traditional Japanese ink paintings and calligraphy.
High-resolution designer portraits and illustrated lineups are available for download at bit.ly/VjBNWL
About Academy of Art University
With more than 18,000 students, Academy of Art University is the largest accredited private art and design university in the nation. Founded in 1929, the school offers accredited AA, BA, BFA, B.Arch, MA, MFA, and M.Arch degree programs in 26 areas of study, as well as continuing art education, pre-college art experience programs, and teacher grants. Classes are available in Acting, Advertising, Animation & Visual Effects, Architecture, Art Education, Art History, Art Teaching Credential, Fashion, Fashion Journalism, Fashion Styling, Fine Art, Game Design, Graphic Design, Illustration, Industrial Design (Transportation & Product Design), Interior Architecture & Design, Jewelry & Metal Arts, Landscape Architecture, Motion Pictures & Television, Multimedia Communications, Music Production & Sound Design for Visual Media, Photography, Studio Production for Advertising & Design, Visual Development, Web Design & New Media, and Writing for Film, Television & Digital Media. Students can also enroll in flexible online degree programs in most areas of study. The University is an accredited member of WASC, NASAD, CIDA (BFA-IAD, MFA-IAD), NAAB (B.Arch (currently in candidacy status) M.Arch) and CTC (California Teacher Credential).
About the School of Fashion
Approximately 2,500 fashion students study under the guidance of experienced fashion professionals in the School of Fashion, which houses the following areas of specialization: Fashion Design for Womenswear, Menswear, and Childrenswear; Technical Design; Textile Design; Knitwear Design; Accessory Design; Fashion Illustration; Fashion Journalism; Fashion Marketing; Fashion Styling; Fashion Merchandising; and Visual Merchandising.
The University works with international brands and recruitment agencies on internships and job placement. Graduates have gone on to such companies as Abercrombie & Fitch, Adidas, Alexander McQueen, Azzedine Alaïa, Banana Republic, BCBGMAXAZRIAGROUP, Blanc de Chine, Burberry, Calvin Klein, Corso Como 10, Chloë, Diane Von Fürstenberg, Donna Karan, Gap, Kate Spade, Kiton, L.A.M.B., L'Ecole Lesage Paris – Atelier de Broderie, Liz Claiborne, Louis Vuitton, Marc Jacobs, Martin Margiela, Martine Sitbon, Missoni, Nike, Nordstrom, Northface, Old Navy, Oscar de la Renta, Phillip Lim, Pottery Barn, Ralph Lauren, Reebok, Roland Mouret, St. John, Threeasfour, Tocca, Viktor & Rolf, and Williams Sonoma. Guests to the School of Fashion include Azzedine Alaïa, Prosper and Martine Assouline, Max and Lubov Azria of BCBGMAXAZRIAGROUP, Yigal Azrouël, Geoffrey Beene, Rose Marie Bravo, Sarah Burton, Andrew Buckler, Julie Chaiken, The Honorable Bertrand Delanoë Mayor of Paris, David Downton, Steven Cox and Daniel Silver of Duckie Brown, Patrik Ervell, Loulou de la Falaise, James Galanos, Neil Gilks of the CFDA, Joan Kaner, Humberto Leon and Carol Lim of Opening Ceremony, Antonio Lopez, Fern Mallis, Alexander McQueen, Rosita and Tai Missoni, Angela Missoni, Margherita Maccapani Missoni, Isaac Mizrahi, Josie Natori, Christina Neault of IMG Fashion, Ian Hannula and Joe Haller of N.I.C.E. Collective, Elisa Palomino, Laure du Pavillon, Zac Posen, Oscar de la Renta, Zandra Rhodes CBE, Ralph Rucci, Nathalie Rykiel, HRH Princess Reema Bandar Al-Saud, Jeremy Scott, Carla Sozzani, Philip Treacy, Walter Van Beirendonck, Dirk Van Saene, and Dame Vivienne Westwood DBE, as well as Christophe Girard Director of Fashion Strategy of LVMH Fashion Group, Robin Givhan, Cathy Horyn, and Suzy Menkes. 
About the School of Fashion Directors
Simon Ungless, Executive Director of the School of Fashion, graduated from Central Saint Martins School of Art and Design in 1992 and was awarded the prestigious M.A. Degree in Fashion with Distinction. He collaborated with Alexander McQueen on the first ten collections shown in London and New York, and personally introduced Sarah Burton, Creative Director of Alexander McQueen, to the late designer. In 2002, he was named Creative Director of Member Holiday, a Korean-based contemporary brand, launching both men's and women's collections with 37 freestanding stores. His work experience spans fashion design, textile design, forecasting, brand development, and marketing for such clients as Givenchy, Paul Smith, and Versace. In addition to his duties as the Director of the School of Fashion overseeing both M.F.A. and B.F.A. programs, he is the editorial director of the School of Fashion's 180 magazine, and the executive producer of the annual Graduation Fashion Show and Awards Ceremony in San Francisco and the biannual fashion shows during Mercedes-Benz Fashion Week at Lincoln Center in New York City.
Keanan Duffty, Senior Director of Fashion Merchandising, graduated from Central Saint Martins School of Art and Design with a B.A. Degree, First Class, in Women's and Men's Fashion Design and Textile Design. He is a member of the Council Of Fashion Designers Of America (CFDA), and was the winner of Fashion Group's Rising Star Award in 2003. In 2006, he created England's Dreaming by Keanan Duffty and David Bowie by Keanan Duffty collections for Target. He has worked as a guest designer with brands including Ben Sherman, Gwen Stefani's L.A.M.B, Reebok, Dr. Martens, Gola, and Aveda. In 2009, he wrote Rebel Rebel-Anti Style. He is the executive producer of a docu-drama film, Malcolm McLaren: Spectacular Failure (2013), about the life of Malcolm McLaren, provocative manager of the Sex Pistols and the New York Dolls.
Sharon Murphy, Director of Fashion Merchandising, graduated with a B.A. from Ohio State University, and has held management positions in product development, sourcing, manufacturing, and fashion retailing. She worked for Esprit de Corp on domestic and international levels with a focus on the development of fabrics and apparel for contemporary, junior, and children's markets. Murphy joined the School of Fashion as an instructor in 2001. She continues to work with Venice Collaborative, sourcing textiles and related materials for the group's architecturally and artistically expressive residential projects in Venice, California.
Robert Curry, Associate Director of 3D Design, graduated with a B.A. Degree in Fashion Design from Leeds University in the U.K. He was an apprentice to Bruce Oldfield at his Couture Atelier and later moved to Vivienne Westwood where he was responsible for the creation of gowns, eveningwear, and corsetry for the couture section of the "Gold Label" collections. Since 2001, he has created showpieces for designers such as Julien Macdonald and Tristan Webber, and has created costumes for film, advertising pieces, and private clients. In 2003, he became one half of a design-duo for Tokyo-based firm "Yacco Maricard," creating the womenswear Label "Unobilie." Before joining the School of Fashion in 2006, he was an associate lecturer at Central Saint Martin's School of Art and Design and Middlesex University, as well as a visiting lecturer at Westminster University and Norwich School of Art, all in the U.K.
Gary Miller, Associate Director of Design, graduated from Ravensbourne College of Design and Communication in England with a B.A. Degree in Fashion Design and Textile Design. He moved to New York City to work for the leading trend forecasting company Here and There, which is now part of The Doneger Group. He worked on a collection and private label for Wilke Rodriguez and developed the namesake brand of Eddie Rodriguez, a men's and women's brand targeting the Latin community. He was the Design Director for Alfani, the largest private label brand for Macy's Department Stores.
Jinah Oh, Associate Director of Fashion Merchandising, earned her M.B.A. in Marketing at Golden Gate University in San Francisco, as well as a B.S. in Clothing and Textiles and a B.A. in Philosophy from EWHA Women's University in Seoul, Korea. She has extensive experience in international fashion and luxury brands. With Escada Asia, she developed business and market strategies, managed merchandising and buying for multiple brands, pioneered and initiated brick and mortar and e-commerce channel development. Later with Cartier, Richemont Korea Ltd., she oversaw retail operations and all aspects of retail marketing activities for the Korean market. In 2010, she joined Savannah College of Art and Design (SCAD) and was the first appointed chair of Fashion Marketing and Management (B.F.A.), and Luxury and Fashion Management (M.A. / M.F.A.); both are the fastest growing programs at SCAD. She has developed and led multiple industry sponsored projects with partners in sectors including tech, fashion and luxury, and trade associations such as Microsoft, Kohl's, Sonoma Brand, Silver Promotion, JC Penny, HSBC and Benetton.
School of Fashion at Academy of Art University
79 New Montgomery Street, San Francisco, CA 94105
Call 800.544.2787 (U.S. only) or 415.274.2200
Academy of Art University: academyart.edu­
School of Fashion: academyart.edu/academics/fashion
– Credits –
Executive Producer – Simon Ungless, Executive Director of the School of Fashion
Casting – Zan Ludlum Casting / zanludlum.com
Stylist – Marcell Rocha for Workgroup / workgroup-ltd.com
Production – LDJ Productions / ldjproductions.com
Front-of-House Production – Kucerak & Co / kucerakandco.com
Show Press – Jono Waks / jono.waks@gmail.com
Models
DNA / ELITE / FUSION / IMG / NEXT / NYM / RED
REQUEST / SOUL / WILHELMINA / WOMEN
Music – Scott Ewalt
Production Assistant – Michelle Grunberg
Dressers – Audrey Smaltz Inc. The Ground Crew
Hair by Jon Reyman for Aveda
Make-up by Victor Cembellin and the MAC PRO team
Nail Services by Patricia Yankee
In-house Press Contacts
Ian MacKintosh / 415.618.3849 / imackintosh@academyart.edu
Jeanette Peach / 415.618.3891 / jepeach@academyart.edu
Chloe Preussker / 415.618.3831 / cpreussker@acdemyart.edu
Social Media Channels
Fashion School Daily: fashionschooldaily.com
Facebook: facebook.com/academyofartfashion
Twitter: twitter.com/aaufashion
Instagram: aaufashion