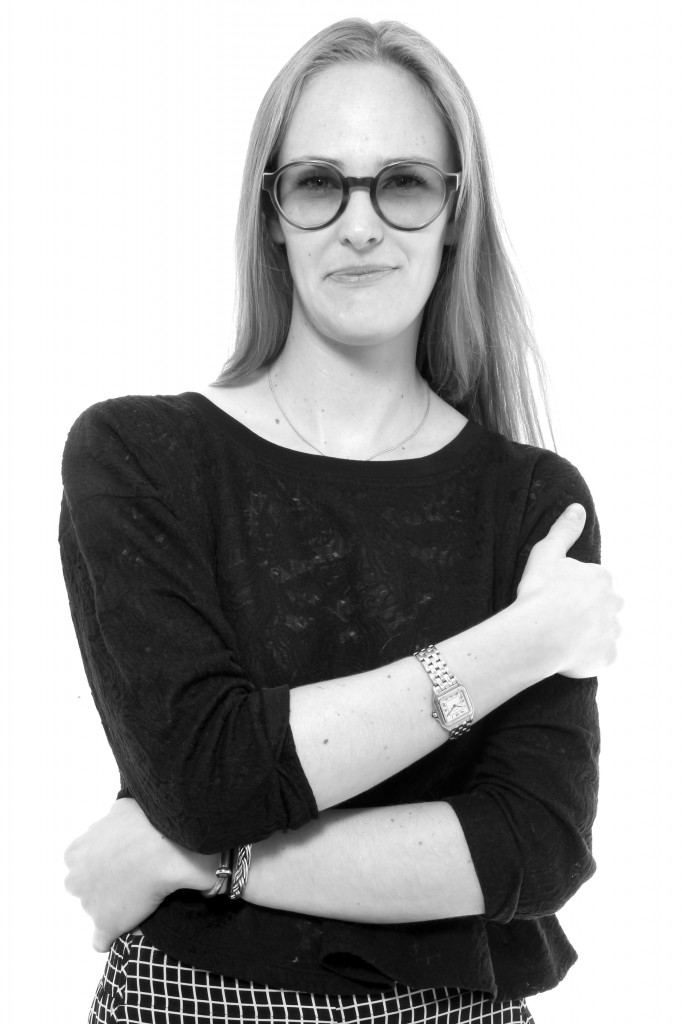 Spend a few minutes with MFA Fashion Design student Madison Detro and you'll walk away with an inkling that she's at the beginning of a design journey that could go in many directions. In the midst of a fast-approaching deadline to complete her runway collection for Mercedes-Benz Fashion Week in New York, Detro appeared focused and methodical, almost subdued. Yet it's very clear that at 26, she's already an overachiever whose creativity spills into multiple formats. There's Detro the solo designer, an avid researcher who likes to experiment with shape and form.  Inspired by the creations of Swiss-French architect Le Corbusier, as well as her formative undergraduate studies (she received a B.A. in Architecture from Cal Poly in 2008), her designs translate into garments that are unfussy, streamlined, and monochromatic – often free of zippers, snaps or fasteners. Then there's Detro the collaborator, who thrives in partnerships. With her younger sister Malone, 24, she founded Moseley, a clothing and accessories line named after their great-grandmother, a fashion-forward San Franciscan who lived to be 99. And with her boyfriend, Conor Sweitzer, she collaborates on custom furniture and retail store fixtures in the work studio they share on Treasure Island. The thing at the bottom of her creative priority list, modelling, is sometimes hard to shake. At 5'10 and a size 2, she's often a muse for photographer friends, and her sister Malone's first choice when tailoring new designs. Detro's New York-bound collection, featuring six looks, was inspired by what she called the "intriguingly simple complexities" of Le Corbusier's Notre Dame du Haut in Ronchamp, France.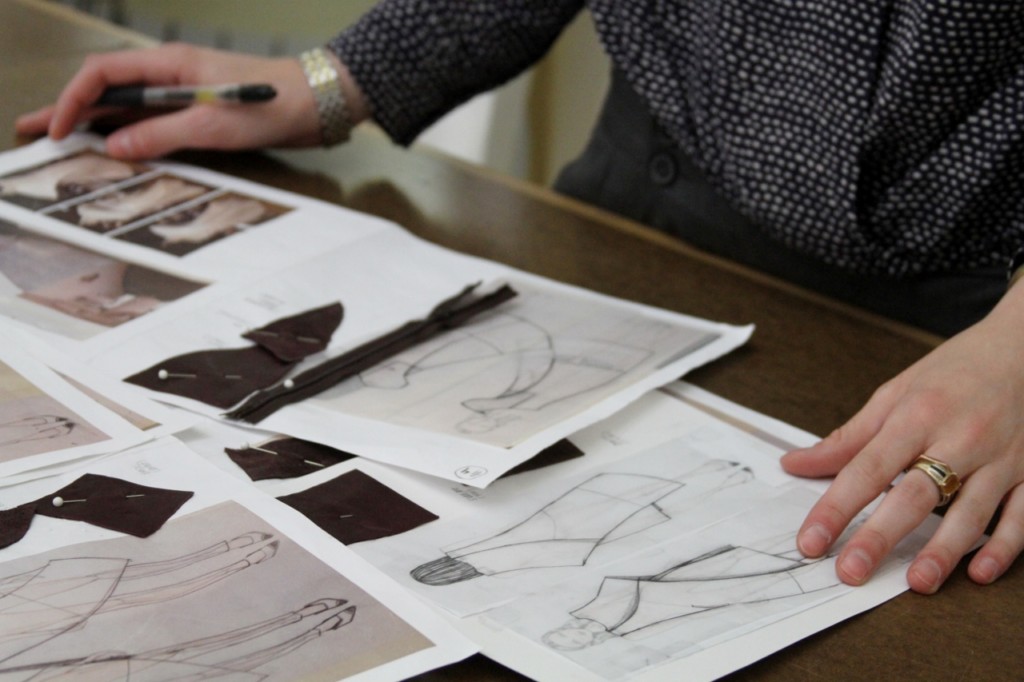 "I did a lot of sketches, then began to make some of them in 3D samples," she said. "It was a lot of back and forth between 2D and 3D, since I was designing as I was going. I had no idea what my collection was going to look like as a whole until I had about four looks done.  But I just let the process guide me, and it felt super natural and instinctual." Coveting the highest quality materials (it's unlikely there will ever be a "Madison Detro for Target" line), she secured $5,000 through a Kickstarter campaign to purchase the leather for the collection. All of the pieces – from cape to jumpsuit to pull-over dress—are rendered in deep burgundy lambskin and calfskin and fit with her vision of a minimal aesthetic with some dramatic details. Detro's fascination with architecture seems to frame everything she does. "I would say architecture gave me a real understanding of composition, including spatial relationships, proportions, and scale," she said. Fashion School Director Simon Ungless agrees. "Madison stands out as a designer due to her training as an architect," he said. "Her fashion design aesthetic is informed by a non-decorative approach to form and function in relationship to proportion and silhouette."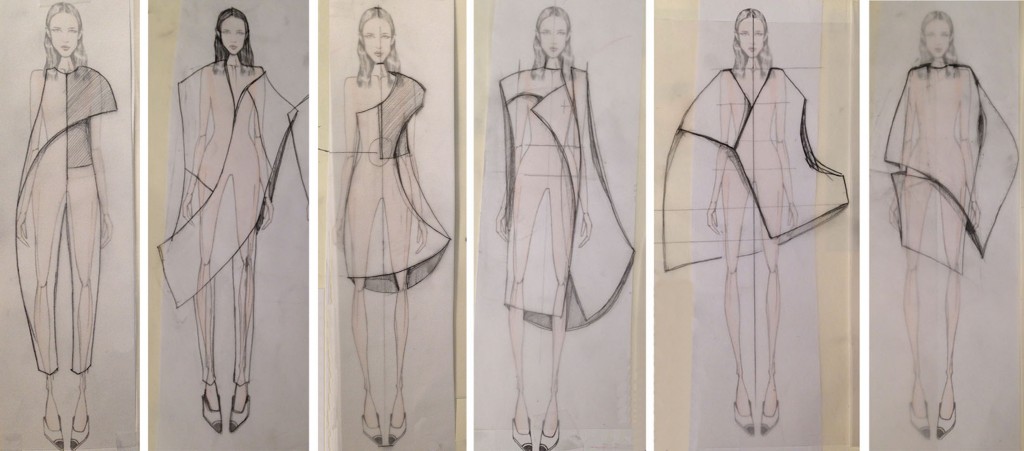 It would appear creativity is in her DNA. Her father is a cabinetmaker and her mother was constantly dreaming up craft projects for Detro and her five siblings when they were young.  Today, one is a painter, another designs skateboards, and one works in special effects at Industrial Light & Magic – and there's Madison and Malone, who are so close, they joke that they're twins.
Growing up in Los Altos, Detro was "terrified" of cities. But she now seems to thrive on the buzz after studying in Paris (both Architecture and Fashion Design) and securing an internship in New York last year with designer Yigal Azrouel. She has also assisted at Alexandria von Bromssen Designs in San Francisco. Von Bromssen, another success story from the Academy's MFA Fashion Design program, is best known for her work on Project Runway.
In 2012, Detro began doing work at Acrimony, a small retail clothing store not far from her Hayes Valley home. She initially approached the store's owner, Jenny Chung, hoping for a part-time sales position. Instead, Chung hired her to do some merchandising make-overs. Detro, with her boyfriend's help, designed a system of jewelry displays and unique, streamlined racks and shelves.
"Madison was able to create an innovative fixture solution that was both unique and functional," Chung said. "Her vision is sharp, focused and encompassing of more than just the small space she was working with."
Ironically, Chung has yet to see Detro's clothing designs. But she'd be willing to buy from the up-and-coming designer in the future.
"If it fit, I would definitely consider it. I love her work," Chung said.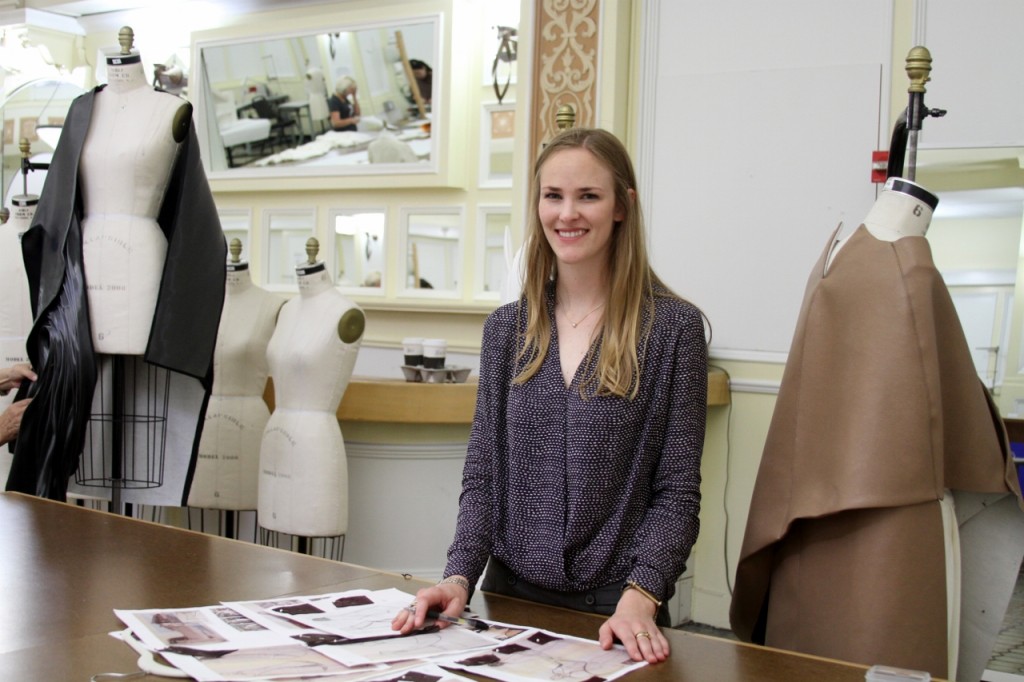 Betraying her own minimalist sensibility, Detro seems to have one funky fashion quirk: collecting over-the-top vintage coats and leather jackets. One side of her closet is filled with eclectic finds – ranging from an oversize mink to a blousy number with bat sleeves. Her favorite, a lucky flea market find, is a brown snakeskin jacket embellished with an African textile pattern.
It's been ages since Detro has had time to browse for vintage treasures – and it's hard to know if her schedule will ever lighten up. She's no longer working 13-hour days preparing for Fashion Week, but her list of plans keeps expanding.  Her first goal is to launch her own line, and down the road, develop a menswear line. A shoe collection isn't out of the question, either.  On top of it all, she and Sweitzer plan to open a restaurant together someday, collaborating on food and interior design.
So, to be safe, she refers to herself as simply a "designer."  A word that can't begin to sum up what she does.
Written by Jennifer Blot