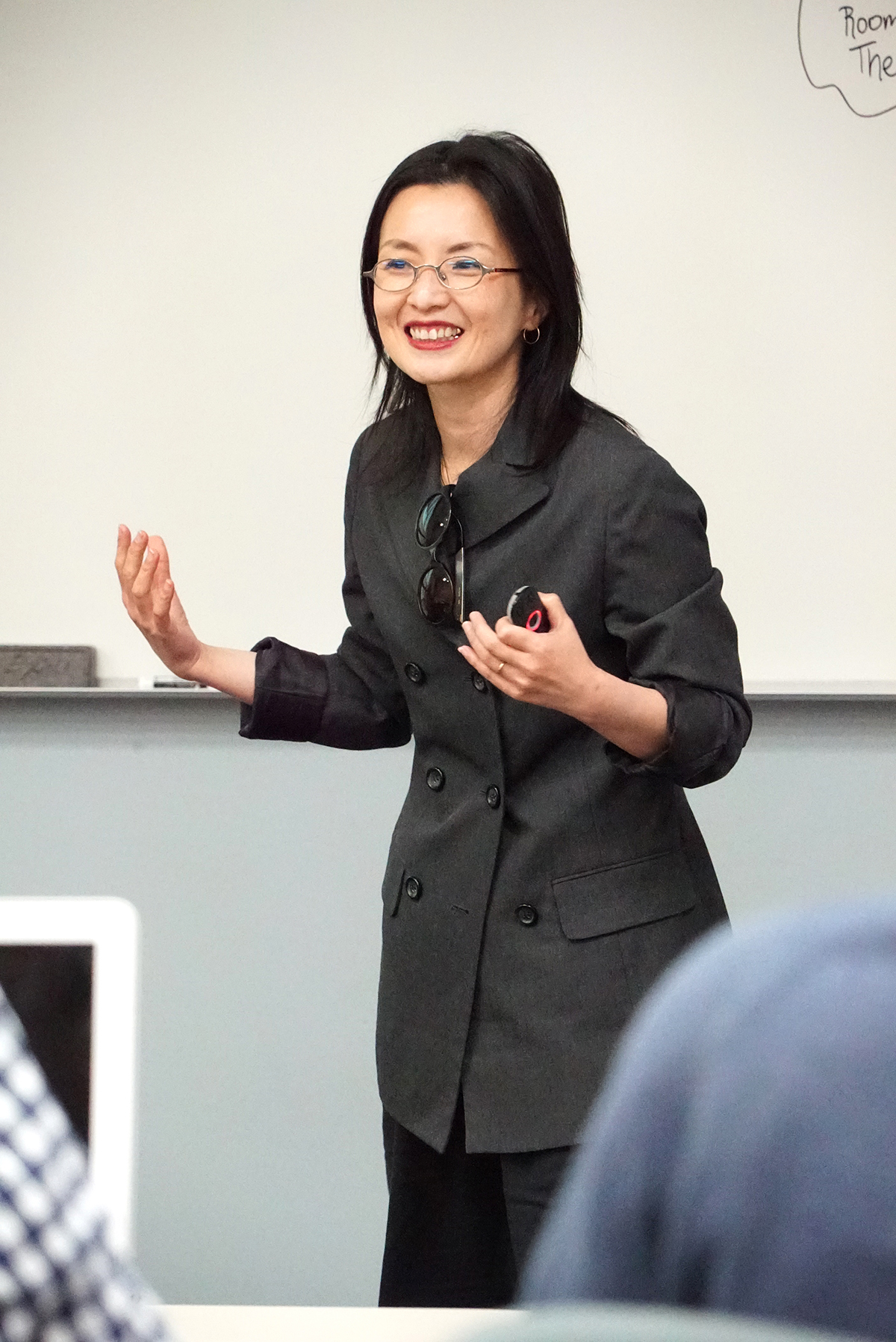 "Fashion isn't just about runways," Jinah Oh, Director of Fashion Merchandising at the School of Fashion, said to students at her UC Hastings College of the Law guest lecture. On Tuesday, March 29, UC Hastings Professor in Residence Dana Beldiman invited Oh into her classroom to discuss the complex system of the fashion industry as a premise to Intellectual Property law theory and practice.
Beyond the gloss and glamour, fashion is an intricate realm that's part art and part business. And while its visual allure and tactile extravagance are undeniably magnetizing and inherently essential, such enchantment has eclipsed the fact that the fashion industry is a vital component to the global economy and exists on all levels.
Having worked as a brand and retail manager at luxury brands Escada and Cartier, along with being the co-founder of the astonishingly innovative skincare gadget, WAY, Oh is a fashion business savant. During her guest lecture she outlined the basic structure and mechanisms of the industry, starting with the backbone—the supply chain.
Tracing a product from start to finish is a remarkably difficult task, particularly today in the age of globalization. The extensive journey is a labyrinth of sorts, a tangled, circuitous route that stretches across the world. This vast, diverse outsourcing structure is deployed at every phase from design and manufacturing to sourcing and retail. As Oh succinctly put it, "you don't want to put all your eggs into one basket."
It all starts with an idea. From inception, the idea goes through a series of creative processes that typically involve research, refinement, and the tentative trial-and-error method. This process is repeated an unforeseeable amount of times until the strongest concepts make it out alive and onto the runway.
Timing is of the essence, and if you're not 12-16 months ahead then you're behind. Due to the nature of seasonal runway and retail cycles, most brands start planning long before their previous collections even make it to the sales floor. Traditionally, once designs were finalized and showcased on the runway, brands would have roughly six months to produce and deliver—that's why fall collections are presented in the spring, and vice versa.
But tradition is on its way out, and overshadowing the antiquated methodology is an increasing demand for immediacy and accessibility. Nobody wants to wait, nor do they want to shell out full designer retail prices, and as a result, consumers are flocking to fast fashion retailers. Companies like H&M and Zara are two of the biggest players in the fast fashion sector that offer designer-inspired products at a fraction of the cost. By replicating designs from leading luxury brands like Celine and Yves Saint Laurent, fast fashion retailers are able to produce fashion trends—no matter how transient—at lightning speed. A fast fashion retailer can take a trend off the runway and deliver it to the sales floor in as little as two weeks.
This business strategy, though widely accepted, highlights an ubiquitous ethical dilemma that lacks an easy pragmatic solution. Where is the line drawn between creative expression and outright imitation? The matter of intellectual property is a prominent, divisive issue in the fashion environment. Businesses all over the world, big and small, exploit and capitalize on the creativity of others by churning out knockoffs of varying quality.
A quick stroll through Han City Plaza in China offers just a glimpse of the magnitude and impact of the counterfeit underworld that's estimated at $1.77 trillion—a value that doesn't reflect the considerable amount of furtive operations that go undetected.
At the forefront of the formidable market is China, a nation notorious for fostering the proliferation of non-authorized "fake" goods. Seoul is also becoming a hub for phony products. In the popular shopping area of Itaewon, counterfeit goods are categorized by quality through a letter grading system. At one end are the "C" products, generally the cheapest and lowest quality forgeries of the bunch, and at the other are the deceptively convincing "super A" goods that are virtually indiscernible from their authentic counterparts. Generally, only locals know of these "genuine fake" products as they're hidden in the back away from the displays, and are only accessible through specific requests. And while most businesses actively circumvent intellectual property conflicts, the consumers are the ones that are usually penalized for purchasing the sham goods.
Imitation is not always flattery, and in the fight against counterfeiting, many brands skirt the battle because contention, in many cases, is more harmful than helpful. Most products have short life cycles, and compounded with time, financial costs, and a complex web of players and levels, many companies choose not to register their designs because such endeavors are simply unviable. While some luxury houses including the likes of Gucci, Christian Louboutin, and Alexander McQueen have taken legal action against the imitators, the majority of brands forgo such pursuits.
Under the surface, fashion is a paradox and what is damaging is simultaneously beneficial. Though knockoffs undercut the sales of authentic designer goods and dilute brand value, many brands look to the counterfeit market to gauge the popularity of their designs. Sales of affordable replicas anchor style, solidifying a trend's prevalence and strengthening public interest in the original design and brand. It's a deeply rooted contradiction that shows no signs of waning.
Written by Angela Han, BA Fashion Journalism.