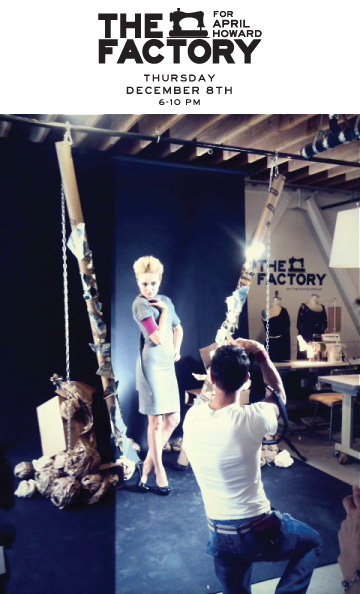 This Thursday, The Factory – an unrestricted retail space featuring capsule collections, collaborations, and one-of-a-kind pieces – is throwing a party to launch their latest capsule collection in collaboration with April Howard.
April graduated from the School of Fashion with an M.F.A. in Fashion Design in 2010 and debuted her senior collection, The Road, at the Spring 2011 Fashion Show at Mercedes-Benz Fashion Week. Her Spring 2012 Collection for The Road will also be on display.
The party will be a mixed-media event, featuring a photographic documentation of the entire design process, live models, and the sewn pieces on display. The event is also in collaboration with CODE Salon, who is providing hair and make-up. There will be cocktails, snacks, and music – all the elements of a fabulous evening!
WHEN: Thursday, December 8th from 6-9 PM
WHERE: The Factory – 370 4th St., Suite 1, San Francisco