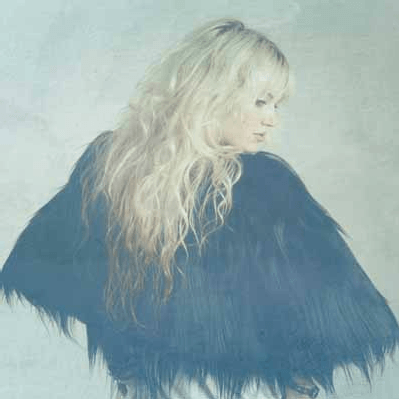 Erin Frederick graduated from the School of Fashion in 2010 with a B.F.A. in Fashion Merchandising. She now works at StippleIt.com, which allows brands to track their images on the internet and make them instantly shoppable. Katarina Farley caught up with Erin to gain some insight into life after graduation!
Tell me a bit about yourself.
I'm addicted to vintage: mostly fashion of course but the obsession definitely bleeds over into the furniture, music, movies, culture and celebrities… Just take my living room as exhibit A.
In addition to that, I grew up in La Jolla/Southern California, of course I love fashion… and puppies. Actually, I just got one – she's amazing! She's a Chug: Chihuahua/Pug mix, 4 months old and her name is Dee Dee and she likes to accessorize.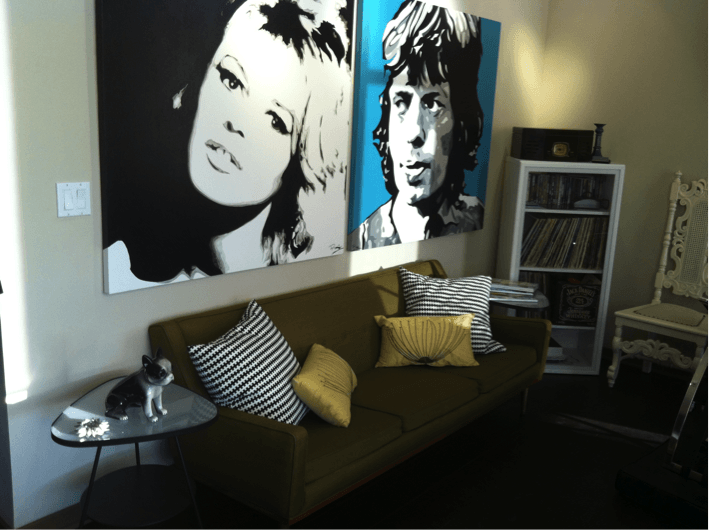 Erin's love of vintage is revealed in her home décor.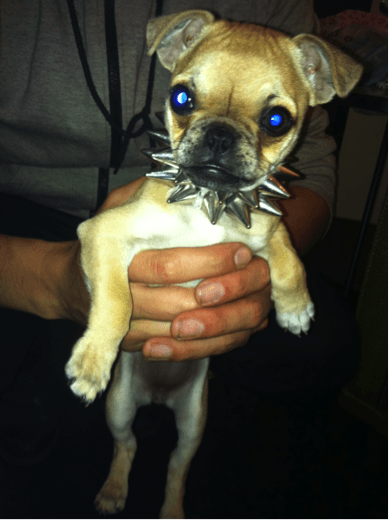 Erin's new puppy Dee Dee.
You're an Academy of Art University alumna, what's your area of expertise?
I earned a B.F.A. in Fashion Merchandising. I started out in the Fashion Design program, but after two years switched to merchandising so I could take more of the fashion business, styling and visual merchandising classes. I really enjoyed being able to focus on styling my last two years at AAU, it gave me the opportunity to work with so many amazing and talented people. It was such a good experience to collaborate with students from other Academy of Art University departments.
Follow the jump to read more!
How did you go from graduate to Director of Brand and Retail at Stipple?
I graduated from the Academy of Art University in May of 2010, and just before graduation Simon and Flore (two amazing members of the fashion faculty) helped connect me with an opportunity at Like.com, and many thanks to them & their recommendations- I got the job! I started out styling all of their in-studio shoots each day and quickly expanded to doing more; including designer outreach and brand relations, helping to procure product to shoot and feature on their Couturious.com site. Six months in, Like.com was acquired by Google, where we launched Boutiques.com. After another six months of working at Google, I met Rey Flemings (CEO and Co-Founder of Stipple), he showed me the product he and the Stipple team had built for brands, and I knew I had to be a part of it! I started at Stipple within a week of that meeting.
What is Stipple?
Stipple is a technology start-up that has built an ecosystem around images and the content that belongs with them. It is the only self-service platform that enables brands and retailers to sell their products inside photos throughout the web. We enable brands to turn images into eCommerce points of sale and build brand awareness through interactive experiences. Stipple makes it possible to promote products accurately wherever they appear in images on the web and provides real-time engagement data from every photo containing those products. Our technology syndicates product tags, social and multimedia content to all the copies of an image so our brand advertisers are able to stay connected, and in control of content as it spreads throughout the web- they can even update their content on all copies of an image instantly, in real-time. Stipple also enables publishers and bloggers to drive user engagement on their sties and monetize their content while providing them with analytics and insight into what images and content are most interesting to their audience.
What does your job entail as Director of Brand and Retail?
We're still a small team, so we do have to wear multiple hats to get done whatever needs to be done, but I am responsible for: Supporting and guiding new brands through Stipple's platform and tools, managing brand on-boarding, education and support. Researching potential new brands/partners and initiate partnerships. Initiating and managing relationships with brand partners through email and phone and maintaining communication through the regular e-mail, blogs, press, etc. to foster those relationships into meaningful, long term, business partnerships. Creating presentations to show why Stipple makes sense for a brand's online business, and presenting the technology and samples of our performance to make convincing ROI arguments for why brands should use Stipple.
How does Stipple relate to the fashion industry?
Stipple was based on opportunities we saw to optimize certain aspects of the e-commerce and fashion PR/marketing worlds. A Fashion PR agency can now use Stipple to simply tag a product they've placed on a celebrity with accurate credit and shopping information without having to beg each and every magazine, one by one to credit their client's products. A brand can now sell a product directly from a photo of a celebrity wearing it, turning images into points of sale on multiple high-traffic, celebrity style sites across the web- it opens up a whole new eCommerce channel for fashion brands and retailers.
Thank you Erin!
Written By: Katarina Farley
For more Alumni Updates, click here.