All the September issues have hit the newsstands and considering September is the moment for fashion magazines, we here at Fashion School Daily are more than happy to grade each of them with our discerning (and sometimes irreverent) eye. Our grading rubric will adhere, but not be limited to, the following items:
1.) Cover
2.) Journalistic content
3.) Photo spreads
4.) Trend coverage
5.) Celebrity wattage
6.) Overall appearance
That said, why don't we start off with the mother of all September issues: Vogue.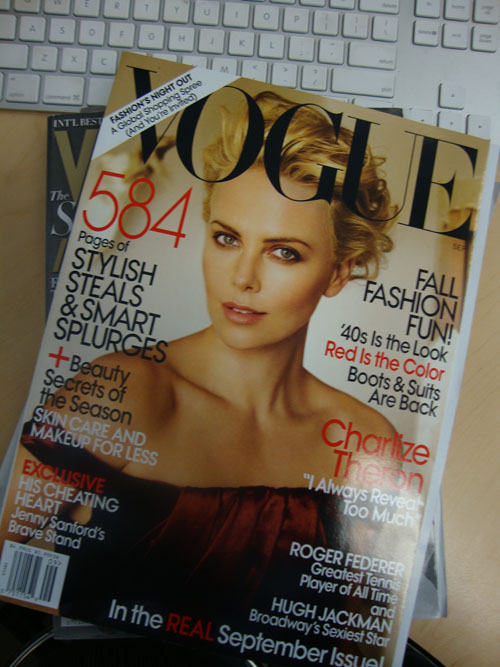 Cover: Charlize Theron graces the cover this month. She looks regal and refined with her hypnotizing eyes being the centerpiece of the entire page. But there's something about her partially opened mouth and blown hair that is awkward and tired. Beautiful? Yes. Refreshing? No. Grade: B-
Journalistic content: As usual, Vogue provides some very good articles. The cover story ("The Indiscreet Charm of Charlize Theron" by Kevin Conley) is a great interview with a lukewarm photo spread (shot by Mario Testino). Other enticing articles include a story on the exhibit, "Georgia O' Keeffe: Abstraction" showing at the Whitney Museum and a breakdown of what's gonna go down at Fashion's Night Out. Profiles include one on tennis dude Roger Federer ("Ace of Aces" by Tim Adams, photographed by Mario Testino) as well as Hugh Jackman return to Broadway ("Force Majeure" by Adam Green, photographed by Annie Leibovitz). Other must reads include Beverly Johnson's take on being the first African American Vogue cover model and a thoughtful take on shopping titled "What Price Fashion?" by Teri Agins. Grade: A
Photo spreads: Tons of spreads paint this mag beautifully, but Grace Coddington's Red Riding Hood-themed "Into the Woods" spread (shot by Mert Alas and Marcus Piggot) gets the gold star. Grade: A
Trend coverage: Nothing too groundbreaking here: voluminous trousers, top coats – it's all what you would expect from Vogue. They are tastemakers, but I think the public is dying for something new and interesting. Grade: B-
Celebrity wattage: Since Anna Wintour is known for being the first editor to put celebrities on magazines, the wattage is high – uber-electric even. Refer to the "journalistic content" section to see what I mean. Grade: A
Overall appearance: Though it may not be as thick as a phone book this year, its size is healthy. It's more like the size of a high school yearbook from Texas. The ads are abundant and aren't that captivating. Layout is good. Content is good. It was satisfying. Grade: B+
Name dropping bonus points: There is a feature on Abbie Cornish's new movie, "Bright Star" and she was recently featured in W wearing a Sara Shepherd (an alumna) piece. Also, Chanel Iman was featured in the "Beauty Index" section of the mag – she modeled in our February New York Show.
Final Grade for Vogue's September issue: A-
For more of our "September issue grade book" click here