There are few better ways to learn about an artistic career than from those who have personally experienced it. On November 12, the School of Fashion will participate in a discussion on the creative design process at the Apple store in Union Square (San Francisco), as part of the series, "Today at Apple". The Academy's BFA and MFA Fashion Directors, Gary Miller, and Jayne Foster will moderate the discussion, featuring four School of Fashion designers whose collections debuted at New York Fashion Week (MFA) and the graduation fashion show in San Francisco (BFA). 
During this 'behind the scenes' conversation, each of the below designers will expand upon their creative processes, from preliminary ideas to the creation of textiles and three-dimensional garments. Apple will provide iPads and pencils, encouraging audience interaction and creativity during the discussion.
The School of Fashion's designer panel includes:
Mario Chinchilla, BFA Textile Design, created digitally printed photography-based textiles for a collaborative collection by fashion design students. Chinchilla's creative mission for this textile project began in the Dogpatch neighborhood of San Francisco, the main subject of his photographs. He aimed to convey 'a feeling of being incognito' and the 'challenge of staying true to oneself' through the digital photographs and manipulations that were applied to the fabrics for the collection.
Instagram: chinchilladesign  /   Website: www.mariochinchilla.com
J. Church Iglesias, BFA Textile Design, collaborated with Denise Ramos to create a womenswear collection with customized metallic accents applied to the fabrics. The collection's strong, tailored silhouettes and textile designs represent the powerful female characters in Game of Thrones;  additionally, the textiles were inspired by New York-based metal artist, Hugo McCloud. Iglesias' artistry in textiles (and shoe design, too) is experimental and varied. The short video A View From Within, featuring his textile design process for the collaboration with Ramos, will be shown during "Today at Apple".
A View From Within:
Instagram: iglesias.studio   /   Website: www.iglesias.studio.com
Vivid Yunan Ma, MFA Knitwear Design, found inspiration from the photography in Mark Nixon's book, "Much Loved", which features a series of teddy bear portraits, each paying homage to the special place held in the lives of children. Ma's soft knits and color choices are meant to evoke nostalgia and a sense of unconditional love. Ma will talk about her creative process, the types of knitting she used to create her collection, and the experience of watching her creations on the runway at New York Fashion Week.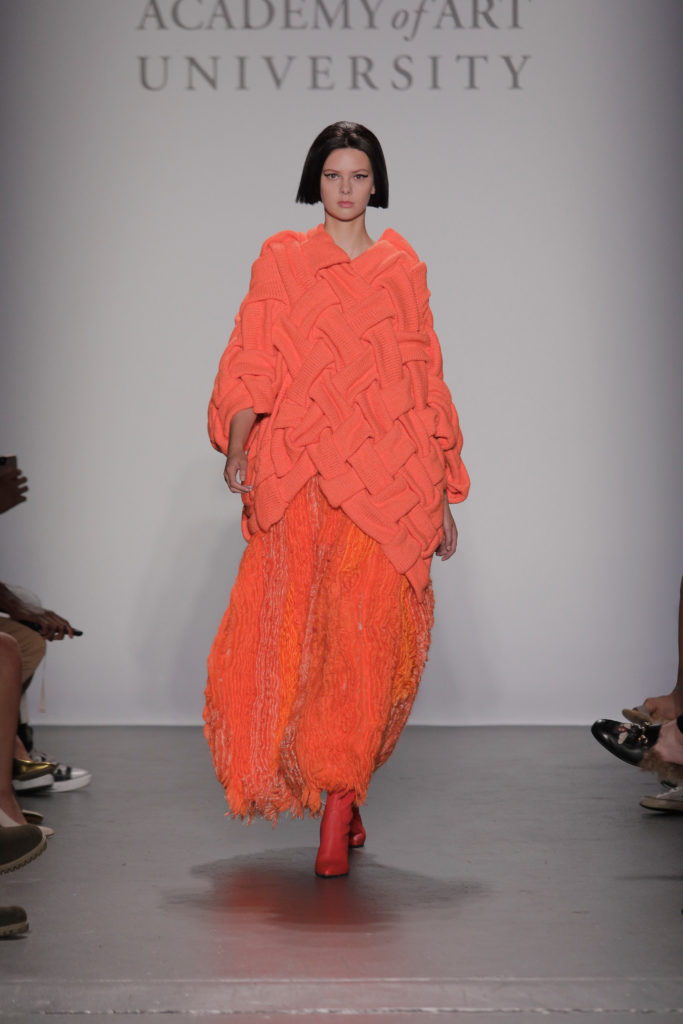 Instagram: yunan_maa   /   Website: www.yuanma.com
Eden Slezin, MFA Fashion Design, created a sustainable menswear collection with locally sourced fabrics and other recycled materials. Slezin drew upon several inspirations for the collection, including his experience as a Marine Corps officer, his appreciation for vintage military denim and school uniforms, as well as, the celebration of individuality in San Francisco. Slezin will discuss his inspirations and efforts to source materials that were sustainable for the collection, as well as his experience showing during New York Fashion Week, and now launching his own line.  
Instagram: designereden   /   Portfolio: www.edenslezin.com
Don't miss this opportunity to learn from these designers on November 12th from 5:00 PM – 7:00 PM at the Apple Store, 2nd Floor, Union Square, San Francisco.
Words by Mariah Estran, BA Fashion Journalism & Fashion School Daily