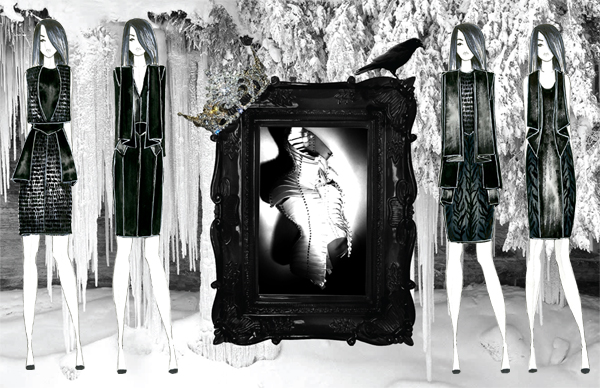 Blake Conaway's moodboard and sketches. 
We were thrilled to have Princess Reema Bandar Al-Saud as one of our Guests of Honor at the 2012 Graduation Fashion Show last May, and are beyond excited to announce a new collaborative project with her! During her visit, Princess Reema was extremely impressed with our students' work, and asked School of Fashion Executive Director Gladys Perint Palmer and Director Simon Ungless to develop a project through which students would design a collection for the modern Bedouin women.
With the help of Michael Carbaugh, Assistant Director of Fashion, six students were selected for the task. Princess Reema has offered them the amazing opportunity to travel to Saudi Arabia and tour the different regions, learning about the traditional artisans and their crafts, and meet women who embody a modern Bedouin lifestyle. After they return, the students will design a collection based on their travels and the needs of women they meet along the way. Amazing, right?! The collection will be presented at the 2013 Graduation Fashion Show, and displayed at the Harvey Nichols Department Store in Riyadh, which Princess Reema owns and operates.
The students were selected for the project based on their outstanding work, and they include Fashion Design students Blake Conaway, Lisa Hegner, Esther Kim, and Amanda Tran, as well as Textile Design student Grace Malla and Knitwear Design student Lorenette Haynes. Fashion School Daily chatted the group as they prepare for the trip of a lifetime – leaving this Friday!
Follow the jump to learn more about each of the students and what they're looking forward to most.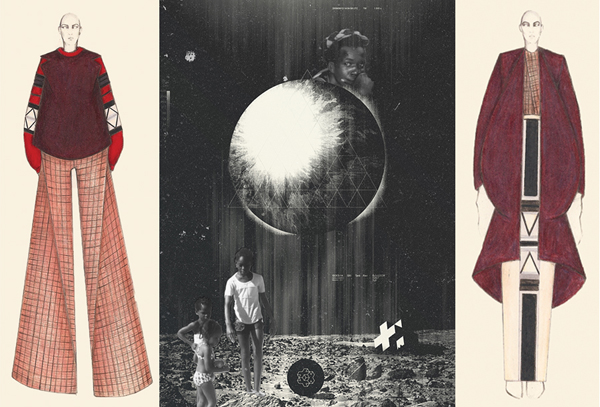 Lisa Hegner's inspiration image and sketches.  
How did you feel when you first found out you'd be going to Saudi Arabia?
Blake Conaway: Shocked. Ecstatic. I think I re-read that email that said that I was picked to go, at least 20 times. I could not believe that something this epic was actually going to happen and I was going to be a part of it. It was the best news I've ever received.
Amanda Tran: I was in shock! My jaw literally dropped open as I was reading the email about the trip! I was very happy and immediately called my parents to tell them the good news. I feel very blessed and honored to be a part of this new and exciting project. This is such an amazing way to celebrate and end our senior year. It's a once in a lifetime experience, to be able to work and collaborate on a project alongside Princess Reema and Harvey Nichols. It's something I will always feel proud of and very grateful to Michael and Simon for believing in my work. 
What are you most looking forward to?
Esther Kim: I'm really looking forward to being inspired. Having this great opportunity to travel, and to be exposed to the culture and the people, especially the women of Saudi Arabia will definitely be an inspiring experience that I think will bring a great amount of richness to my own design aesthetics.
Lisa Hegner: I recently watched a brief documentary about Saudi Arabia, and the architecture is absolutely stunning. I think that along with natural colors of the surroundings, the tones of the earth, and the textiles – those are what I am most looking forward to seeing. But really I am just looking forward to absolutely everything!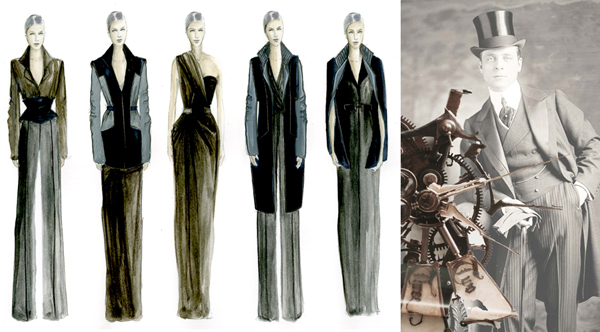 Esther Kim's sketches and moodboard.
What do you hope to learn on the trip?
Grace Malla: I hope to gain a greater understanding of Saudi Arabia's diverse culture and exquisite landscape. I love conversing with people, so I'm really looking forward to learning all I can from everyone I meet – cultural traditions, traditional living and working methods, and everything in between.
Lorenette Haynes: I am really interested to learn from the women what it is to live without some of the freedoms American women take for granted, such as driving a car and being in the company of men without the need for a chaperon.
Lisa Hegner: I am really fascinated by the Saudi Arabian culture, and therefore really interested in getting a better understanding of how it currently plays a role in the lives of the modern Saudi woman. I also would like to learn more about their perspective on fashion from a design and business standpoint. Their craftwork and the techniques they use to develop them is another thing that I can't wait to get an inside look into.
Items that you will be taking with you?
Amanda Tran: Definitely need to bring my camera and my sketchbook to sketch any ideas as we are sight seeing and talking to the people. I'm excited to use my new camera too. Hoping to get a lot of nice shots to use for my mood boards and portfolio so that these photos are personal and one of a kind.
Grace Malla: Scarf, notebook and most certainly my camera! It is a rare occasion that we are given opportunities such as these and I want to document this experience to the fullest. I don't plan to use my computer or phone while we are there though, I want to submerge myself fully in the trip. For 10 days, I think I can survive without a little social media.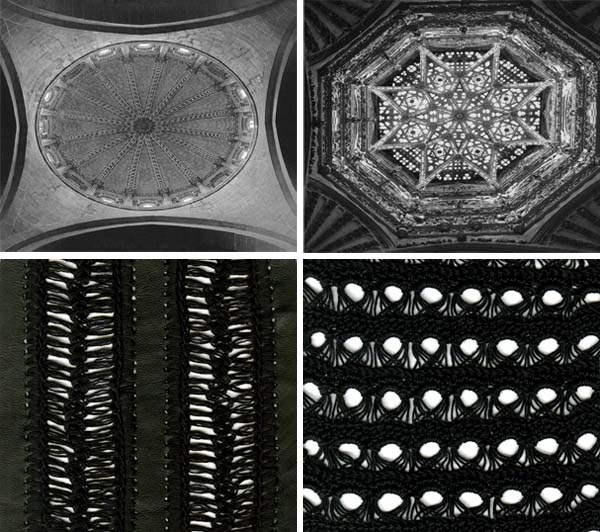 Lorenette Haynes' inspiration and knitwear swatches. 
Generally, what is your creative process?
Lorenette Haynes: Being inspired by texture is really important to my creative process. It can be something as simple as the grids on a manhole cover or something as organic as the shape of clouds in the sky. Texture plays a part in all aspects of my creative process including fiber choice. I am very attentive to what message fibers say about the feel of a garment. My goal is to have the two work in harmony.
Esther Kim: I recently learned that there are 5 stages of the creative process: possibility, doubt, agony, epiphany, and finesse. It really sums up my love-hate relationship for creativity. To be creative can be so agonizing and frustrating sometimes, but to see the transformation of a dull idea into a really great one is absolutely rewarding. Music also definitely helps a lot with the brainstorming and creative process because it allows me to zone out and allow my mind to just be free without any walls or boundaries. I really have to be completely shut off from the world and be immersed in my work because people and technology can be so distracting.
What are you most curious about in Saudi Arabia?
Amanda Tran: I'm curious about the places we will visit, like the historical spot called The Old Town, seeing their traditional architecture and how it has changed through the years. I know it will be fascinating to see the historical structures and homes of their civilization. I'm looking forward to seeing their cities and advancement versus the traditional towns that have remained the same through the years.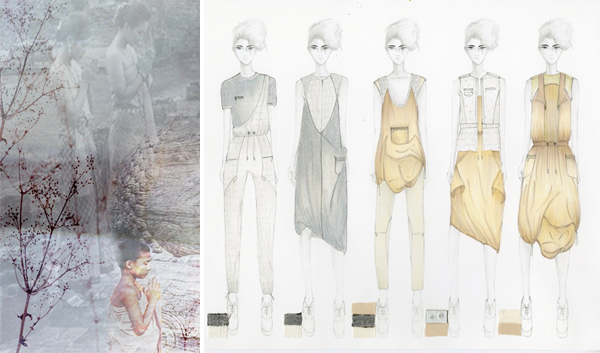 A snippet of Amanda Tran's moodboard and sketches. 
What have been the most important things you've learned as a student thus far?
Blake Conaway: I have learned to take tough criticism lightly. I wear my heart on my sleeve, so learning to take negative feedback was difficult in the beginning. You have to have thick skin in the fashion industry so I'm glad that I am learning how to take criticism better! I've also learned how to become more professionally organized because the curriculum at Academy of Art University is very career driven.
Lorenette Haynes: The most important thing I have learned is patience. The design process is one of trial and error; it takes several edits before you get a usable design. So, I am learning to relax and enjoy the process and things will come together, eventually.
Lisa Hegner: The most important thing I've learned is that "it's only a problem if you make it a problem". There is always going to be something that goes wrong and I think that knowing how to bounce back from it and turn a negative into a positive is what is going to help you succeed.
What are three things you can't live without?
Grace Malla: Fruit, music and laughter. Simple.
Currently playing on your iPod?
Lorenette Haynes: Miles Davis – he is great background music while I am working. His music is complex enough to give me energy but not so overpowering I cannot focus on the task at hand.
Esther Kim: I Can't Wait by Nu Shooz.
Blake Conaway: Gimme More by Britney Spears.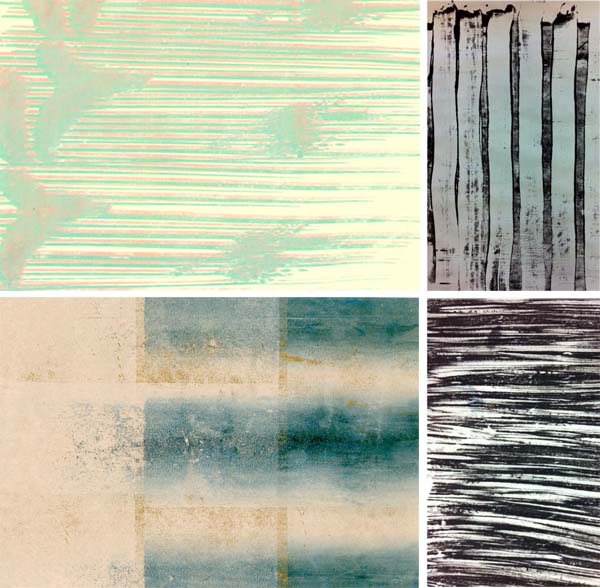 Grace Malla's textiles and sketches. 
We are so excited for our students – and we'll be posting updates from their travels throughout the trip so be sure to check back!