Vogue UK blogger, Livia Firth (a.k.a. Colin Firth's wife) chatted it up with Sara Shepherd (2005 BFA Fashion and Textile Design alumna) about eco-fashion and wearing one of her dressed to the London premiere of A Single Man this coming Monday.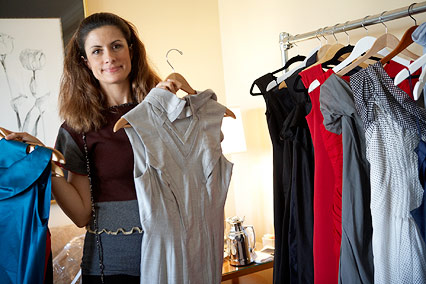 Livia Firth decides which Sara Shepherd dress to wear to the London premiere of 'A Single Man'. Photo credit: vogue.co.uk
Here's a snippet of Livia's post:
Launching a film we are so passionate about on home turf will be a very special night for us. So it's a big night but not a big gown occasion. I wanted something quite sleek and contemporary but still with a romantic edge. In LA I really connected with Sara Shepherd.
Stay tuned to see which Sara Shepherd gown Livia wore to the premiere.
To read more and watch a video of Livia and Sara click here. .