As each of the global Fall 2014 fashion weeks have drawn to a close, we fondly looked back at some of the great coverage garnered by this year's crop of extraordinary Academy of Art University student collections that were shown at Fall 2014 Mercedes-Benz Fashion Week (MBFW) in New York City at Lincoln Center.
We've compiled a list of some of our faves for your scrolling pleasure, and would like to thank all of the wonderful press for their coverage! Here are some highlights!
Runway coverage from the web included  New York Magazine – The CUT, and ELLE.com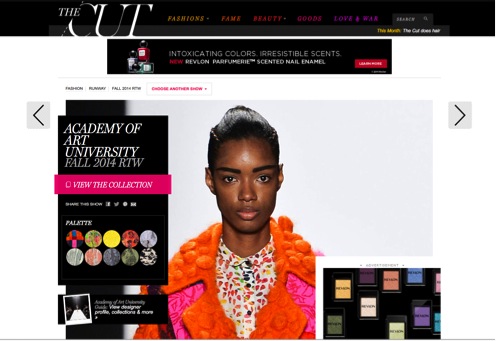 Corespondents from CNN International interviewed Academy of Art University designers Mingyu Du and Hong Ni at the New York City design Studio.
Images from all thirteen collections were showcased on Models.com, and 7×7 SF published runway show coverage.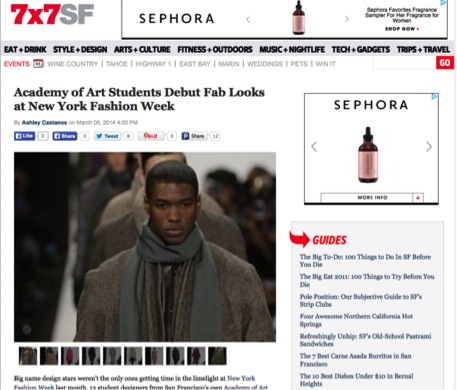 Austin American Statesman, The Bristol Observer, California Apparel News, El Diario La Prensa NY, San Francisco Chronicle, and The New York Times published print coverage of the collections.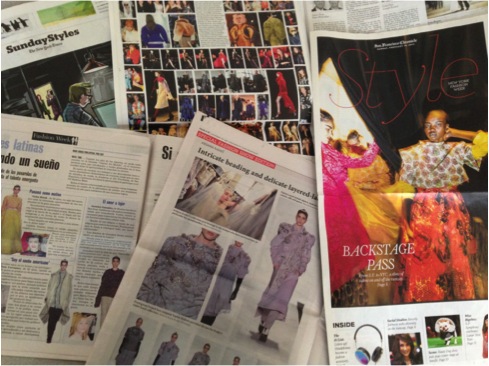 Tony Bravo from the San Francisco Chronicle published behind the scenes coverage at SF Gate. Photographer Philip Montgomery covered backstage as well for SF Gate.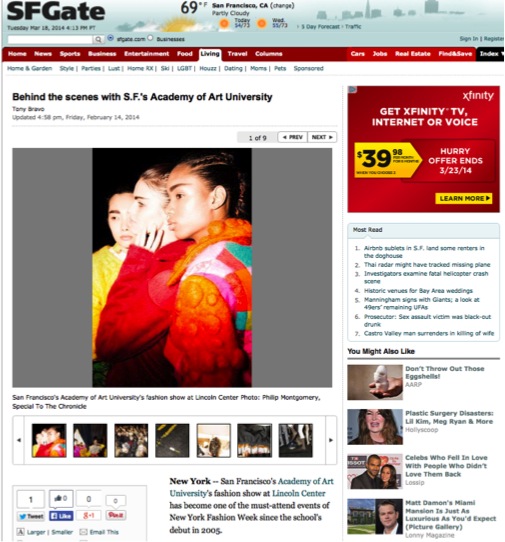 Images from Mingyu Du and Joseph Khawane's collection were shown in the NY Times.com "Evening Hours / New York Fashion Week" video by Bill Cunningham and Joanna Nikas. Examiner.com published a full review of the runway show and the front row scene.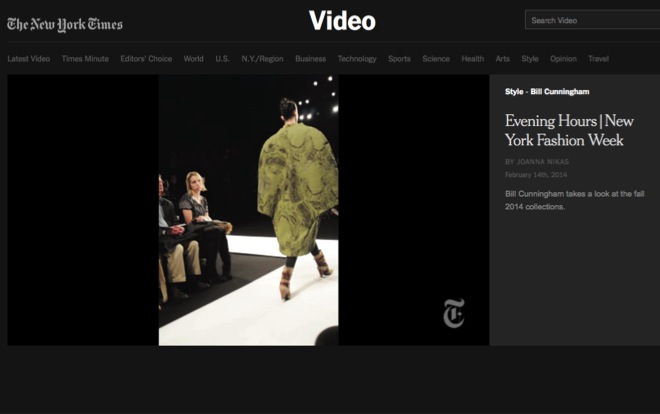 SOMA magazine profiled Elisabeth Castellon and Mingyu Du in the current Spring Fashion Issue. Andrea Nieto was interviewed backstage by Nuestra Tele Noticias 24 Horas (NTN24), and Joseph Khawane was interviewed by The Root TV.
The Idaho Statesman profiled Arijana Kajdic, and the San Diego Union Tribune profiled Nisha Hanna Btesh.
Other coverage includes Arts Thread, C Social Front, Exquise, fafafoom, fashiondailymag, Fashion Windows, METROVELVET, Miss Fashion News, Modern Glossy, New York Amsterdam News, NOWFASHION, The Chic Spy, The Quest for "it", and True Fashionista Now, among many other outlets that have been so supportive to the School of Fashion's designers!
Written by Ashley Castanos