Fashion journalism student, Jessica Velez did a nice recap of our show last week on her blog, Eyes & Ears for FSH 278 (the fashion blogging class) so we decided to share it with you:
"The world is sitting up and taking notice," said Dr. Elisa Stephens, president of the Academy of Art University, at the spring 2011 graduating fashion show. If not the world, at least the hundreds of attendees on Thursday, who gathered in the design school's enormous tent awaiting to see the latest creations by top-of-the-line fashion seniors at the school's second fashion showcase of the year (the first at Mercedes Fashion Week.) "This is the bar you'll have to reach," concluded Stephens to hopeful design students in the stands.
And with that came the works of Inez-Marie Galvez, a fashion design student who sent models strutting down the runway in stiff, structured black leather garments contrasted with blue details and paired with Rachele Barretto's jewelry. The more bold numbers featured well-constructed cutouts at the bosom, creating a triangular shoulder silhouette. The creations should have been no surprise to avid readers of Refinery 29, as Galvez's sketches were showcased on the site's San Francisco edition earlier that day.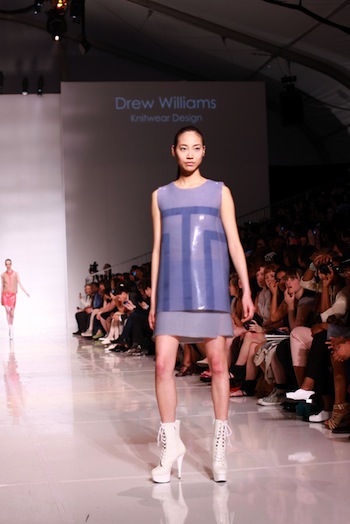 Unlike the fall Mercedes Benz Fashion show, each collection held its very own considerable and distinct look. For instance, knitwear designer Drew Williams utilized a jelly-like material, giving a modern twist to the '60s boxed-shape silhouette, while fellow knitwear designer—Maggie Mo Luo—used a more traditional approach by stitching together intricate patterns to long-hemmed black dresses—awarding her an internship with Nathalie Rykiel, daughter of Sonia Rykiel.
The half-hour, well-crafted production that Dr. Stephens made all happen does, indeed, have big names taking notice—such as the New York Times fashion critic, Cathy Horyn. But ultimately, it's the talented students and their innovative creations that are really making the headlines.
Written by: Jessica Velez