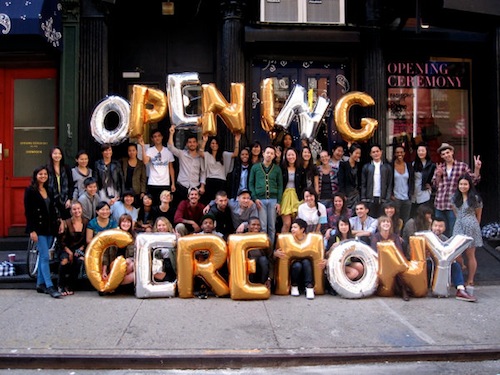 Former guests of our school, Opening Ceremony, is searching for some good interns for Men's and Women's Spring Market Week in Paris.
Are you interested? Here are the details:
Paris Market Dates are:
June 23 – July 1, 2011
They are looking for team of energetic interns to assist the Showroom team in our Spring '12 Market weeks in Paris. Please see the above dates for our Market Weeks. If you are currently living in Paris and are available, please e-mail your resume for review. This is a great opportunity to assist with a multi-designer showroom during its most exciting time, market week!
They are looking for nice people who are:
– Team players!
– Great visual merchandisers.
– Have excellent organizational skills.
– A knowledge and appreciation of fashion.
– Quick thinking individuals who can mutli task.
– Showroom market experience is a plus!
Responsibilities:
– Greeting appointments and accounts
– Assisting the Showroom Director and Account Executives in appointments
– Note-taking for Showroom Team during Appointments
– Visual merchandising and organizing the showroom throughout the whole market week
– Organizing and replenishing linesheets and lookbooks for appointments
If you're interested, please send your resume and cover letter to:
showroom-staff@openingceremony.us.
Good luck!