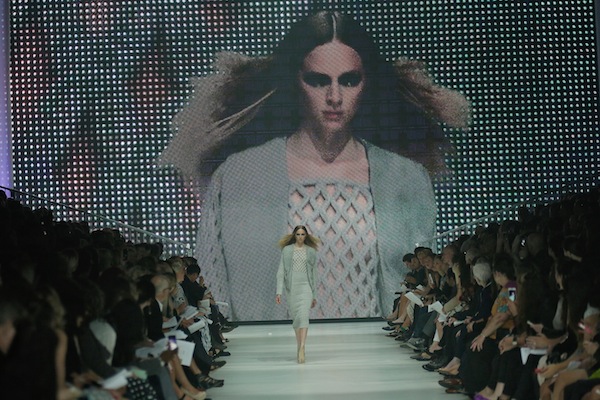 A model walks the runway in a look from Pipatchara Kaeojinda and Emma Mengchen Yang's fashion and knitwear design collaboration. Photo courtesy of Randy Brooke / WireImage.
On Thursday, May 9th the Academy of Art University hosted its annual Graduation Fashion Show and Awards Ceremony. Heralded as the "Fashion Week of San Francisco" by both local and national members of the style scene, this year's production truly raised the bar in celebrating the design talent of the Bay Area. The historic Palace of Fine Arts rivaled the runways of Lincoln Center as the venue for the 2013 show hosted a record 3,000+ guests including members of the press, industry, students, family, and friends, as well as this year's Guests of Honor: Max & Lubov Azria of BCBGMAXAZRIA.
Academy of Art University President, Dr. Elisa Stephens, opened the show, presenting Honorary Doctorates to the BCBG designer duo. Watching from the front row, VIP doesn't even begin to describe the other faces looking on who included Suzy Menkes, fashion editor of the International Herald Tribune, 2012 Guest of Honor H.R.H. Princess Reema Bandar Al Saud, Christina Neault, Executive Producer at IMG Fashion, Neil Gilks, Senior Projects Manager of the CFDA, Daniel Reynolds, Head of Print Design for DVF, Greg Myler, Vice President of Design for St. John Knits, Victoria Di Giacinto Executive Vice President and Chief Merchant of St. John Knits,  Stephan Rabimov, editor in chief of DEPESHA magazine, and Jayne Seward, fashion editor of California Apparel News. 
As the lights came down and the music turned up, the 2013 show opened with the much anticipated fashion, technical and textile design collaboration commissioned by H.R.H. Princess Reema Bandar Al Saud. Designers Blake Conaway, Esther Kim, Eulalia (Lisa) Hegner, Amanda Tran, Alex Lunt, Grace Malla, and Lorenette Haynes created the collection based on their experiences traveling through Saudi Arabia last fall. The students will head back to Saudi to see their finished collection on display in Harvey Nichols in Ryadh, later this year. Following the Saudi collection, the fashion and knitwear collaboration by Feijing Song and Erica Kim pumped up the volume with their bright, structured looks inspired by performance artist, Nick Cave's "Soundsuits". Then it was onto Shumpei Okamoto and Andrea Nieto's "Neo-Fast Fashion" collaboration. Designed from a single, all-in-one-piece pattern, the collection featured a futuristic, geometrical series of looks with all the right angles. The next collection  by Candy Hsin Yu Chu, was made up of all black silhouettes inspired from the designer's travels through Alaska. Followed by the first men's wear collection of the show, Didvik Kuang's designs channeled the 1980's Armani wardrobe featured in American Gigolo. Think loungewear Richard Gere would have reclined in. A favorite collection of the evening, Claudia Simoes and Alicia Karynn Teixeira's fashion and textile design collaboration has gotten rave post-show reviews for its combination of 1960's silhouettes with graphic, Japanese ikat prints.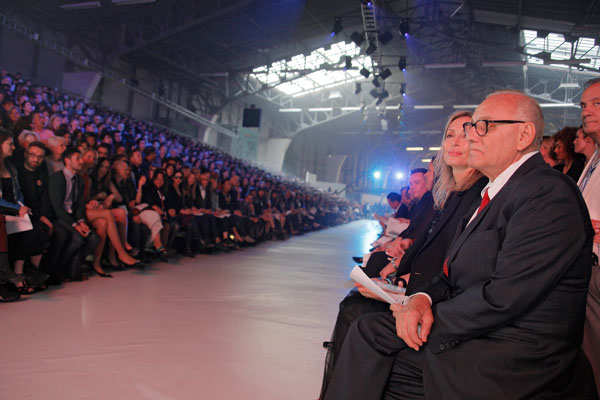 2013 Guests of Honor Max & Lubov Azria sit front row at the May 2013 Graduation Fashion Show. Photo courtesy of Randy Brooke / WireImage.
Up next was the men's wear fashion and textile design collaboration from Ryan Morar and Melissa Avalos featuring voluminous, brightly patterned looks inspired by Robert Rauschenberg's mixed media artwork. One of the evening's two jewelry and metals arts collaborations followed, with Lili Pham and Kaitlin Anne Perkins' women's wear, textile collection paired with Lolita-inspired accessories designed by Ashley Lagasse. The handbags, both flirty and fierce, perfectly complemented the collection which channeled the duality of Nabokov's protagonists in his acclaimed novel. Phoebe Naiqing Wang's collection sent slick, patent leather accented silhouettes, inspired by the uniforms of oil workers, down the runway next. This utilitarian design theme followed in Youngjin Shin and Hsin Lee's fashion and textile design collaboration which featured looks derived from the era of The Great Depression and Dorothea Lange's photographs.
From the practical to the fantastic, the next two collections from Kittiya Punprapun and Cindy Quach took inspiration from the irregular. The billowing shapes of Kittiya's all white, almost sportswear designs, were followed by the geo-technical patterns and architectural looks in Cindy's collection, inspired by Spanish surrealist artist, Salvador Dali. Marine Rongrong Wei brought us back to reality with her 1930's men's wear collection, featuring the signature modest patterns and understated silhouettes of one of the most trying times in our country's history. The fashion and knitwear design collaboration from Pipatchara Kaoejinda and Emma Mengchen Yang followed next, featuring some of the most striking exaggerated sweaters and textures of the evening. Irridescent black and blue separates from Fay Xinzhou Liu shimmered down the runway next, followed by Andrea Torija's major mixed metals, inspired by Mexican architect Luis Barragan's studies of light, shadow and shape.
One of the last men's wear collections in the show, Leslie Dilloway sent a wardrobe of oversized silhouettes to dress her imagined muse: a Turkish cab driver living in London in the 1980's. Next, diamond pane patterns punctuated Cangyu Zhang's sportswear inspired collection. The boys brought it home with a finale collaboration featuring men's wear designs by Ran Bi and jewelry & metals arts designs from Alexander Toy. The tailored elegance and futuristic feel of Ran Bi's designs were contemporarily complemented with Alexander's men's accessories, whose shape and design were derived from basic office supplies!
Guests, faculty and fashion students (past, present, and future) erupted at the conclusion of what was undisputedly an incredible evening and true sartorial success for the designers featured!
View our favorite looks from the collections below – and watch out for the full line-up to be posted in the Portfolio & Runway section of the blog!