[justified_image_grid row_height=400 height_deviation=50 ids="24058,24059″]

This weekend, New York City will host the 27th SURTEX International Student Design Competition: designext. The only show in North America solely devoted to selling and licensing original art and design for all types of products, SURTEX draws hundreds of designers from around the world  where they are given the opportunity to market their collections to manufacturers of products for home, contract, stationery, giftware, toys, publishing, and more. The competition honors outstanding art & design students for their exceptional surface design work. Students and their work get exposed to thousands of worldwide industry professionals. We are thrilled to announce that of the four winners selected in this year's competition, two of the students were from the School of Fashion: Textile Design students Alicia Teixeira and Hyejung In.
Alicia and Hyejung were challenged to create a collection of six original surface designs to be used in a healthcare environment. Encouraged to take into account the latest trends and alternatives for a healthy life in spas, fitness and wellness centers, students were tasked to develop designs that would be used on indoor/outdoor furnishings, decorative accessories, apparel, wall coverings, floor covering and lighting of their choice.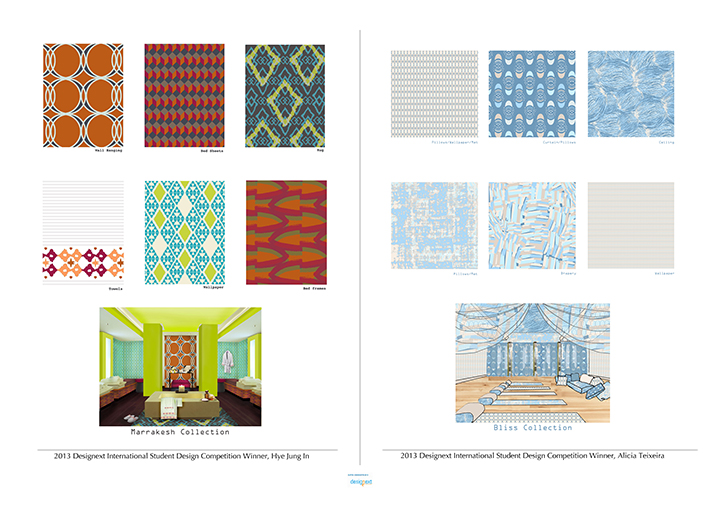 The design concept for Hyejung's project was for a daily spa geared towards the contemporary, younger generation, who enjoy their lifestyle and are trend savvy. Hyejung was inspired by Marrakesh, the Moroccan city located northwest of Africa. She mainly focused on geometric shapes, bright colors and the roots of Marrakesh that younger patrons would appreciate and come to visit.  For Alicia's project, she chose to design a collection for a Bikram Yoga studio. Bikram is practiced in a room heated up to 105 degrees to encourage perspiration. Water is a very important aspect of the practice, so Alicia was inspired by the soothing ripples in the currents and circular shapes of water droplets. She created a collection that was both energizing and tranquil, two very important aspects of Bikram yoga practice.
Congratulations to Alicia and Hyejung, and we wish them the best at this weekend's SURTEX 2013 design showcase!