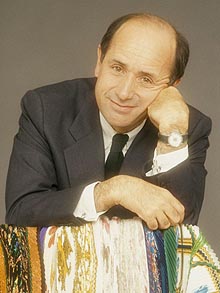 Jean-Louis Dumas, the chairman of the orange-stamped luxury brand, Hermès died on Saturday at the age of 72.
French Culture Minister Frederic Mitterrand called Dumas "an emblem of luxury a la francaise," and a man of "inexhaustible and visionary imagination" who attracted artists such as fashion designer Jean-Paul Gaultier, who reinvented Hermès women's ready-to-wear collection. (from Business Week)
Known for scarves and luxury leather handbags, many people say that Dumas "rejuvenated" Hermès. He coined the phrase, "not expensive, costly" and introduced the world to a totally different perspective of Hermès via ad campaigns directed toward younger women and new designers who revamped the name with python motorcycled jackets and ostrich skin trousers. (from telegraph.co.uk). He took over in 1978 and is the fifth generation of his family to take the reins of the label which started in 1837.
Photo by: Mary R. Hash/Sygma/Corbis