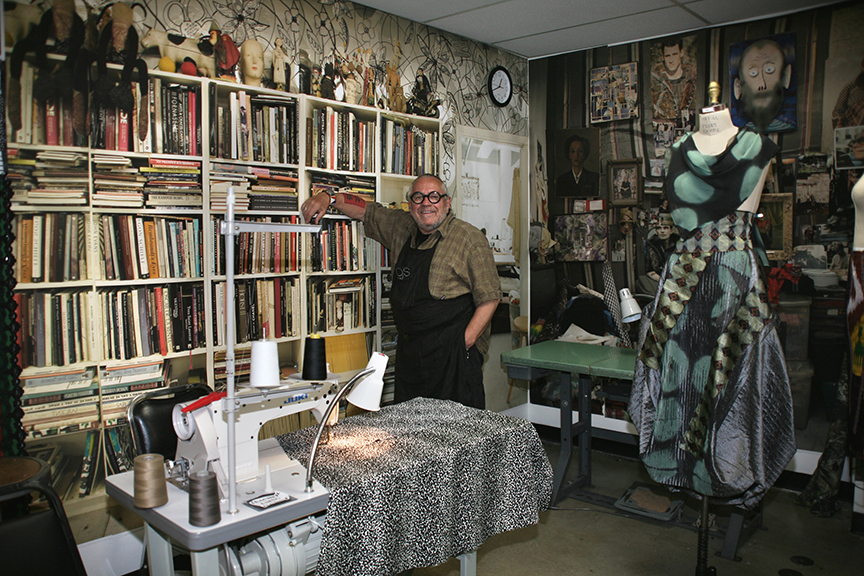 Koos van den Akker in his classroom at the School of Fashion. Photo by Bob Toy.
Reported by Women's Wear Daily, Dutch-born designer Koos van den Akker died last Tuesday at the age of 75 in New York City after a battle with colon cancer.
In 2002, the School of Fashion honored Koos and British-born fashion designer Dame Zandra Rhodes DBE RDI with Honorary Doctorate degrees at the Academy of Art University Graduation Fashion Show. That same year, Nicolas Ghesquière used Koos' designs as inspiration for Balenciaga. Marc Jacobs and Geoffrey Beene were often influenced by his work as well.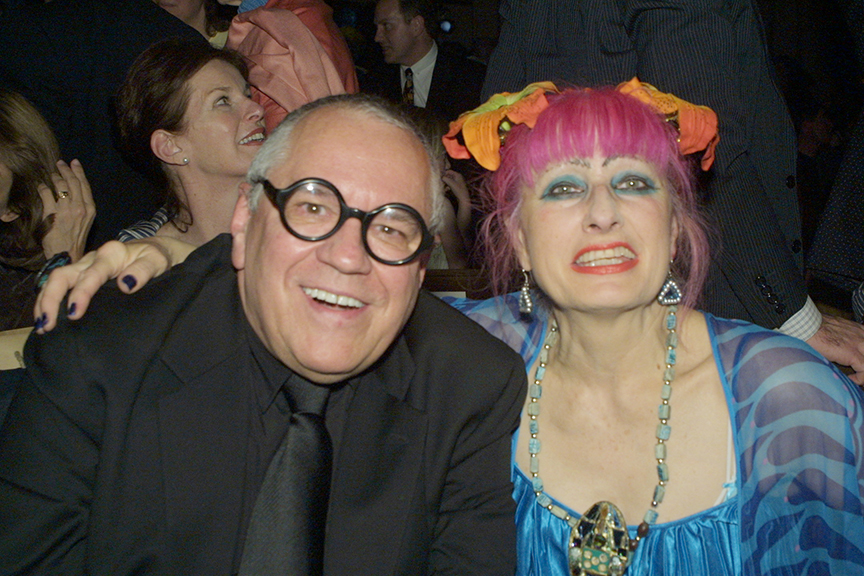 Koos van den Akker and Dame Zandra Rhodes DBE RDI at the 2002 Graduation Fashion Show. Photo by Randy Brooke.
Koos was a frequent front row guest at the School of Fashion's Mercedes-Benz Fashion Week showings, and in the summer 2008, returned to San Francisco as the School of Fashion's first "Designer in Residence" where he taught students his signature collage and patchwork style that he was known for in the 70s and 80s.
For his time as Designer in Residence, the School of Fashion blew up photos of his New York studio and pasted them to the classroom walls to create a panoramic view of his studio. He was also well knows for dressing celebrities such as Brooke Shields, Cher, Elizabeth Taylor, Barbara Walters, Glenn Close, Chita Rivera, Magic Johnson as well as designing Bill Cosby's sweaters on "The Cosby Show" and being one of the first designers to sell their wares on QVC.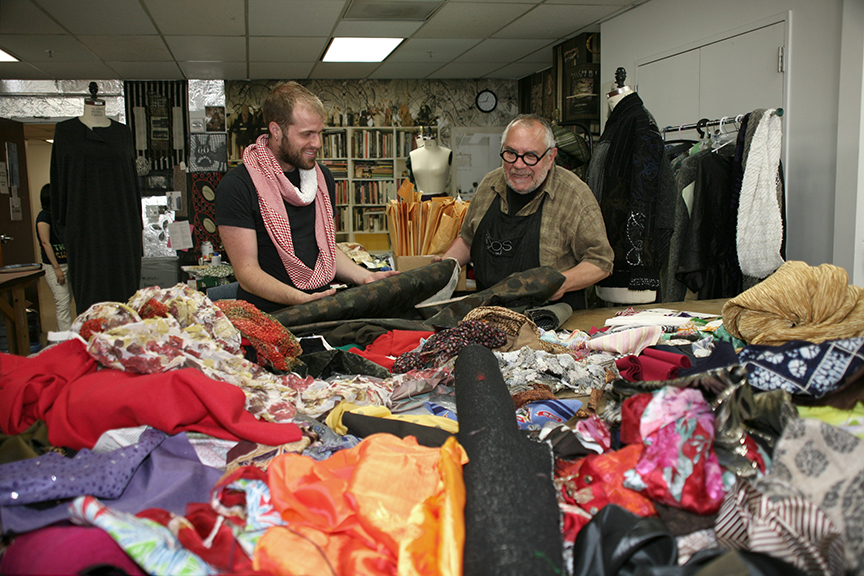 Alumnus Jonathan David Baker and Koos van den Akker in his classroom at the School of Fashion. Photo by Bob Toy.
We asked one of the students in his master class, Jonathan David Baker, 2011 MFA Fashion and Knitwear Design Alumnus, how he remembers Koos:
I feel very fortunate that Simon [Ungless, Executive Director of the School of Fashion] suggested that I take the graduate Designer in Residence course with Koos van den Akker. Knowing Koos and having learned his unique techniques of "Painting with fabrics" has been a gift both personally and professionally. Koos was very interested in getting to know his students personally, and helping them think out of the box. Who could forget the special wall covering that was made to turn his classroom on the 7th floor of the old fashion building into a replica of his design studio in NYC? That summer was such a wonderful time. Koos' irreverent sense of humor was probably the most enjoyable aspect of his class beyond the subject matter.
Koos taught us to collage fabrics in a way that I had not considered. His signature techniques are both creative and very cost effective for business. He didn't waist a single scrap of fabric from his multiple suitcases that he brought to the Academy. Two giant suitcases filled with random headers and old scraps of lace, and yarn.
I have been fortunate to implement Koos' techniques with a slight twist at Tse Cashmere and at Calvin Klein, and was quite lucky to stay in touch with Koos in New York. I will miss Koos, his humor and his art very much.
Rest in peace Koos.