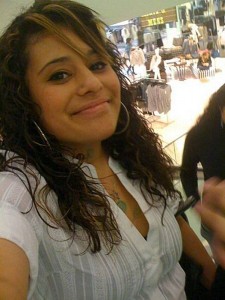 I was in New York for our fashion show when I received the news that Jessica Lynne Morales was one of the unfortunate victims of the San Bruno fire. As the Fashion Journalism Coordinator at the Academy of Art University, my heart sank. She had yet to enroll in any of my classes, but I, like the entire university, can't help but be affected by such a loss.
According to an obituary, "She had a great smile that would brighten your day, she was very loving and gave her whole heart to her family and friends. Jessica was creative and fun loving and lived life to the fullest." And her Lunardi's co-worker and friend Dayna Hernandez told SFGate.com that "Morales was a devoted follower of fashion, even wearing fashionable boots, purses and jackets to work as a bagging clerk."
The School of Fashion would like to send our condolences to her parents Israel and Rene Morales and her entire family.
— Dino-Ray Ramos
Friends may visit Friday September 17, 2010 from 4pm and are invited to attend the Vigil Service Friday at 7 p.m. at Duggan's Serra Mortuary, 500 Westlake Ave, Daly City. The Funeral Service will be held on Saturday September 18, 2010 at 7 p.m. at Church of the Highlands, 1900 Monterey Dr., San Bruno. The Burial will be on Monday September 20, 2010 at 1 p.m. at Woodlawn Memorial Park in Colma
Source: SFGate.com, Photo courtesy of Luisa Maria