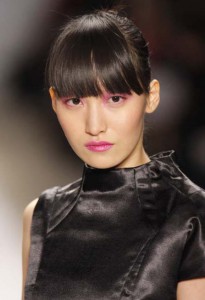 Daul Kim had a very strong presence. Her striking eyes glared down a runway as she walked effortlessly with sophistication and the perfect amount of allure.
She knew how to do her job. And she did it well.
The School of Fashion was sad to hear of Daul's death. Next agency confirmed that the 20-year old model was found dead in her Paris apartment this morning. The agency said in a statement "She was a top model and a great friend to all of us at Next. Please respect her family's privacy at this time of sadness. We will all miss her very much."
Born in Seoul, South Korea, Daul modeled at esteemed shows such as Chanel, Dries Van Noten, Margiela, and Lacoste. We were more than happy to have her model in a handful of School of Fashion shows including the San Francisco graduation fashion show in April 2007 and our New York Fashion Week shows in September 2007 and February 2008.
"She was a true creative spirit who was equally an artist and a model", said Director of Fashion Simon Ungless. "She always asked how our young designers were doing and was genuinely interested in their conceptual process and how a design was created."
View a slideshow of Daul from our runways shows. (All photos by Randy Brooke).