Here is one thing I learned from floating backstage at the Academy Graduation Fashion Show. Whoever had said "beauty's only skin deep" was deeply wrong. When it comes to fashion, the idiom does not apply as beauty doesn't lend itself to quick judgement and is much more than a pretty look. It's the art of the method; the elaborate process that requires attention to layers of precision and creativity to captivate the audience in an instant.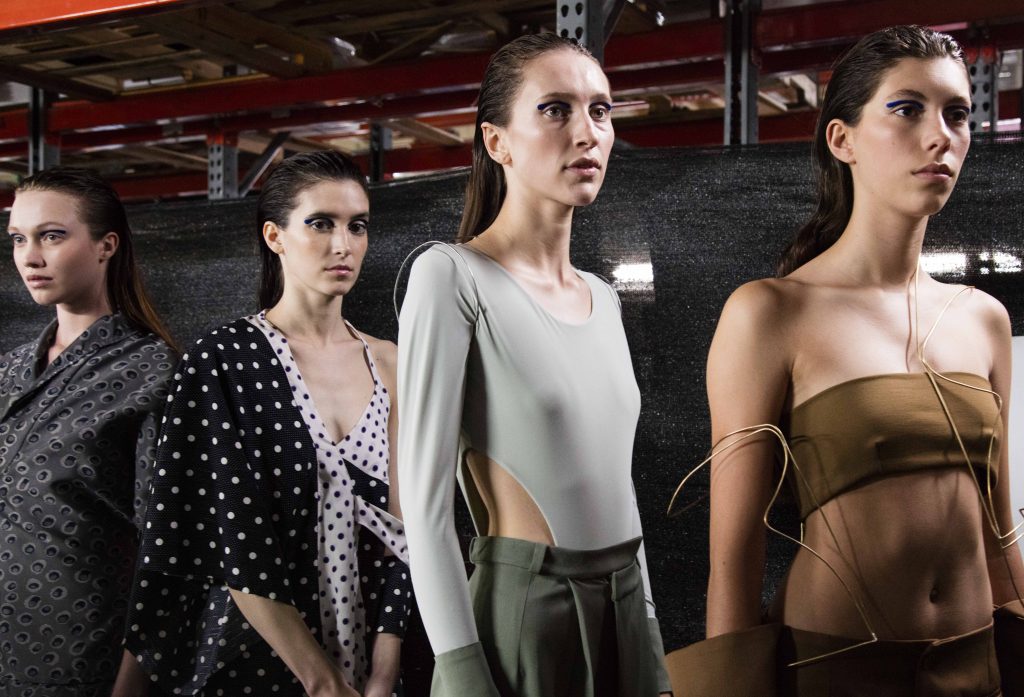 With Makeup Lead, Stacy Maki with MAC Cosmetics and her team, and Hair Lead, Jon Reyman of Spoke & Weal Salon, the Academy student designers were in good hands, literally and figuratively. Simon Ungless, the Executive Director of the School of Fashion, exuded utmost confidence before the show: "Our hair and makeup teams are professionals that have lead shows in NYC, London, Paris and Milan. The production team has a collective experience that covers decades of shows at an international level for companies such as McQueen, Hermes, Bill Blass and hundreds more." It was sight to behold, indeed.
Bare Faced
I encountered a jovial atmosphere backstage. I had expected a frenzy, artists huddling around models, frantically working on perfecting every single detail. I was happily mistaken. Instead, I observed as Stacy Maki explained that the industry was currently revolving around an 'effortless beauty' trend, emphasizing that its essence relied on bare skin. "When I viewed the model lineup and the clothes, it was time to focus on the texture and color. In discussions with Simon [Ungless], we decided on doing fresh skin with a pop of blue liner in the crease of the eye."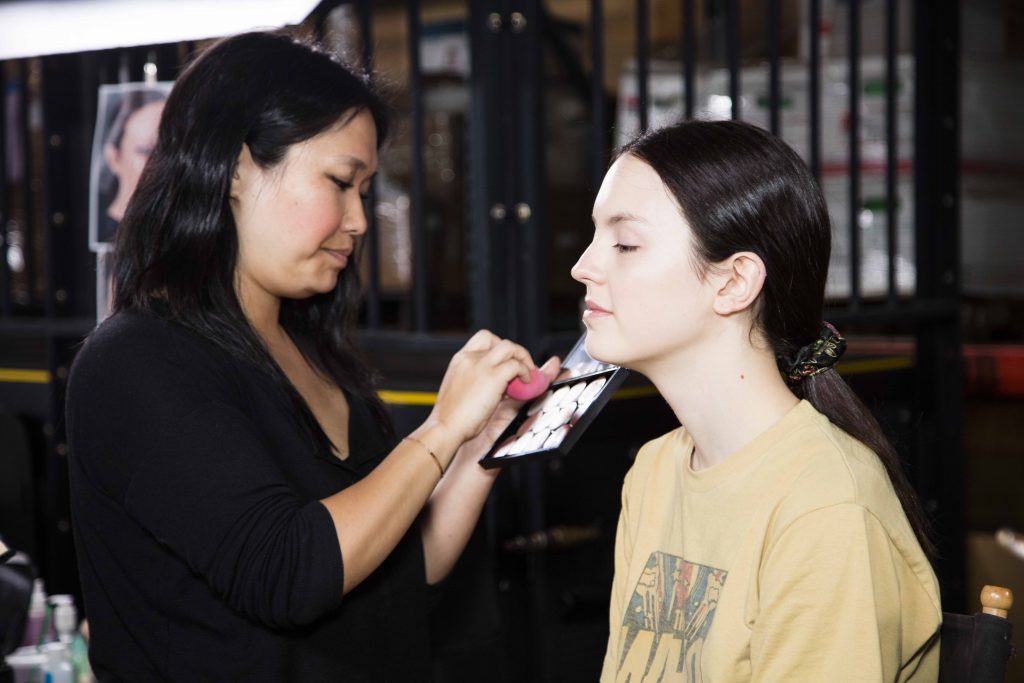 Having worked with the Academy for several seasons, Maki explained that throughout the years of this collaboration it was proven that a clean canvas, so to say, allows for a wow factor each time. "It is something fresh and new each season," Maki said recounting past concepts from a smoky glossy eye shadow to razor sharp eye liner, a bold lip or a rouge stain. I watched a makeup artist carefully paint a model's eyelid. The blue hue glistened under the hot lights and at times he grabbed a cotton swab to wipe off the excess. Each station was filled with nude eyebrow palettes and different makeup brushes. "We've used a MAC PRO Product called Marine Ultra Acrylic Paint, minimal hydrating skin products, brushed up brows and naturally stained lips," Maki showed the product range as her team powered through without a shred of anxiety on their faces. "This looks good, Lee," she cheered one of her artists. He said: "Oh, I know, it's perfection!" Everyone smiled. Who knew backstage could be such a happy place!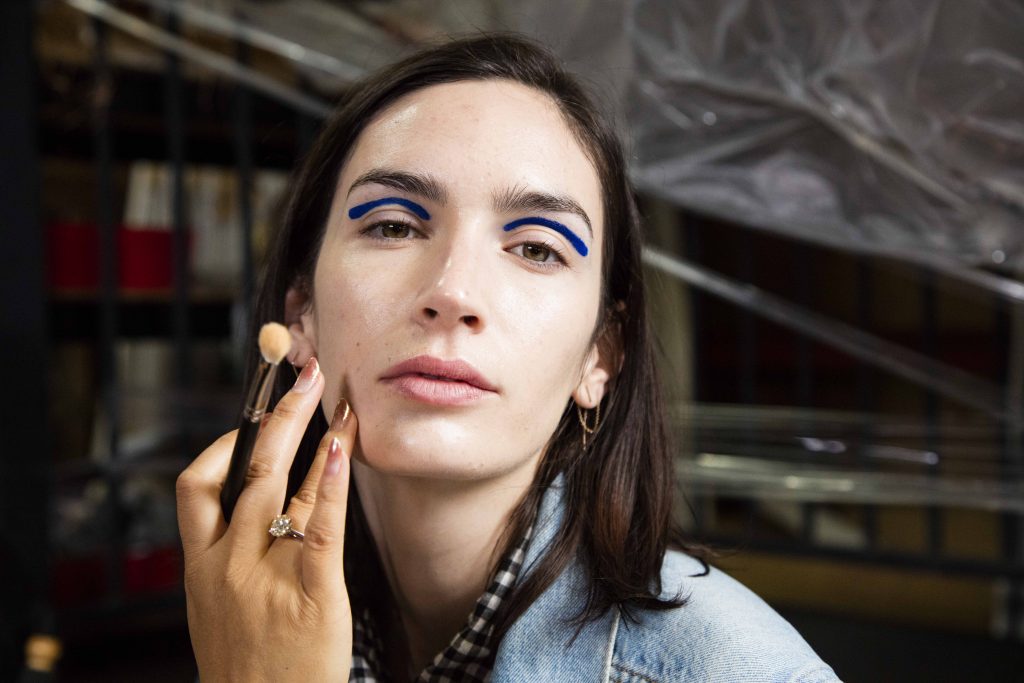 Mane Matters
"I've been working with the Academy for almost a decade in New York and about three years in San Francisco. There's never a dull moment," reminisced Jon Reyman, Hair Lead. To him, hair is a key accessory. "It's a part of the story and it can offer support. Our minimal looks today accentuate the elaborate nature of the clothes," he said surrounded by models sitting in their chairs with hair slicked back and covered in a various of nets and clips.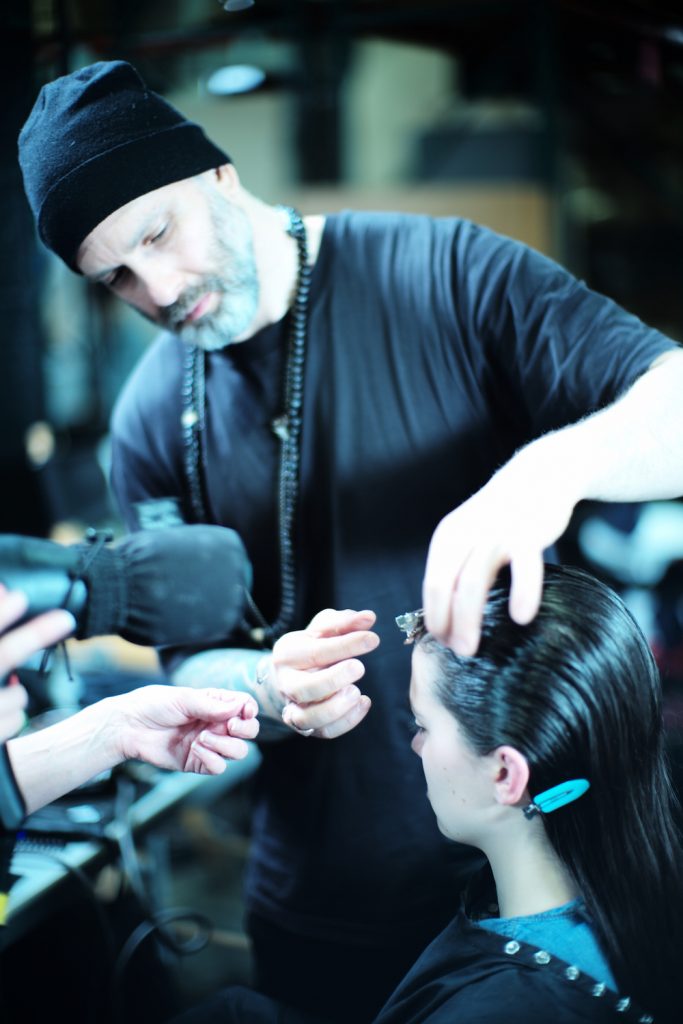 The wet look is a hair trend growing in popularity on the runways. "We're usually in front of the trend. It's less of what we see is happening, and more of what we want to see", noted Reyman. I watched a hairdresser effortlessly comb, gel, hairspray and blow-dry a model's look for half an hour. She was then all set to wow upon entry.  "We have our men donning the same style as the women. I like the androgyny we're showing here," he explained the cohesiveness of the hair concept. The atmosphere was without an ounce of stereotypical fashion show pressure. It almost seemed to be a relaxing pampering experience as Reyman glided from model to model, treating each one with such care.
Runway Ready
Almost at the same time, the dressers began to arrive backstage prepping for all the quick changes that had to be done during the show. Setting up their respective stations, they studied each impressive garment on the rack. I caught someone carefully touching a jacket with layers of iridescent tassels and sighing in awe of its intricate detailing. Simon Ungless calmly instructed the models for a final test run. When asked about a secret to maintaining focus under pressure in a crowded space on a ticking deadline, he laughed: "You should enjoy it! The audience has no clue if a dress is on upside down, backwards or even missing. It's a fashion show, after all." He was clearly proud of the designers and their collections. "What is consistent with this group of designers is how they combine technology and craftsmanship. They want to push forward into the future, utilizing 3D printing, laser cutting and even L.E.D lighting incorporated into textiles! At the same time, they are honoring the techniques our industry was founded on, like draping, embroidery, beading, hand knitting, and so on."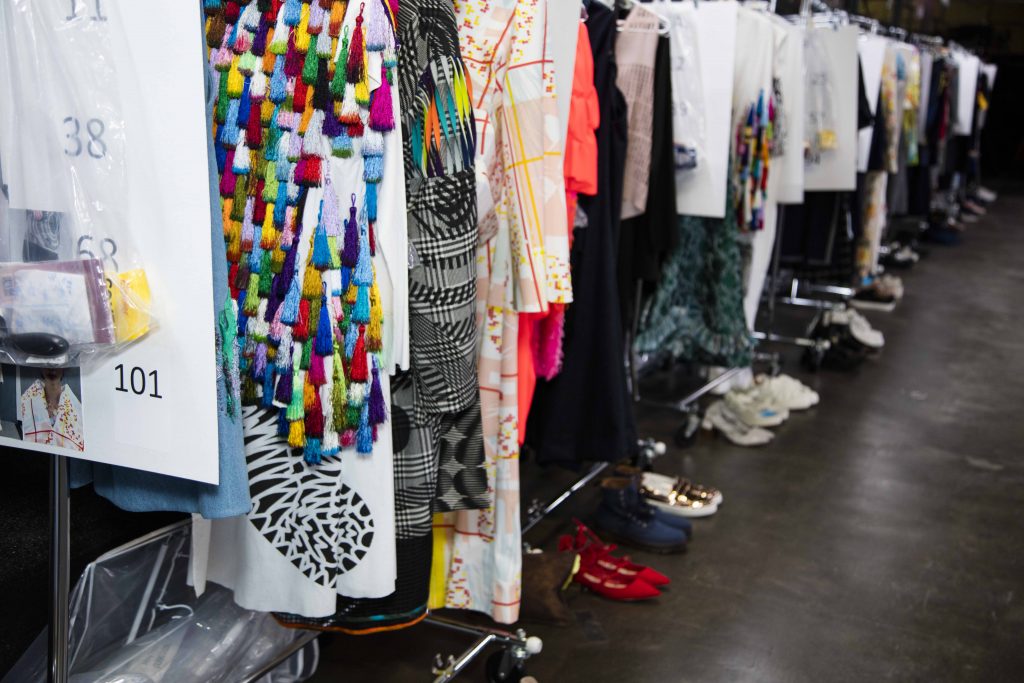 The models were also excited to be a part of this show. Some were returning for yet another season. For example, I was thrilled to catch a glimpse of August Gonet in the makeup chair on my way out. It was time to take my seat and join the audience to witness the result of flawless planning and weeks of hard work. The subtlety of the makeup and hair styling succeeded in giving importance to the clothes. It was beautiful all around, inside and out! Having just experienced the magic-making firsthand, I began to appreciate its significance. If you ask me now, I'd say beauty isn't skin deep; especially, when it comes from the bottom of one's heart.
By Nivetha Sundar, MA Fashion Journalism