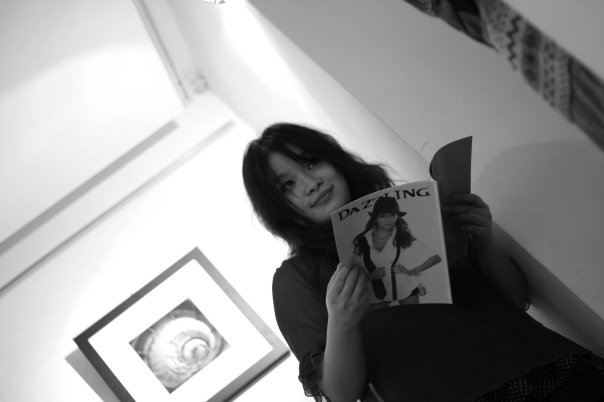 Today we begin a new feature on Fashion School Daily – the Proust [Fashion] Questionnaire. It is much the same as the famous Proust Questionnaire, but words have been added [here and there] to give it a sartorial spin.
We will be featuring our online students, beginning with those who attended the Online Student Workshop and Portfolio Review this past February at Mercedes-Benz Fashion Week. Online students from near and far – very far – all descended upon NYC for a day workshops and seminars led by Academy of Art University instructors and industry insiders. And when we say far, we mean it – Taiwan, Norway, and Puerto Rico being the farthest – as well as all corners of the U.S.
In our inaugural edition of the Proust [Fashion] Questionnaire, we meet Anney Hsieh – our farthest traveler. Read on to see what her answers reveal and check back each week as we work our way closer to home!
Name: Anney Hsieh
Where do you live? Taipei, Taiwan
What is your area of study? BFA Fashion Merchandising
What is your current occupation?
I currently work at Christian Dior in the Jewelry sector, specifically in the watch department.
If you were to die and come back as [a fashion icon], who would it be?
Of course, Audrey Hepburn! She is just so elegant and fashionable.
What is your most treasured possession?
The knowledge I have gained. It was a great experience spending five years at the Academy of Art University, learning skills from all of my classes that are very useful. I feel lucky that I can gain knowledge from different instructors, which has greatly helped me in my job and generally to live a better life.
Follow the jump to read more!
Which talent would you most like to have?
I would love to have a talent for design. I love fashion and stunning dresses – it would be amazing if I could design and make my own clothes.
Which [items in your closet] do you most use?
I most use scarfs, I love any kind of scarf –  I collect them and wear a different one almost every day.
What is the quality you most like in [yourself]?
My determination has gotten me through a lot of things difficult things. If I do not understand something, I will always work to find the answer on my own.
What do you consider your greatest achievement?
Recently, I think my greatest achievement is my first job at Louis Vuitton Moet Hennessy (Dior's parent companY). I have not even graduated, and I submitted my resume to LVMH in Taiwan. I showed them my portfolio, which I made in my classes at the Academy of Art University, and the Dior brand manager liked it and I was hired – which was amazing. I just signed a new contact with LVMH last week, and I really feel that I am able to be a part of LVMH because of the experience gained at Academy of Art University.