On July 8th I will be in London to meet curators at the Victoria and Albert Museum where Oriole Cullen is working on a John Galliano exhibition and another curator is planning an Eighties London Fashion exhibition. Abraham Thomas, who is in charge of the Fashion Illustration collection, recently wrote me:
I was hoping to speak to you about your wide collection of fashion drawings – I think they are wonderful, and we would be most honoured to welcome them into the V&A's permanent collections.

I think they would be a fantastic resource for future researchers and students who visit our Study Rooms, and I would also be able to include them in my upcoming book on the V & A's collection of fashion drawings and photographs (forthcoming, 2012).
In 2007, the Victoria and Albert Museum celebrated its 150th anniversary and invited 150 artists to participate. For this, each of us was sent three sheets of beautiful handmade paper. My contribution was a page from my St. Martin's sketchbook. The words around the image are self-explanatory.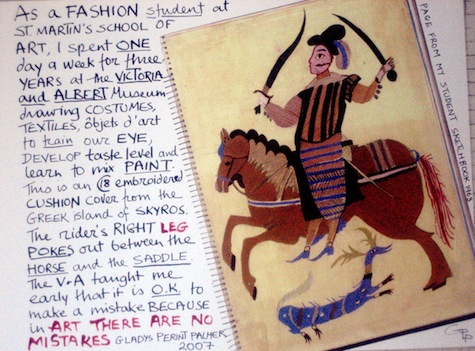 As a student, I had forgotten to identify or date the drawing. Without much hope, I scanned and emailed the page to the V & A. I had an answer the next day. The embroidery I painted was in storage but it happened to be the textile curator's favourite piece (amongst literally thousands of items belonging on exhibit and in storage).
One more thing: John Galliano is famous around the V & A library and Study Rooms for his prodigious research for Christian Dior and his own label.
Written by: Gladys Perint Palmer
Click here to read more of Picture This