Buenos días mis amigos!
I'm in New York for the preview of the Balenciaga Exhibition at Queen Sofía Spanish Institute tomorrow evening. It will be open to the public November 19 – February 19.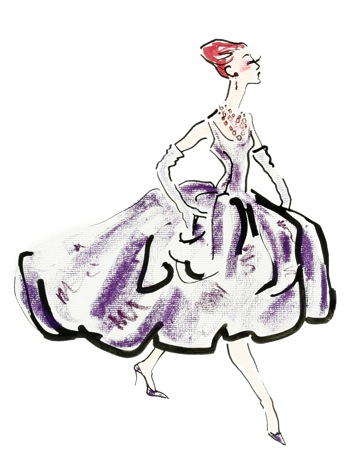 The exhibition was conceived by Oscar de la Renta, our Guest of Honour in 2000, and curated by Hamish Bowles of Vogue.
Cristóbal Balenciaga (1895-1972), a Spaniard, had been a successful couturier in his own country.
He left in wake of the Spanish Civil War and went to London where he couldn't find any work (really?) In 1937 he moved to Paris where his first collection was a huge success (surprise!).
Diana Vreeland once asked what he thought of a woman who bought clothes from different designers. Balenciaga replied, "I wouldn't dress her because it shows she is merely interested in clothes and doesn't understand fashion."
Clearly, Americans including Pauline de Rothschild (née Potter), Mona von Bismarck (née Strader), Thelma Chrysler Foy and Doris Duke understood fashion.
Mona von Bismarck's red dress to die for
The Texan Claudia Heard de Osborne wished to be buried in Balenciaga because "If my dear Cristóbal is waiting for me wherever we go when we die, he'll be so pleased to see me in his dress and coat."
You may enjoy pictures from two earlier Balenciaga exhibitions in Paris in 2006, at the Mona Bismarck Foundation in March; and at the Musée de la Mode at du Textile of the Louvre in July:
The New York exhibition will come to the de Young Museum in San Francisco from March 26 to July 4 2011. Before that, watch out for Balenciaga-mania at New York Fashion Week in February.
Written by: Gladys Perint Palmer
Click here to read more of "Picture This" by GPP