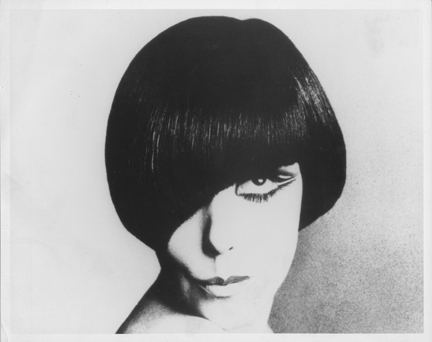 Peggy Moffitt and her signature Vidal Sassoon haircut. Photo Courtesy of Vidal Sassoon.
In case you haven't noticed, we're totally obsessed with NOWNESS – the site that publishes amazing videos everyday, bringing viewers the best in art, music, fashion, travel and more (they featured Maria Romero's fashion film last week!). Today, their short features '60s fashion icon Peggy Moffitt. In the film, director Phil Pinto takes us into Moffitt's Los Angeles home, a pop-infused abode filled with pictures from Peggy's years as a model and dozens of images shot by her photographer-husband, William Claxton.
Peggy was immortalized in a photo shot by her husband, wearing a topless bathing suit designed by Rudi Gernreich. The trio collaborated on a number of images as well as fashion films, all of which are celebrated at the Museum of Contemporary Art's new exhibit, The Total Look.
Follow the jump to watch the film – and head over to the MOCA if you happen to be in L.A!