By Prachedes Germano, MA Fashion Journalism
For the past five years, Academy of Art University's Costume Design program has collaborated with the University of California Santa Cruz Music department on the UC's bi-annual opera. In this project, implemented by Alina Bokovikova, Costume Design Coordinator, costume design students put the skills they learn in the classroom to practice, producing costumes for an entire cast, working in partnership with the opera's director and performers.
The opera usually runs on stage for about two weeks, through which the costume design team travels with and supports the artists during rehearsals and performances. While the original opera is produced and shown in a theater with special acoustics, to amplify and enrich the vocal experience in the current pandemic world, everything is different – if not more complicated and somehow new. New because now, everything is virtual. Artists are recording their sound, shooting scenes, and completing fittings before the recording. Apart from the opera's director, videographers, and technicians, the final result will remain a mystery for the cast, crew, and audience, until it's livestreamed.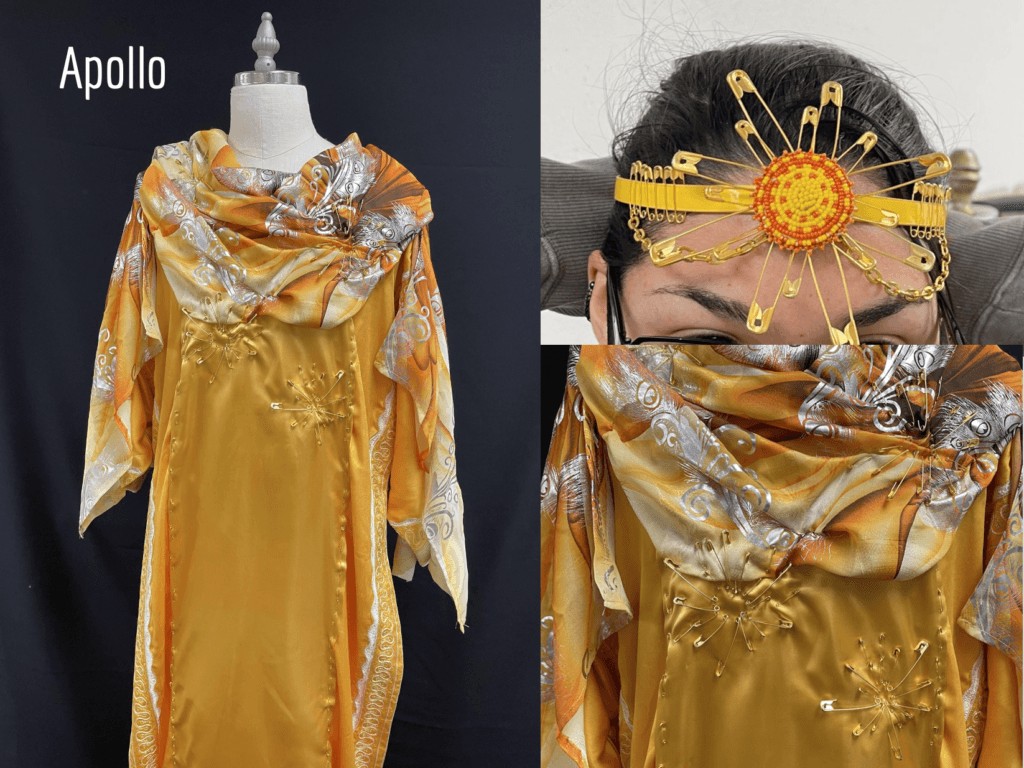 This year's opera is a re-reading of Semele, an original opera from George Frideric Handel, first performed in February 1744 at Covent Garden Theatre in London. In the original opera story, Jupiter, king of the Gods, takes the mortal Princess Semele as his mistress. When Jupiter's wife, Juno, discovers the adultery, she plots to ensure Semele's downfall. Juno persuades Semele to insist on seeing her lover in his divine form, but when Jupiter reluctantly agrees, his thunderbolts burn and consume Semele. From her ashes arise her unborn Jupiter's child, Bacchus, God of wine and ecstasy.
UC Santa Cruz's version of Semele is undoubtedly a representation of Greek mythology but with a layer of modern tragedy. Last year, many people in Santa Cruz – on top of the pandemic – suffered drastically from wildfires. Thinking of that, opera director Sheila Willey "decided to connect this apocalyptic feeling that the whole community experienced to the opera," Bokovikova explains in a Zoom call from her home in Cupertino. This decision establishes an emotional connection with the public and consequently helped the costume design team with selecting materials – opening the possibility to work with recycled sources and to develop clothing that did not require overly specific measurements.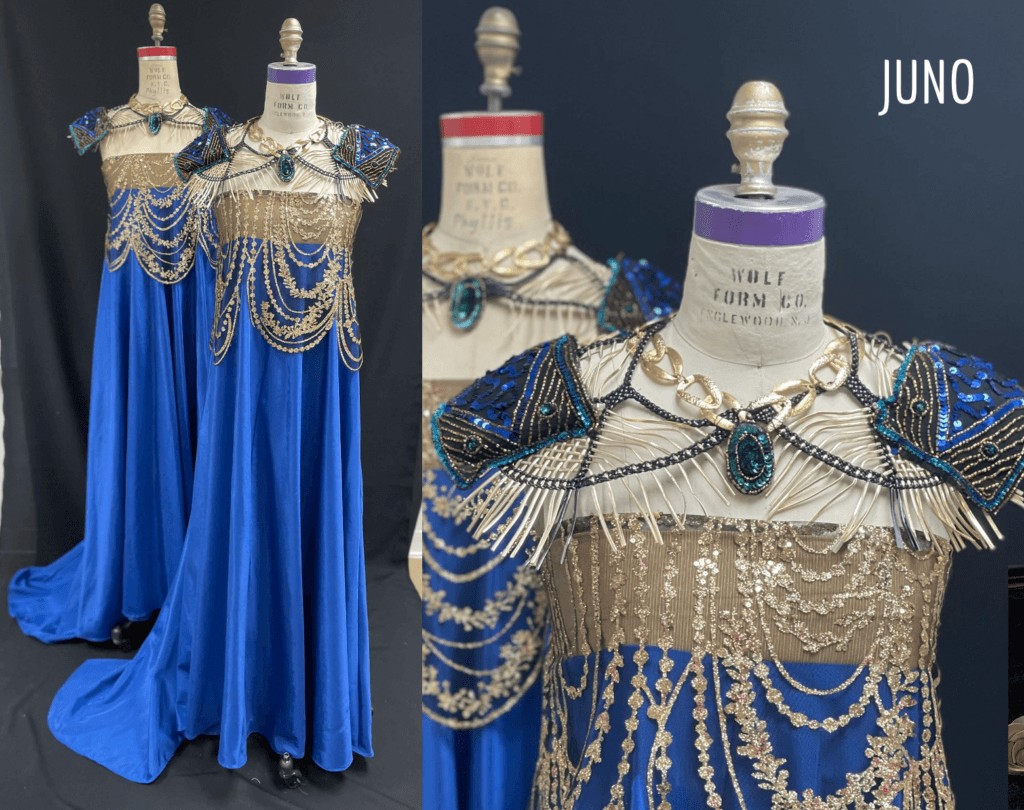 To conceptualize the human characters affected by the wildfires, the team brainstormed to visualize how the clothing would look. "We imagined how a person would look like when in a burning forest," explains Shravani Mateti, MA Costume Designer, "so it would be a lot of distressed clothing, layers, and textures that would represent the trees burning down." Bokovikova includes, "We did use some Greek draping and silhouettes," but the team had the freedom to develop their creative interpretation of the apocalyptic human world. The costume design team reappropriated old fabric, clothing, and accessories, treating the fabric to look faded, tattered, wrinkled or steadily used – creating unique ensembles.
Mateti is the lead designer on the team, but she confesses on a Zoom call from San Francisco, "We all worked together. We shared ideas. I was concentrated mainly with the garments, Kianna Taylor – craft and construction designer – worked on the jewelry and ornaments, and Becky
Flaherty – costume designer's assistant – worked as 'coordinator,' talking with all the actors, shipping, organizing everything." Although mentioning her direct, day-to-day team members, the group also worked with online student Markeshia Rhone, who was in charge of the masks for the chorus, and former technician Bethany Deal, who offered technical support to compose the characters' complete looks.
The whole costume design process took fourteen weeks, the first four weeks being devoted to designing and measurements, seven weeks giving life to the actual costumes, and three weeks for shipping and adjustments. "Over three weeks, we shipped over 30 packages," states Flaherty.
The team knew it would be challenging. Mateti recalls Bokivikova's awareness from the start. "Alina brought the project to our class, and she made it clear that we were dealing with an exceptional situation." On top of the pressure of developing costumes during one semester, they needed to deal with the pandemic – not being able to take the measurements of the artists directly, not being able to create just one dress for a double-casted character, and more. The new medium of remote filming for a theatrical production meant that fine details were vital- something the design team was able to achieve. To their surprise, Jupiter's crown was the only piece that required adjustments, "every other costume was very well planned, and we did not face big complications while fitting," affirms Bokovikova.
The costume design team delivered intricate shapes and concepts based on the opera director's vision. The human characters wear earthy tones, a mix of overlays and textures replaced by synthetic and artificial materials when turning into Gods – with color and drapes – with more flow than the humans.
Accessories played a significant role in the looks as well. For example, Jupiter's neckpiece was "made from soda can tops" and "Juno's crowns from a pair of old golden heel sandals
and a woven belt from a different production," details Taylor.
It's a fact that fitting was, and still is, one of the main challenges presented by the pandemic. "It's dangerous because our designers can't do the fitting with the artists," explains Bokovikova, "we did send pictures, videos, and instructions, but there is no confidence that the actors will wear the costumes the same way they are meant." Mateti agrees and includes, "We shipped everything ahead of time to make sure we would have time for adjustments and Zoom fittings with each actor."
Regardless of the final result, Bokovikova proudly says "it was an amazing experience for the students." Indeed, they all tasted a mutual feeling of enrichment once they concluded their part of the project. "I feel a bit more confident now, moving forward to more – future – productions where we will have more time to make the costumes and actually work with the actors/artists in person," details Taylor.
The project was successful on multiple levels, including, as Bokovikova highlights, the "incredible, smart resourcing" from the designers' end and that everyone in this project, including actors, were proactive, trying to help and do their best related to the clothing, "The whole atmosphere was so collaborative and grateful." This year's opera is still in progress being filmed and edited, but last year's performance, The Elixir Of Love, is online and available at music.ucsc.edu.