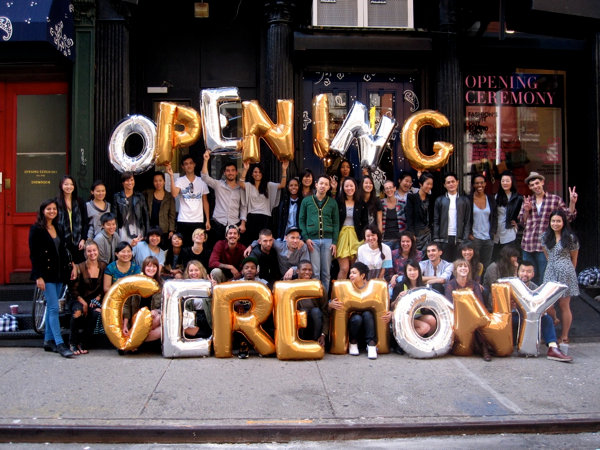 Former guests at our May 2010 Graduation Fashion Show, Opening Ceremony, is on the hunt for interns! Opening Ceremony online is searching for Blog/Multimedia Interns and the Opening Ceremony Showroom is in need of helpers for the Spring/Summer '12 market. Details below!
Opening Ceremony Online Seeking Blog/Multimedia Interns for Fall Semester
Responsibilities: Blog interns will research content and images, create entries, contribute to the blog, help manage social media platforms and be involved in miscellaneous multimedia and print projects.
Applicants must possess:
+ A strong interest in Opening Cereony
+ Good writing skills
+ Organization skills and a keen eye for detail
+ Interest and/or experience in photography
+ Experience with social media platforms Facebook, Twitter, Tumblr are a plus
+ Knowledge of Google Docs is a plus
+ Multimedia skills (video, animation) are a plus
+ Must be able to bring laptop to internship
+ Must be available a minimum of 2 days per wk
The Opening Ceremony Worldwide offices are located in New York City. CANDIDATE MUST BE BASED IN NY.
Internships are unpaid, but can count towards school credit. A lunch stipend is provided along with discounts at our stores and online.
To apply for this position, please send cover letter, resume and availability to: WEBINTERN@OPENINGCEREMONY.US with FALL INTERN – BLOG/MULTIMEDIA in the subject line.
Next posting after the jump!
Opening Ceremony Showroom Seeking Interns for SS12 Market: September 1 – October 31
Responsibilities: We are looking for team of energetic interns to assist the Showroom team. This is a great opportunity to assist with a multi-designer showroom during its most exciting time!
We are looking for people who are:
– Team players
– Great visual merchandisers
– Have excellent organizational skills
– A knowledge and appreciation of fashion
– Quick thinking individuals who can multitask
– Showroom market experience is a plus!
Responsibilities would include:
– Greeting appointments
– Helping handle accounts
– Tracking Samples
– Assisting the Showroom Director and Account Executives in appointments
– Note-taking for Showroom Team during Appointments
– Visual merchandising and organizing the showroom throughout the whole market week
– Organizing and replenishing linesheets and lookbooks for appointments
The Opening Ceremony Showroom is located in New York City. CANDIDATE MUST BE BASED IN NY.
To Apply: Please send your resume and cover letter to showroom-staff@openingceremony.us for review, with SS12 Market Intern in the subject line.