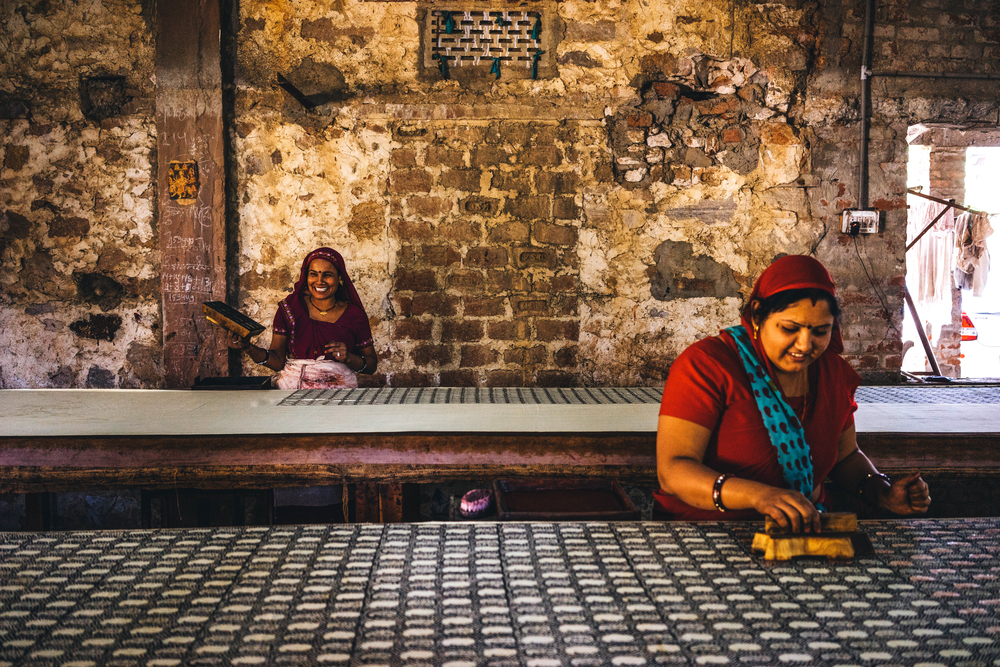 With over 5000 years of (strong) history in craftsmanship and arts, Indian textiles reflect culture, customs and longstanding traditions. Once symbolic of protests against the British rule and national identity, post-independence and industrialization, hand-made textile crafts continued to be in demand across the world. While some designers publicly profess their love and appreciation for the work of Indian artisans, many luxury brands do not credit craftsmen despite using their skills. The "Made In India" label is far behind the "Made In Italy" or "Made In France" labels in terms of protection, preservation and promotion.  ​
Hand-skill and ingenuity remain rural and haven't yet been commercialized. Some of the most timeless fabrics and sophisticated weaving techniques are combined with avant-garde designs by labels like Hermes, Burberry, Prabal Gurung and Gucci, to name a few. Today, top designers as well as brands all over the world turn to India for artisanal textiles like Kanchipuram silk from Tamil Nadu (South India), Gujarati double Ikat weaving technique, brocade and Zari from Benaras, and Phulkari embroidery of Punjab. But how often do we see hardworking, extraordinarily skilled labor being rightfully honored by luxury brands?

Each brand should take responsibility in increasing the visibility of these creators of craft through their networks in the luxury sector as well as through marketing. This can result in the development of a global directory that glorifies true talents like artisans, designers, consumers and luxury houses.
"It's time to pay people and to pay these artisans their dues," Bibhu Mohapatra said to HuffPost Style. Mohapatra may be an American designer, but his soul lies in Eastern India. He collaborated with artisans and weavers in India to design saris, linen and other merchandise that were sold in India. At Amazon India Couture Week 2015, Sabyasachi Couture's bridal wear was paired with footwear by French couturier Christian Louboutin. The collection, "Bater," emphasized the value of handiwork, handicrafts and old techniques through baroque designs, exquisite embroidery and badla work.
We need more collaborations like these. They go beyond the realm of tradition and bring recognition to skilled workers by positioning them at the same level as designers, and ensure affordable living.
Flattery comes at a serious cost to these workers. To profit from selling garments at lower prices, handiwork is often mechanized and replaced by mass-production machines. Researchers from overseas come to India to learn how to commercialize craft techniques and subsequently, real artwork is diluted due to copies. There is clearly a global appreciation for Indian textiles, but it is not translating to higher value, credit or even fair compensation.
For India, changing promotional strategies and repositioning the artistry as exotic and rare can bring global recognition to finished products. With sustainability becoming a worldwide concern, it should be highlighted that handloom is eco-friendly and skin-friendly, too. Indian craftsmen are not confident enough to market the quality of their creations, which is actually impressive enough to be considered a benchmark. Consumers, too, are uncertain about the quality of the "Made In India" label, perhaps because of India's political past. It resulted in a mindset that foreign products are somehow more prestigious and superior, thus resulting in a low demand for domestic products.
Santosh Kumar Gangwar, The Minister of State for Textiles, is a firm advocate of promoting artisanship, and has organized exhibitions that enable craftspeople to establish direct links with global buyers. Changemakers by Ashoka is another program that focuses on craft and cultural revival by "encouraging the artisan to learn how to design his product, assess quality, map the urban market and make art pieces more relevant and adaptable to the global environment." Their focus is on supply chain management and each worker has a store of his own to receive orders directly.
However, India needs to take ownership of this issue and come up with more exhibitions and programs that can be marketed to engage audiences at a global level.
India is the leading source of Ikats, embroideries, and handwoven silk, but the country seldom gets the appreciation it deserves. There is certainly a fundamental gap between the Indian market and the rest of the world, which is probably why India is not considered a fashion capital despite being home to some of the most incredibly skilled labor, and the second largest industry in the world to manufacture textiles. If designers do not begin to honor originality and countless hours of labor, who will?
Written by Namrata Loka, MA Fashion Journalism; Originally posted on Miraya.
This content was produced by Academy of Art University MA Fashion Journalism students as part of their Fashion Journalism coursework.