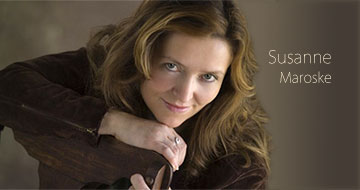 Name: Susanne Maroske
Where do you live? Whitewater, WI.
Area of study: MFA Fashion Design.
What qualities do you most value in others? Honesty, patience, and originality.
Who are three of your favorite designers? Riccardo Tisci for Givenchy, Haider Ackermann, and Alexander Wang.
List a guilty pleasure: Eating chocolate while watching Mad Men.
What is your present state of mind? Adventurous.
What is your dream job? Being my own boss
What is the most important thing that people should know about you? I don't give up.
Follow the jump to read more!
When was the first time you recognized your interest in fashion? As a child watching my grandmother sew.
Where have you found inspiration lately? Maori people of New Zealand.
What is your most valued possession? Curiosity.
What music do you like to listen to? All kinds.
If you had an opportunity to travel back in time, who would you like to meet, and why?
Queen Elizabeth I and her huge collection of clothing, except the wigs!! Strong, powerful woman with lots of excitement in her life.
For more On Online, click here.