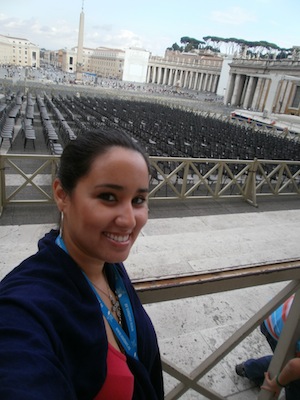 Where do you live? Coronado, California
Area of study? BFA Fashion Marketing
Day job? Sales Associate at Saks Fifth Avenue
What qualities do you most value in others? Honesty, Ambition, Loyalty
Depending on your area of study, name three of your favorite designers, journalists, bloggers, stores, etc: Blogger: Kickette.com, Designers: Christian Louboutin (shoes), Marchesa and Elie Saab (dresses).
List a guilty pleasure: I have to say watching The Jersey Shore. It makes me laugh hysterically.
What is your present state of mind? Calm and driven.
What is your dream job? Editor-in-Chief of Harper's Bazaar or Elle.
What is the most important thing that people should know about you? I have a great sense of humor; I am a history buff; and I love to read.
When was the first time you recognized your interest in fashion? When I was a little girl and I insisted that my mother buy all of my Barbie dolls a change of clothes every chance I got.
Where have you found inspiration lately? Traveling! I learn and absorb so much that I look for a way to remember everything. I take pictures, buy souvenirs, take scraps of fabric.
What is your most valued possession? A gold snowflake necklace that used to belong to my grandmother.
What music do you like to listen to? Hip-hop, pop, dance music, but I am also a fan of the opera.
If you had an opportunity to travel back in time, who would you like to meet, and why? Cleopatra. I would like to see what she looked like and learn how she mesmerized so many people with her wit as well as her beauty.
For more of On Online, click here.