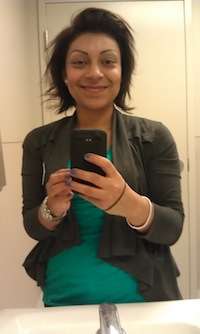 Where do you live? Los Angeles in Southern California.
Area of study? Merchandising.
Day job/occupation? I work at Verizon Wireless.
What qualities do you most value in others? I think that I have an amazing drive to achieve my goals. Most people are discouraged by minor things and I have learned to just deal with things as they come. Don't sweat the small stuff. Surround yourself with people that want to enhance you and see you excel and you should be good at getting where you need to be.
Follow the jump to read more.

Name three of your favorite designers, journalists, bloggers, stores, etc: I am currently obsessed with blogging so I am really interested in www.DulceCandy.com. She has an awesome style, is local to me and also has a YouTube channel as well. I love anything from Michael Kors. I am guilty of purchasing one too many of his purses and watches….but with his fierce style, who can blame me? I love his designs and how clean cut and lady like he is in his approach to fashion. I have also become an avid Shoedazzle shopper recently!
List a guilty pleasure: Too much cell phone use!!!
What is your present state of mind? Less stressed because school is over and I get a break.
What is your dream job? I would love to work in the merchandising and/or buying offices of Bloomingdales and Nordstrom.
What is the most important thing that people should know about you? I'm like an elephant. I never forget.
When was the first time you recognized your interest in fashion? I have been looking through fashion magazines since I could remember, ripping out pictures and keeping them for reference. I love the fashion world.
Where have you found inspiration lately? Nail polish! I am obsessed with new collections right now.
What is your most valued possession? My Nikon D3100
What music do you like to listen to? My taste is all over the place, from Adele to Weezy to Bobby Darin and Metallica.
If you had an opportunity to travel back in time, who would you like to meet, and why? I wouldn't mind meeting Cleopatra. I want to know what she REALLY looked like.
For more of On Online, click here.