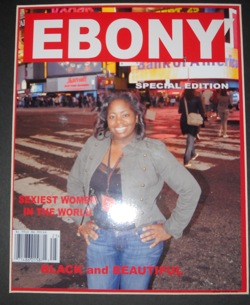 Using a photo taken in New York City's Time Square, Online BFA Fashion Merchandising student Sasha Taylor tells Fashion School Daily (with excessive LOL's mind you) about her recent visit to New York, her aspirations for a Tuscan Villa and why she always sheds tears when she watches The Lion King.
How was your night in New York City? I was in New York for Fashion's Night Out and as it was only my second time being in New York, I was excited and very inspired at the same time. I made sure to visit Times Square. I walked around in Bergdorf Goodman's and I walked up and down 5th Avenue. I happened to see Miss J. Alexander at the Academy of Art University fashion show. I wished I could have gotten his autograph! LOL! After the show, I walked up and down Times Square and then I hopped on a train and went home.
Where you live: I live in Pottstown, PA in the good ol' U.S. of A.
Area of study: BFA Fashion Merchandising
Day job / occupation: I am a full time single mother of three beautiful children while currently working on opening my very own shoe business.
List three of your heroes in history: Jesus, The Egyptians, and I honestly can't think of anyone else.
List three of your heroes today: God, My children, and Oprah Winfrey
List three of your favorite designers: Valentino, Roberto Cavalli, Ralph Lauren
List a guilty pleasure: Spartacus, The Twilight Saga and The Lion King. I cried when Mufasa died. LOL!
Tell us about something funny or silly that happened to you this week: I was dancing crazy to make my kids laugh — I also take pleasure in laughing at myself as well. LOL!
What is your dream job? Being a stylist to those who are in need of healthy self-esteem and being a source of inspiration and strength to those in need.
What is the most embarrassing item in your closet? My Nautica bathing suit that is a two piece but the bottoms are high waist. Someone bought it for me and it is hideous.
What do are somethings that you aspire to have in your life one day? Too many to name, but for starters: Buggati Veyron, Mercedes CLS 550, a villa in Tuscany, and a walk in closet the size of Philadelphia full of nothing but designer shoes and clothes. LOL!
Where have you found inspiration lately? Life!
What is your most valued possession? My peace of mind
What is playing on your iPod? Wanna hear something funny? I don't have one, HA HA! But in my cd player in my car, I currently have Monica and Kem!!
List a person (dead or alive) whom you would like to have coffee with: It would have to be Valentino and Jesus!
For more of On Online, click here.