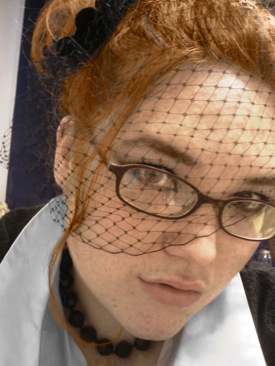 Where you live (city, state, country): Louisville, KY
Area of study: BFA Fashion Design
Day job/occupation: I work for Delta Airlines. It's a fast-paced and challenging, but i simply adore it (and the travel benefits are fantastic). Working for delta has afforded me the opportunity to attend Academy of Art University fashion shows!
List three of your heroes in history: Jane Austen — because of her enduring genius, razor-sharp wit, and romantic sensibilities. Jesus — because of his moral teachings and acceptance of all people, despite sex, age, race, creed, class, or sexual orientation. Sir Lawrence Alma-Tadema because of his depiction of beautiful redheads who were constantly fending off lovestruck suitors in picturesque villas by the Mediterranean Sea (this is still a big problem for redheads today).
List three of your heroes today: My late grandmother, who was possibly the kindest and most patient woman I've ever known. My mother, who is possibly the kindest and most patient woman I've ever known other than my grandmother. My sister because she's the street-savvy, common sense compliment to my personality. We're both very artistic and expressive, but even as we've become more inherently similar over the years, I still need her to keep me grounded when my head has been in the clouds for too long.
Who are your favorite designers? My favorite designers include (among others and in no particular order): Vivienne Westwood, Betsey Johnson, Diane Von Furstenberg and Anna Sui.
List a guilty pleasure: Films starring Amanda Bynes.
What is the most embarrassing item in your closet? I tend to hoard and purge clothes and shoes — so it would probably be my boyfriend's beach bum clothing. That or some of my less-than-successful sewing projects.
Where have you found inspiration lately? I've been finding inspiration in my old books and records along with some of my assignments in class this semester.
What is your most valued possession? My sanity — and my lack thereof.
What is playing on your iPod? I love making mixtapes. There's always a different track playing. Some of my all-time favorites include Beck, the Beatles, Sleater-Kinney, and the Pixies.
List a person (dead or alive) whom you would like to have coffee with: I'm not much of a coffee drinker, but I'd love to share a banana split with Jason Segel. He's witty, strange, modern, and creative. If Jason was unavailable, I'd give Woody Allen a buzz.
For more of On Online, click here.