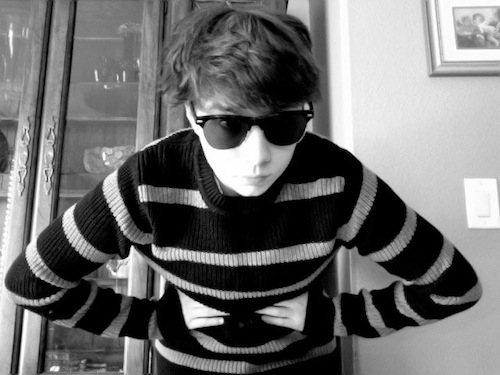 Where do you live? Las Vegas, Nevada
What is your area of study? B.F.A Fashion Journalism
You have a blog called Fashion's Religion, tell us about it and how you came to create it: I first started blogging because at the time, I was living in a small town in Ohio where fashion was almost non-existent. None of my friends were really interested in fashion, so I decided that I would use the internet as a way to keep a record of the creative thoughts that were constantly swimming within the depth of my mind.
Who are some of your heroes? Grace Coddington, Gloria Guinness, Diana Vreeland, Roseanne Barr, Valentino Garavani.
List three of your favorite journalists: Cathy Horyn of the New York Times, Robin Givhan of The Daily Beast, and Matt Taibbi of Rolling Stone.
Do you have a guilty pleasure? The Real Housewives of New Jersey.
What is your dream job? When I first started getting into the idea of fashion as a career, I had in mind that I wanted to be the Editor in Chief of American Vogue. But as I grew and learned more about the industry I decided that being the Fashion Director or Creative Director of any major fashion publication, preferably Vogue or Harper's Bazaar, would better fit my interests. I've also given the thought of becoming a fashion critic as an ideal choice for myself. Cathy Horyn is my all time favorite writer. I don't think there is anyone who can write about fashion in such a clear and interesting way like she can. I could see myself doing exactly what she does and being just as happy.
What is a must have item for your closet? A chunky cable-knit sweater. The bigger, the better.
What was the last movie you watched and did you like it? The last movie I watched was Season of the Witch. It was embarrassingly terrible and probably the biggest waste of an hour and a half of my life.
Many of us only know Las Vegas from the movies, tell us three of your favorite things about living there: The lights. There is nothing like seeing the Strip lit up. I live about 10 minutes away from the Strip, so I'm lucky enough to see the lights every night. I also enjoy the people. So many different types of people visit here and you can learn a lot from the diversity. Most of all, I love the fact that you can go anywhere in the world here. You can start your night off by eating dinner in Paris, and then go take a gondola ride in Italy, and at the end of the night, be able to sleep in my own bed.
List a person (dead or alive) whom you would like to have coffee with: With my late grandmother. She was my best friend and my biggest inspiration. Though, she would have preferred that we had tea.
For more of On Online, click here.