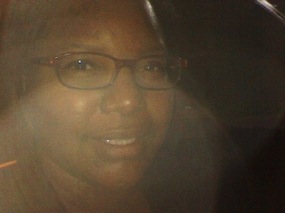 Name: Jai-Shirelle Marshall
Where you live (city, state, country): Blythewood, South Carolina, USA
Area of study: MFA Fashion Journalism
Day job / occupation: Fashion blogger for my hobby-turned-thesis project The Fat and Skinny on Fashion.
List three of your Heroes in History: Queen Elizabeth I, Joan of Arc, Eleanor of Aquitaine
List three of your Heroes today: Michelle Obama, Madeleine Albright, my Mom

List three of your favorite writers or bloggers: Cathy Horyn, Amy Odell, Bryanboy
List a guilty pleasure: I love fried oreos even though they are really bad for me, but I only eat them when the fair comes in town.  I get them from the stand that sells fried Twinkies and fried Pepsi. How they fry a soft drink I will never know.
Tell us about something funny or silly that happened to you this week: I couldn't figure out how to turn the park break off in my new car. Everyone was waiting for me to move, but I couldn't so that was embarrassing.
What is your dream job? I want to turn my love of fashion into an international multimedia luxury business.
What is the most embarrassing item in your closet? I think it is funny to wear embarrassing items on purpose. I have a Snuggie and I am trying to find a way to turn it into a shawl or a vest, so I can wear it out because it is so warm.
What is your must have item? I love combat boots. I have high heeled ones, flat ones, patent leather ones, colored ones. I can always find something for them to go with in my closet.
Where have you found inspiration lately? The recent fashion weeks have been really great for inspiration because you get to see the runway looks and the street fashion, which is equally as inspiring.

What is your most valued possession? My first doll that I ever owned that my deceased Grandmother gave me when I was little. I named it after her.

What is playing on your iPod? Everything from Kanye West to Mozart to Erasure.
List a person (dead or alive) whom you would like to have coffee with: Queen Elizabeth I
For more of On Online, click here.