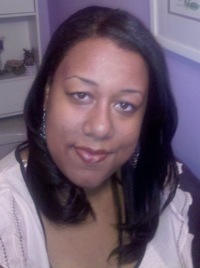 Online BFA Fashion Design student Dania Richardson is a paralegal by day and a fashion designer by night.
Did you have fun at the online student meet and greet and the NY Show? Yes! I absolutely loved it! Plus my highlight of the night was that I had an opportunity to meet Ellen Sears and her hair rocked!
What did you do for Fashion's Night Out? I went to Soho which was mobbed with all sorts of fashionistas and, with my own eyes, saw fashion legend and icon, Karl Lagerfeld, at his new Chanel store opening! It was as if all time had stopped for that moment. It was like seeing a magazine page of him come to life. Absolutely amazing! He looked fabulous of course!
List a person (dead or alive) whom you would like to have coffee with: Rachel Zoe. I am so passionate about my work and what I do as a designer as she does as a stylist. I love talking to people that have a passion about what they do. It's an awesome feeling to connect with someone like that. It would be great to actually sit down and collaborate together with her someday and I know that time is coming up soon
Would you have coffee with Brad Goreski before or after coffee with Rachel Zoe and what would you ask him? I would definitely have coffee with Brad Goreski after I have coffee with Rachel Zoe just to calm me down from the high. Brad seems like a really cool guy. I actually had an opportunity to personally meet him and seat him at the Diane von Furstenberg fashion show during Mercedes-Benz Fashion Week in New York back in February of this year. He always seems to remain as calm as possible, especially since someone was sitting in his seat!
Where you live: Sicklerville, NJ
List three of your heroes in history: Jesus, my father (who is deceased), and Martin Luther King.
List three of your heroes today: Still God, Jamie Teti (one of my cherished friends, just a great guy all around) and William Lancaster (only he would know why). These people have inspired, motivated and helped me out in my times of distress. They have been there for me in life more than they will ever know. I love them dearly.
List three of your favorite designers: Diane von Furstenberg, Karl Lagerfeld and Lela Rose
List a guilty pleasure: Eating ice cream at night before I go to bed
Tell us about something funny or silly that happened to you this week: To be honest, nothing really. Unless you call funny some guy that I just met in New York telling me how I speak just like a "country girl" when I have been born and raised in New Jersey all of my life. What? Are you serious?
What is your dream job? A global, well-renowned fashion designer
What is the most embarrassing item in your closet? A knock-off version of a Louis Vuitton handbag that my ex-husband gave me about 5 years ago that I never used. It is packed away in the midst of all my other high end designer handbags. Don't ask me why I never gave it away. I honestly don't know. I think that I just completely forgot it was there.
What is your must have item? Black (above the knee) high heel boots
Where have you found inspiration lately? This past September, I had an opportunity to attend Mercedez-Benz Fashion Week in New York. Just being in the midst of that type of atmosphere really inspired and motivated me as an emerging designer to continue to work on my collections and career even more.
What is your most valued possession? Honestly, I don't really have "a most valued possession" because there are a lot of things that I value in life that are not material items (i.e. family, health, a roof over my head, my job, etc). I am not a material girl.
What is playing on your iPod? Wow. I purchased an iPod a couple months ago and never downloaded any songs. I'm sooo bad!
For more of On Online, click here.