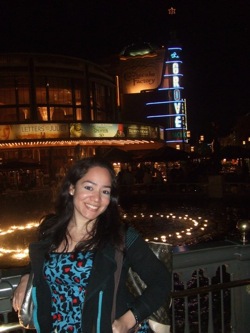 Name: Carla Ortiz
Where you live: Union City, NJ, U.S.A.
Area of study: MFA Fashion Journalism
Day job/occupation: I'm currently writing a business plan to develop my own clothing line. Wish me luck!
Tell us more about the line: I'm developing a line of skirts and dresses for the busy woman. I'd like to design pieces that can be dramatically switched to create a whole different look so you can go from office to lounge, from a flight to dinner, from night to day.
What is a current obsession? Life and fashion are my current obsessions. I'm looking forward to the future and right now these two things are going to take me there.
Describe your style as a friend would describe it: A little girly, a little rock n' roll.
What style/trend do you hope is never recycled? It already happened: shoulder pads!
What style/trend would you like to see come back? Fashion recycles itself constantly and with all the vintage finds, a lot of things are getting re-done and re-used even if they are not an actual trend right now. The only thing I can think of that I haven't seen or heard recently are bell-bottoms. I had a pair in high-school and I loved them! I still have them — even though I don't fit in them anymore.
List three of your heroes in history: Coco Chanel, Queen Elizabeth and Vincent Van Gogh. What can I say? I'm inspired by strong women and beautiful art.
List three of your heroes today: Beyonce Knowles, my friends and my mom. There are no better heroes than the people around you everyday.
List three of your favorite designers, journalists, bloggers, stores, etc: Roberto Cavalli, Giorgio Armani and H&M.
Tell us about something funny or silly that happened to you this week: I was watching The Princess and the Frog and I cried when I realized Raymond was in love with a star.
What is your dream job? Owner of my own fashion line and stylist.
What is the most embarrassing item in your closet? A shiny purple pant with ties on the side a la Christina Aguilera around her Dirty album.
What is your most valued possession? A pair of silver bracelets that my mom gave me off from her arm the day I got on a plane and moved to NYC.
What is playing on your iPod? "Love the Way You Lie" by Eminem featuring Rihanna.
Can we find you on Twitter? Yeah! Twitter.com/Hautecocktail. You can also follow me through my blog Haute Cocktail.
For more of On Online, click here.