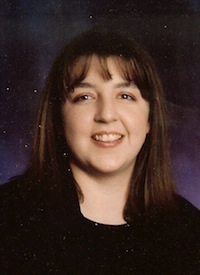 Where you live? Fort Edward, NY
Area of study? BFA Fashion Design
Day job/occupation: Freelance Illustrator (mainly children's books)
What qualities do you most value in others? Honesty
Name three of your favorite designers, journalists, bloggers, stores, etc: Designer-wise there are just too many to list, but writing-wise, I adore Suzy Menkes.
List a guilty pleasure: Anything chocolate, really sappy chick flicks, and enjoying a nice bubble bath (in peace and quiet) with a really good book.
What is your present state of mind? To just be present.
What is your dream job? As I've aged, my path has realigned itself in front of me. I would like to become a Marriage & Family Therapist, who specializes in helping
people spiritually as well as addressing those who have had NDE's. I do also still plan to continue illustrating books on the side. Fashion-wise I would like to have a collection of fabrics and patterns for children, and maybe a collection of ties for men. I also plan to pen some books and someday own a farm! As Marsha Norman said, "Dreams are illustrations… from the book your soul is writing about you." I imagine, by the time I'm done, my book should be rather interesting!
What is the most important thing that people should know about you? I wear my heart on my sleeve.
When was the first time you recognized your interest in fashion? As a child, I loved to crochet and sew things.
Where have you found inspiration lately? I love perusing www.spoonflower.com, as there are always new fabric designs to enjoy (and imagine what you'd do with them). I have some designs available there as well.
What is your most valued possession? Love for my children.
What music do you like to listen to? I love music and listen to a wide variety of artists, but off the top of my head: Korn, Ani DiFranco, Disturbed, Adele, Incubus, One
Republic, Eminem, Black Eyed Peas, Ke$ha, etc.
If you had an opportunity to travel back in time, who would you like to meet, and why? Myself in a past life, that should be interesting!
For more of On Online, click here.