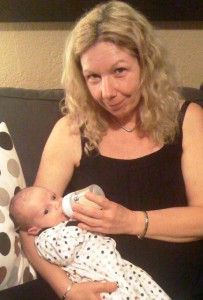 Name: Kay-Jean Wagner
Where do you live? Brookfield, CT USA
Area of study: BFA Fashion Design
Day job / occupation: Domestic Engineer
What qualities do you most value in others? Honesty, Ethics, Optimism
Name three of your favorite designers:
Marc Jacobs, Givenchy, House of Lanvin
List a guilty pleasure:
Yarn – I love shopping for yarn and fabric.
What is your present state of mind?
Do I have to confess to insanity? What is normal? I am always thinking of the myriad of things I should be doing and more on the things I want to do.
What is your dream job?
Working for myself in fashion design.
Follow the jump to read more!
What is the most important thing that people should know about you?
I just remarried in June. Tell my kids I want Rick all to myself, and will be quite happy being an empty nester!
When was the first time you recognized your interest in fashion?
High School – my sisters were all Preppy and they did not appreciate my sense of a different style.
Where have you found inspiration lately?
Art I purchased in Wellfleet, MA of the surf and The Metropolitan Museum of Art.
What is your most valued possession?
My health.
What music do you like to listen to?
Alternative, Rock, Classical, Pop, Jazz, R&B, Rap.
If you had an opportunity to travel back in time, who would you like to meet, and why?
Jeanne Lanvin, because I think that she was an honest and ethical business woman, who worked hard to be successful.